Last updated on November 18th, 2023
Featured image: When some planning, Antarctica is waiting to be explored by those with mobility issues | Photo by Mint_Images on Envato
Don't let mobility challenges stand in the way of your travel dreams
By Karen Gershowitz, Contributor
In February 2023, I visited an extreme destination, Antarctica, along with more than 1,000 people of varying physical capabilities. In the past few years, I've experienced severe back pain caused by bulging disks, arthritis and pinched nerves, which makes me think carefully about travel.  In years past, I'd looked at other cruises to the extreme south but knew the zodiac rides would be too bumpy for my back, and I wouldn't be able to walk on ice or loose gravel.  
I'm grateful that I've been traveling for most of my life.  At my current age of 71, with severe back issues, it would be impossible to climb Mt. Kilimanjaro, visit the hill tribes in Sulawesi, or venture into the deep interior of Tanzania in a Rover. Memories of exotic places, difficult to reach or navigate once there, make those indelible images even sweeter.
Still, I'm not ready to forego adventure and exploring remote corners of the globe. My bucket list remains long, and I have vowed one way or another to experience even the most daunting of destinations.
The author, Karen Gershowitz, on board the ship to Antarctica / Photo by Karen Gershowitz
Starting at the End of the World 
My two-week cruise departed from Buenos Aires. My fellow travellers included small children, teens, individuals in wheelchairs, people with prosthetic limbs and those much older than me. And when I read about the possible impact of setting foot on the continent, I was doubly glad I wouldn't be doing so.  On the Norwegian Star, I remained on the ship once we arrived in Antarctica, which didn't diminish the experience one whit.
Prior to arriving in Antarctica, the ship stopped at ports of call at Montevideo Uruguay, Puerto Madryn Argentina, Punta Arenas Chile, and Ushuaia, Argentina. It then crossed the Drake Passage and spent two days in Antarctica cruising in the south Shetland Islands, coming close to Deception Island and Elephant Island and circling Admiralty Bay. On our return to Buenos Aires, we recrossed the Drake Passage and headed to the Falkland Islands. This would not have been my preferred itinerary thirty years ago, but it satisfied my explorer's itch. 
Ushuaia calls itself "fin del mundo," the end of the world. It is currently the southernmost city on the globe. A catamaran cruise there brought me within a few feet of Magellanic penguins and arctic seals. The boat perched near a small island home to hundreds of cormorants and a few elephant seals. We also got a bonus — two humpback whales skimming just below the surface of the water. Looking carefully, I saw a fin emerge several times and watched one spout. Even when not spotting fauna, the watery landscape framed by snow-covered mountains was gorgeous.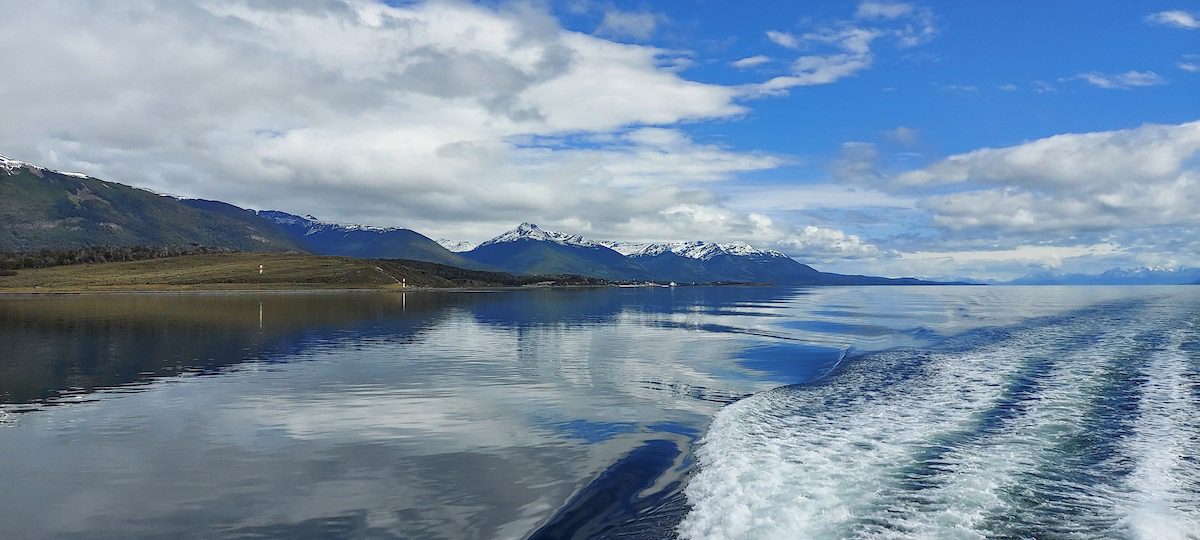 Looking out to Ushuaia on the way to Antarctica / Photo by Karen Gershowitz
Sea lions bask on the rocks in Ushuaia / Photo by Karen Gershowitz
Magellanic Penguins seen in Ushuaia / Photo by Karen Gershowitz
While at sea there were lectures by a geologist, a naturalist, and a historian. Learning about what created Antarctica and how climate change is impacting the continent made what I saw more impactful. The talks on the flora and fauna helped me to identify the various penguins, birds and whales. Talks about Shackleton's perilous voyages to reach the south pole made its history come alive.
Staying onboard creates less environmental impact
Many passengers had questions about the environmental impact of the cruise we were on. Stuart Brint, a monitor on the Norwegian Star for IAATO (International Association of Antarctic Tour Operators) made a point of saying that large cruise ships do the least environmental damage because passengers don't set foot on the continent. 
According to articles I read in the Washington Post, CNN and the IAATO website, the biggest threat from humans visiting the most secluded continent is the introduction of alien species to its ecosystems. Tourists who get to walk on the landmass and ice can bring with them microbes, seeds and other invasive species on their boots and clothes. They also leave footpaths, create soil erosion, and can unintentionally disturb nesting birds. Observing the continent without setting foot on it is considered to have minimal impact.
It is in the best economic interests of the cruise companies to do as little damage as possible and IAATO does what it can to regulate and monitor all ships that cruise in Antarctic waters. But as with all air, sea and motor travel, carbon emissions do have a negative impact. The articles I've read indicate that the Antarctic cruise industry is well-run and keep their emissions to a minimum. The New York Times, National Geographic and many others cite scientists as saying the biggest benefit of Antarctic tourism is that tourists return home with a new appreciation for wild places and the impact of climate change. Tourists often become ambassadors or activists for environmental protection.
We crossed the Drake Passage twice, heading to and leaving Antarctica. It is known for having some of the most dangerous waters on the planet. The explorers feared it and many ships succumbed to the ferocity of the sea. These days ships don't break up or disappear. The Norwegian Star is large and equipped with stabilizers which make the passage easier, but it can still be a tough crossing. Having become ill a few days before from huge pitching waves I was dreading this part of the voyage; nothing to see and roiling waters. Fortunately, the sea was relatively calm. I wore a scopolamine patch and felt fine, even enjoying a delicious dinner.
First sighting of Antarctica
The morning after the crossing I woke at sunrise for my first Antarctic sighting, Snow Island glistening gold in the early sunshine. It could not have been a more perfect day weatherwise, clear, sunny, and calm. It was, however, very cold. The geologist and naturalist were broadcast throughout the ship explaining what we were seeing. I spent three hours outside absorbing the beauty, then had to warm up. The Norwegian Star crew thoughtfully provided hot chocolate and chicken broth.
Deception is a volcanic island that is donut-shaped, with a caldera inside the size of Santorini in Greece. A caldera is the open space left behind when a volcano collapsed. I could see the island was massive, but it really became obvious when a small sailboat carrying researchers made its way into the caldera. 
Cruising through Admiralty Bay almost made Deception Island look pallid in comparison. Imagine looking in any direction and seeing towering glaciers. Emerging from hundreds of feet of ice were pillars of volcanic stone. Small icebergs bobbed along in the water. The sky was an intense blue and the air as pure as I've ever experienced; we could see for miles. At one point the geologist noted that what looked to be relatively close was ten miles away.  He also told us that this was one day in a hundred when the weather in Antarctica was perfect.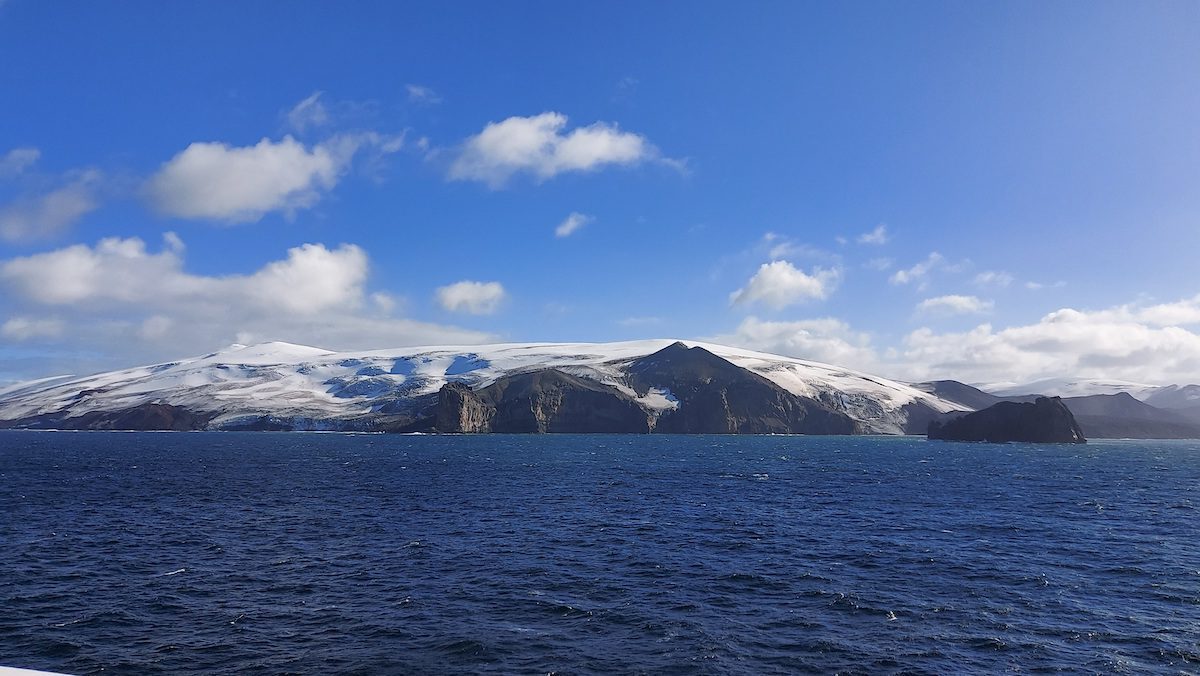 Admiralty Bay on a rare blue-skied day / Photo by Karen Gershowitz
Glaciers in every direction at Admiralty Bay / Photo by Karen Gershowitz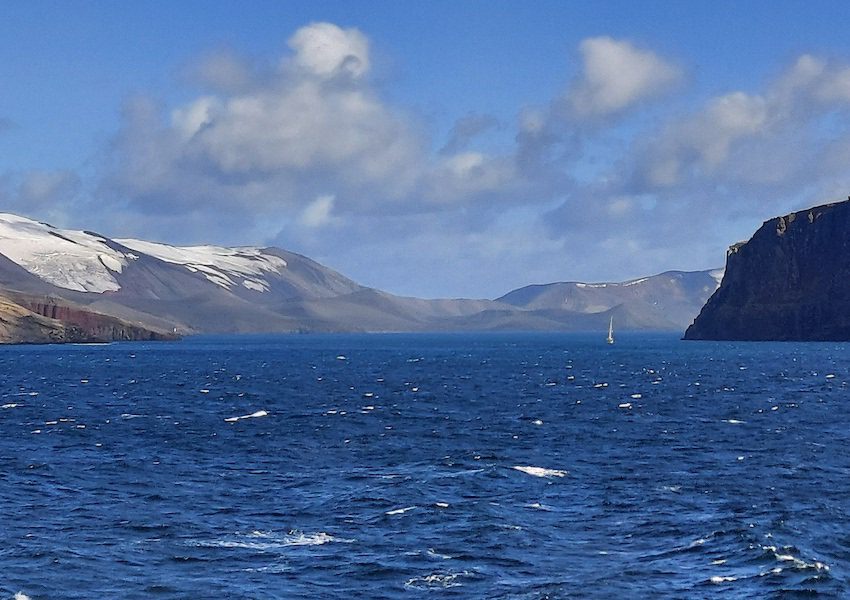 A sailboat crosses over the Deception Caldera / Photo by Karen Gershowitz
The following morning was clear and bright, then clouds and fog rolled in. Later there was rain and heavy snow and biting winds. Landmasses played peekaboo in the fog, often disappearing as if a fluffy gray curtain had been lowered. This was more typical Antarctic weather.
The weather seemed appropriate given the role Elephant Island (named for elephant seals) played in the Shackleton story. His Endurance Expedition crew wintered over there after the ship became iced in the Weddell Sea. That they survived is nothing short of a miracle. 
Apart from the historical significance, this is a feeding area for sea and avian life. I sat for hours in a protected spot and saw several dozen whales — mostly fin whales, second in size only to blue whales. The experience of seeing one whale after another blow water and briefly emerge exposing a fin or their body was extraordinary. A fellow passenger referred to what we were seeing as "whale soup."
There were also hundreds, if not thousands, of birds that passed close to the ship–Antarctic Shags, Albatross, and Petrels. Penguins swam alongside us. I'm glad I was able to have a taste of all sorts of weather and see the landscapes in both bright sunshine and shrouded in fog.
The ship couldn't dock in the Falkland Islands because of extreme winds.  It was disappointing, but understandable. 
This was a "soft" adventure, but one that satisfied my need to explore within the limitations I have. I can now honestly say I've been to the end of the world.
If you go to Antarctica
Cruises depart during the Antarctic summer, December through February. 

Pack for two seasons, Buenos Aires will be hot, the Antarctic extremely cold—you'll need lots of layers. 

Bring along seasickness preventative medications: scopolamine patches and wristbands. 
Make certain you have good binoculars, like these ones from Vortex Optics.
You'll need shoes with rubber soles that will provide stability—outside decks can become damp and slippery. These boots from Sorel will also keep your feet warm while on deck. 
Sunglasses and sunscreen are a necessity.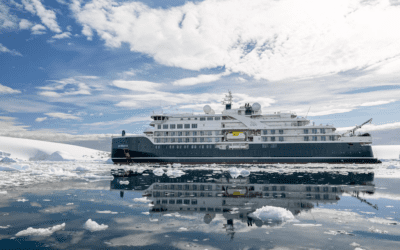 Swan Hellenic announces exclusive no single supplement travel deals on selected Antarctica expedition sailings.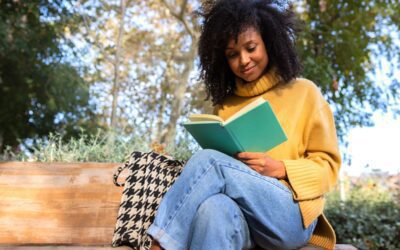 TripFiction's Tina Hartas helps us travel by book to 12 countries that solo women plan to visit in 2023, from Africa to Peru.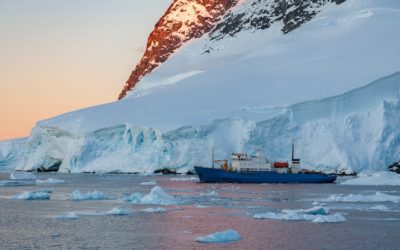 Wild Women Expeditions is offering 25% off Antarctica expeditions, making this the perfect time to check the Antarctic off your bucket list!