Last updated on February 10th, 2023
Featured image: Medellin is showing signs of hope and renewal after being the world's most dangerous city | Photo by Bryan Bravo on Unsplash
Once the world's most dangerous city, Medellin is an unexpected surprise  
By Carolyn Ray, Editor, JourneyWoman
When I decided to spend five days in Medellin, Colombia, I wasn't sure what to expect. I had been to Bogota and Cartagena almost 10 years ago, and found the people warm, welcoming and friendly. But Medellin?  
Arriving alone in Medellin on an early morning flight, I admit to being a bit anxious given Medellin's historical reputation. Instead, I left in awe of the transformation that is taking place. Once the world's most dangerous city, Medellin has mastered the art of accepting its past with grace but moving forward with courage. Across this city of four million people, I witnessed hope and renewal, evidenced in sites from Parque Inflexion to Comuna 13 to Moravia. 
Cultural change takes time, courage and powerful, honest storytelling. It also takes leadership, and in Colombia, women are stepping up to lead change. One recent development is that the Republic of Colombia has elected Francia Márquez, its first female Black Afro Vice President, an environmental activist from the mountainous department of Cauca in southwestern Colombia.
Is Medellin safe for women?
When I asked other solo travellers what they thought of Medellin, reactions were extremely positive. Most of the comments focused on the warmth of the people, delicious food, festivals and beautiful countryside. (That doesn't mean you can let your guard down; to help plan a trip, always review our Solo Travel Safety tips here.)
There are few cities in the world that have managed to overcome a reputation for violence to lead a process of social change. Between 2014 and 2022, Medellín experienced a decrease in crime of more than 85 percent. It. has spent the last 20 years rebuilding and reinventing. Earlier this year, Medellin won a prestigious award for South America's leading emerging tourist destination from the World Tourism Market.
In May 2022, hotel occupancy reached its highest rate since 2006 at 72.5% and experienced a growth rate of 38% in international travellers between January and May of 2022. These numbers surpass Bogota, the capital, and Cartagena. Most visitors are from the U.S. at 39%, followed by Mexico (16%) and Panama (12%). 
Places to explore in Medellin
Parque Inflexion: Remembering the victims of violence
One of the changes Medellin has made is to acknowledge the victims of violence, instead of the perpetrators. In 2019,  the condominium building belonging to one of Colombia's biggest drug dealers was demolished, and the Parque Inflexión was created. This public park is a quiet place where people walk their dogs past a long wall that has 46,212 holes in it to represent each victim. At night, the holes are illuminated. 
On the other side of the wall is a list of terrorist events that occurred in a nine-year period, many on the same day or month. It's incredibly overwhelming. There is also a Peacebuilders monument to police officers who died in the line of duty. 
At the end of the wall is a quote "Somos lo que dejamos a los demás" which means "We are what we leave in the hearts of others".
Carolina Díaz Velásquez, one of our guides, shares the story of her own uncle being kidnapped and eventually killed by the Medellin cartel.  Fearing for their lives, her family moved to Bogota only to return years later. She finds therapy in giving tours, which allow her to share memories from her childhood.
"This is a time that produced a lot of pain but it can't be ignored," she says. "We learn from the lessons of the past." 
Note: While I was there, I observed several tours selling Pablo Escobar t-shirts and other assorted swag. Please don't go on a Pablo Escobar tour; this only glorifies violence.  You can find other tours here.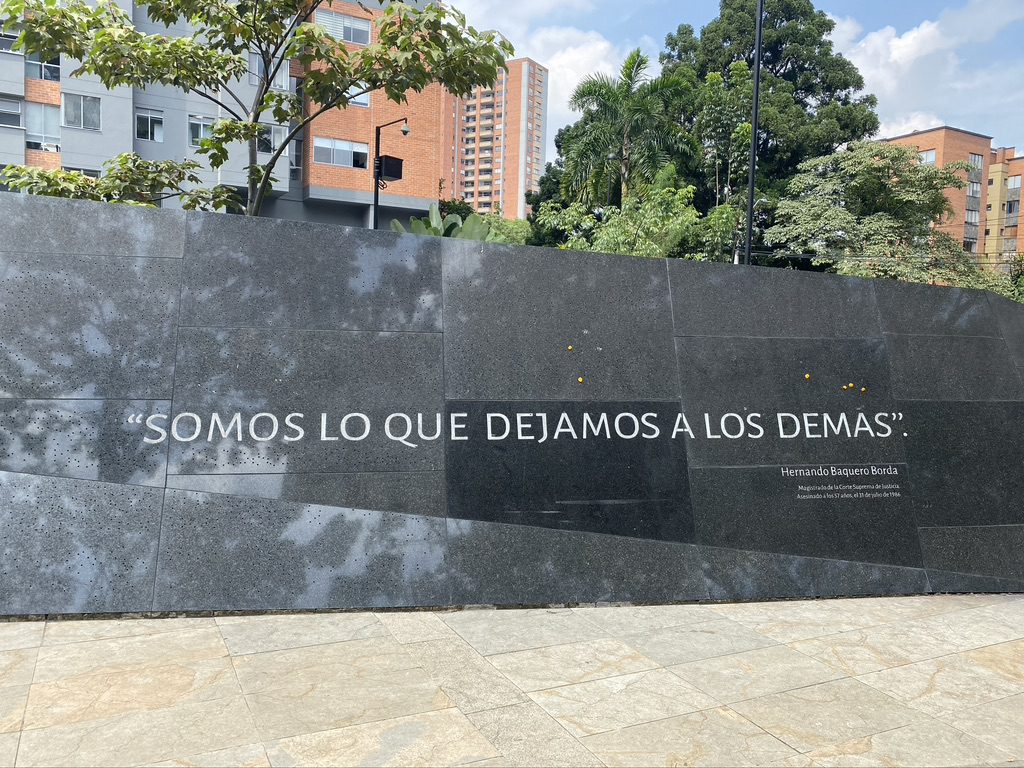 Parque Inflexion memorial wall (above) and Police memorial (right) / Photos by Carolyn Ray
Morovia: From garbage dump to thriving creative hub
Spending a morning in Morovia, in a northern suburb of Medellin, shifted my perspective in ways I am still processing. 
Once the city's landfill, approximately 15,000 people lived among the rubbish at the Morro de Moravia in 2004, according to BBC. With new refugees arriving from places like Venezuela,  the area was declared a public disaster in 2006. But then, the residents joined together and found a way forward, unleashing a creative, thriving community. 
Our guide, Ana Cristina Vélez Bunzl introduced us to the community-builders of Moravia – and no surprise, they are all women. There's Cielo Maria Holguín Ramírez, co-founder of Moravia Tours, which she runs with her sister Angela. Brandishing a worn copy of the "Moravia Manifesto", Angela pointed out some of the key pages which read like a guidebook for an urban plan – one that focuses on sustainable living.    
There's María Lucila Pérez, known as "Mamá Chila", who created safe places for children by offering them a space during the day to eat, learn and play in her home. There's Lina, who teaches kids capoeira, a Brazilian art form that combines elements of martial arts, dance, acrobatics, music and spirituality. 
Even with a newborn baby strapped to her stomach, Lina is literally the most high-energy person I've ever met. After showing us how to dance and dodge with capoeira, she offers us a bracelet with the words 'Lembraca do senhor do bonfim da bahia ahia' and instructs us to tie them around our wrist and make three wishes.
"We never had dreams before," she says. "Now we know how important it is to make wishes in your heart and push positive energy out into the world." 
These women are role models, showing that dreams are possible through collaboration, that the right energy can create change and that Moravia, once a garbage dump, is becoming a place of hope and opportunity.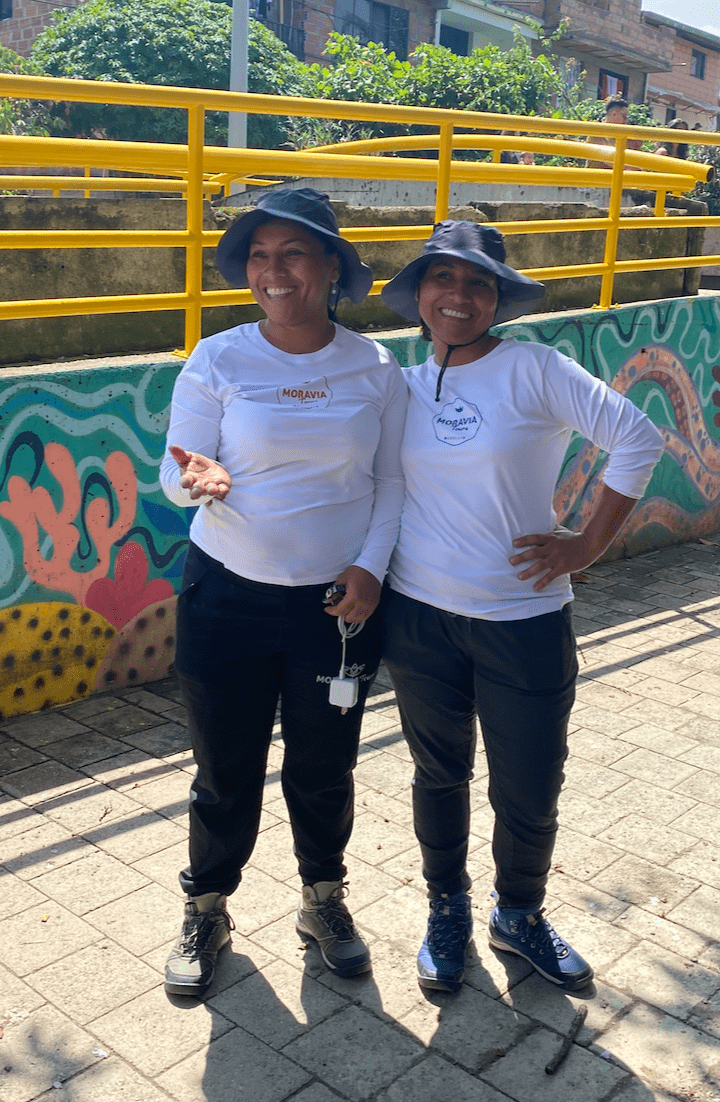 Angela and sister Cielo of Moravia Tours / Photo by Carolyn Ray
San Antonio Plaza: Botero's birds of peace
At San Antonio Plaza, two Botero sculptures stand side by side. On the left is the original 'Bird of Peace' (Pajara de Paz), which was blown up in 1995 by a guerrilla group, killing 30 and injuring more than 200. The group claimed it was a message aimed at Colombia's then-defense minister Fernando Botero Zea, Botero's son. 
Instead of removing the damaged bird, Botero insisted it should be kept to honour the victims. He donated an identical, undamaged second bird in 2000 to stand beside the first bird.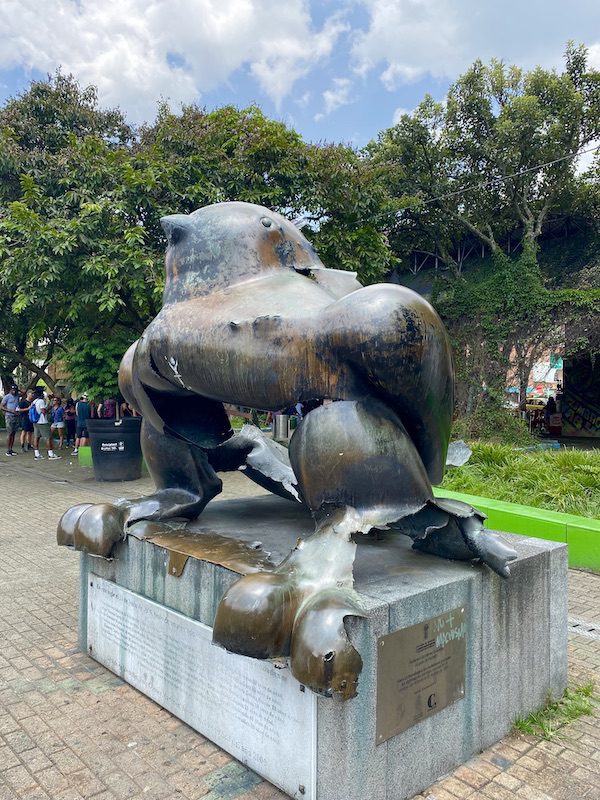 Botero's original "Bird of Peace" was damaged in 1995 / Photo by Carolyn Ray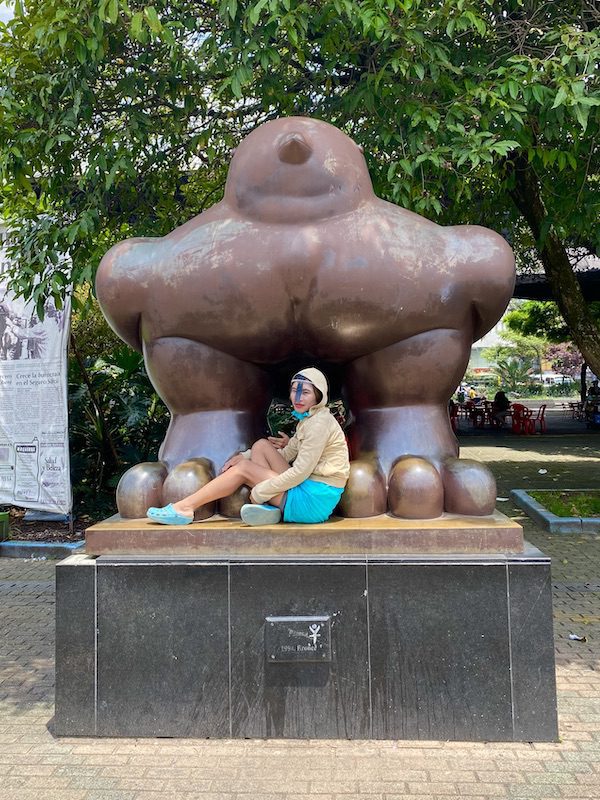 The identical "Bird of Peace" donated in 2000 / Photo by Carolyn Ray
Five shoulder season travel destinations recommended by women that offer lower costs, less crowds, and unique experiences.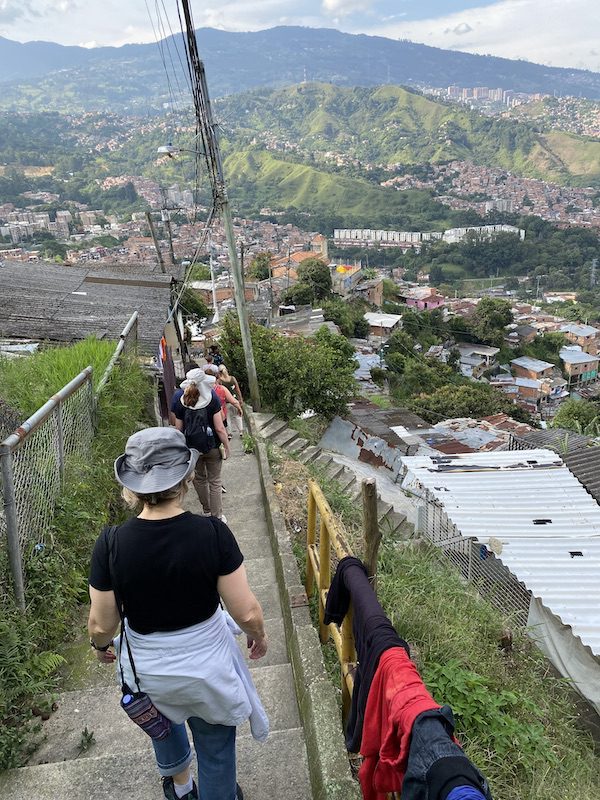 Exploring Comuna 13 / Photo by Carolyn Ray
Comuna 13: giving kids new role models
High up in the hills of Medellin is Comuna 13, an area once inhabited by the paramilitary. Steel fences pocketed with AK47 holes remind a passerby of the past.
In an area not normally visited by tourists, we were guided through narrow streets, winding paths and around houses stacked on top of houses, reminding me of the favelas in Rio. One of the most memorable sights was seeing a motorbike with a washing machine balanced on its back. Washing machine delivery is a new service that has been developed, as people find new ways to bring in money as an alternative to drugs.   
One of the community change makers is Jhon Freddy Aspirilla, who discovered hip hop music on a tape cassette and in doing so found a link to the outside world. For the first time, he says he felt connected to his black roots. Music became his passion. 
In 2005, he created the Son Batá Collective to give youth a space to practice arts, music and dance. Not only has this group performed with bands like the Hot Chili Pepper and others around the world, it caught the attention of Marc Antony and J. Lo when they visited 21 Latin countries in 2021.
"We don't have guns anymore," he says. "Now we have microphones. You can have a good life with a microphone. You can transform a community and create positive role models."
Improving urban mobility
Escalators to connect Comuna 13 to the city
Almost every story about Medellin includes some mention of the 384-metre escalators built into the side of the mountain to improve access to this area. It replaced stairs residents had to take to their homes. 
In an area previously known for violence, the escalators brought positive benefits to Comuna 13 including positive press from outlets like CNN and helped residents feel pride about the area. 
Opened in 2011, the development has become a model for urban planning around the world. Bars, restaurants, shops and art galleries pepper the route, which also provides stunning views of the entire city and stunning graffiti. 
Mass transit by gondola 
Another innovation is the gondola system built in 2004 that links Medellin's underdeveloped suburbs to the city center. Usually. we see these on ski hills, but with Medellin's steep hills, six cable cars were installed as a means of mass transit, integrating people who lived on terraced areas on the steep hills into the city.
Thanks to the Metrocable, residents could access healthcare and new jobs. Underneath the one I visited is a library where children use computers and check out books for free.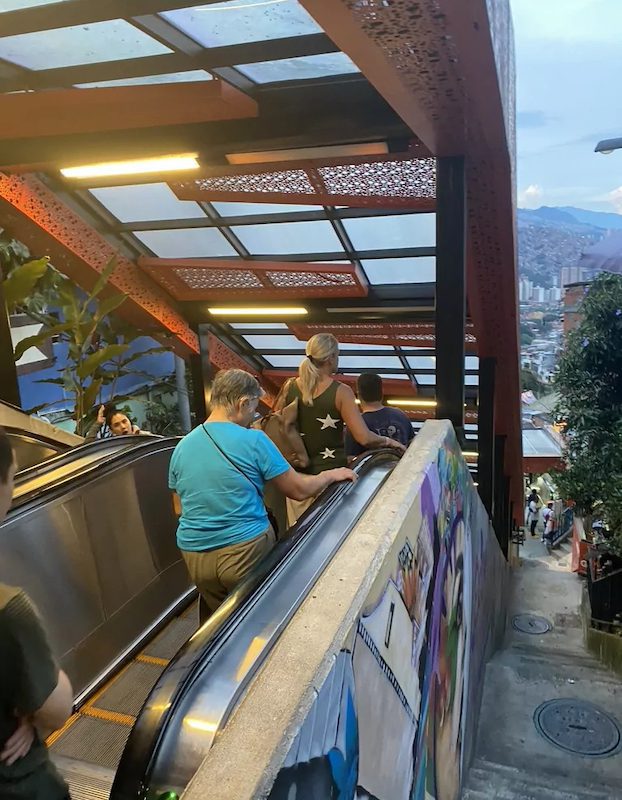 Escalators connect Comuna 13 to the city / Photo by Carolyn Ray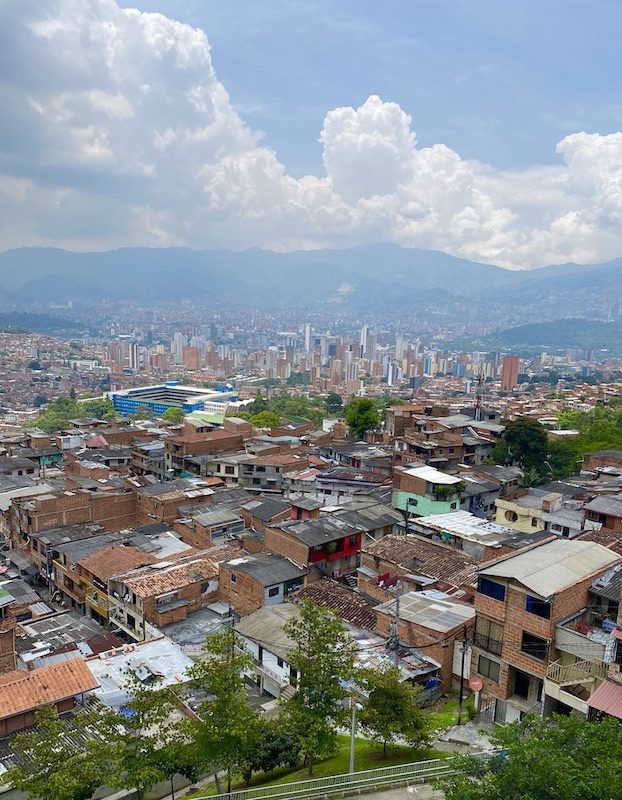 Medellin seen from above / Photo by Carolyn Ray
What we can learn from Medellin
My time here in Medellin — once the most dangerous city in the world — shows us that while we cannot forget the past, it is possible to hope, dream and take action for a better world.
There is still fear here, but the younger generation is trying to learn from the lessons of the past rather than be held back by them. Even now, cocaine production exceeds what it did during the drug wars, due to demand in the United States. What's also surprising is how isolated this city was from the outside world. 
Here's what my Medellin guides Caro and Ana told me when I asked how they sustain their hope: 
Focus on what brings you joy and happiness 

Choose love, kindness and compassion over anger 

Find positive role models 

See (and act on) opportunities for change where others don't 

Don't stop dreaming — believe in those dream

We can never forget the past, but we can look beyond the fear to keep hope alive for the future. This is how travel teaches us – about the world and our role in it.

Safety tips for Medellin, from my female guides: 

Be aware of your surroundings 

Don't wear flashy jewelry 

Keep your purse or bag in front of you 

Keep your phone out of sight, especially on the subway 

Masks are still required on public transportation

If You Go
(Note: My trip to Medellin was arranged by the Society of American Travel Writers as a press trip with Colombi Tourism, however I paid all expenses. Colombia Tourism did not review this article in advance).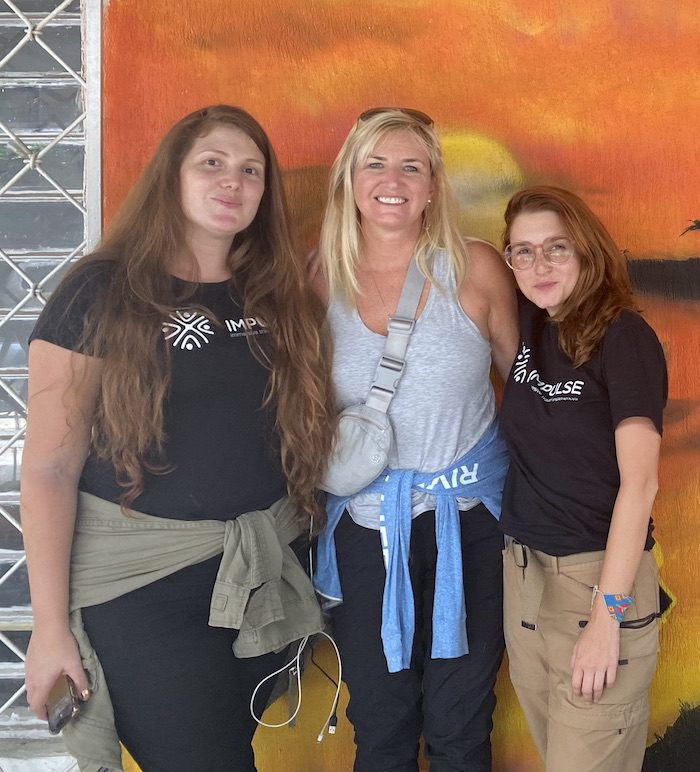 Carolyn with her guides Caro and Ana / Photo by Carolyn Ray
Start Planning Your Trip to Medellin
Get started with resources recommended by the JourneyWoman community
Book Your Flights
Use tools like Expedia or Google Flights to look up the best flight prices. Being flexible with dates can save you even more money.
Find Somewhere to Stay
Find a hotel on Expedia and earn points towards free stays. Hotels.com offers a free night stay for every 10 nights booked.
Insure Your Trip
Travel insurance is more important than ever. Compare plans and policies for the best coverage for your trip using Insure My Trip. Traveling for an extended amount of time? SafetyWing offers ongoing coverage on a month-to-month basis, and World Nomads offers coverage for extended trips.
Looking for a Tour?
Head to the Women's Travel Directory to find a woman-friendly tour around the world.
More South America to Discover
A small ship expedition to Ecuador's Galapagos Islands is an opportunity to witness some of the world's most spectacular wildlife, while learning first-hand about evolution and adaptation.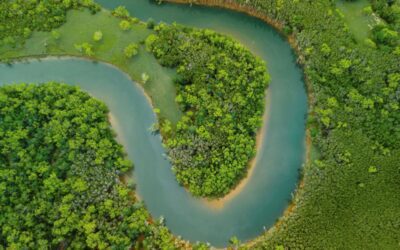 In Ecuador's Amazon, adventure awaits with pink dolphins, piranhas and tarantulas that blend into the night.
Adventures in Ecuador's Amazon Basin, the Andes and the Galapagos Islands show us that travel is a two-way relationship.