Last updated on March 17th, 2023
Featured Image: The incredibly blue waters of Moraine Lake, Alberta by Carolyn Ray
Five Things to Do in Lake Louise
by Carolyn Ray, JourneyWoman Publisher 
Energized by anticipation, I eagerly climb a winding path to the top of the massive Rockpile perched high above the ground. As I walk around the corner, I feel the breath leave my body in a whoosh. I can't move, I'm transfixed by the glimmering turquoise lake in front of me – Moraine Lake – surrounded by 10 sharp, jagged peaks that reflect in the water. The colour turquoise is so vibrant that it looks painted. It is beyond a doubt, the most beautiful lake I've ever seen.
Even though the Rockpile is crowded with tourists taking selfies, I'm so awestruck that I can't hear them. Frankly, I don't even notice them, as I walk up the trail to the very top. Now I understand why this iconic lake is printed on the Canadian $20 bill. It's one of those destinations that must be experienced at least once in your life. Photographs just don't do it justice.
Lake Louise
Bluer than Helen's eyes she lies
Under the blue cloud-drifting skies;
A daughter fair of light and air
Dropped among warrior mountains there.
White glaciers kiss her feet so fleet—
Oh fugitive, too rare and sweet!
Will she not fling them off that cling,
And rise, a bluebird on the wing?
Will she not rise and stray away,
A blue gleam on the brow of day?
Look—still she stays, and bright, snow-white,
The glaciers guard her day and night!
Harriet Monroe, Founder of Poetry magazine in 1912
Five reasons to love Lake Louise
1. See two stunning turquoise lakes in one day
Any visit to the Canadian Rockies is always restorative, which is why it's one of our top seven Once-in-a-Lifetime experiences for women. After my exhilarating adventure in the backcountry of Banff, I had less than 24 hours before my return flight from Calgary. Rather than stay in Banff, I wanted to see Lake Louise, about 45 minutes outside Banff. There were two things I wanted to do in my limited time – see Moraine Lake and visit the Fairmont Lake Louise.
While there are shuttles that run between the two town, fortunately my new cowgirl friend Bev, who is heading in that direction, gives me a ride after our backcountry adventure. The drive along the Trans-Canada Highway itself is incredibly scenic, with rivers and mountains in every view.
Prices at the Fairmont are running at about C$800 a night plus taxes, which are wildly out of my budget, so I opt for a much more economical stay at the Lake Louise Inn. One of the things I like about it is its distance from the train, which runs right beside some of the more expensive hotels. The simple, straightforward room was just what I needed, and I appreciated that they put me on the second floor and offered two keys without me asking. (See Hotel Safety tips)
2. Reflect on the beauty of nature at Moraine Lake
An ever-changing palette, the colours of Moraine Lake change with the season, from cobalt blues and greens as the rock flour disperses in the lake. In July, the lake is a vibrant azure blue, although it's hard to see the peaks above them due to the nearby forest fires raging along the British Columbia border, which is only about 20 kilometres/ 14 miles away.
Ten peaks reflect onto the surface of Moraine Lake, which used to be named after the first peak – Mount Heejee (now called Mount Fay), renamed by mountaineer Charles Fay for himself in 1902. Originally the peaks were named from east to west using the numbers from the Stoney Indian language as follows: Heejee, Nom, Yamnee, Tonsa, Sapta, Shappee, Sagowa, Saknowa, Neptuak, and Wenkchemna. All but three of the peaks have subsequently been renamed for individuals.
Around the lake, there are several walking and hiking trails, including the Moraine Lakeshore, which I took for a heart-pumping fast hike to see the waterfall that I can hear –but barely see, gurgling in the distance. There are accommodations at the lake, camping, a restaurant and canoe and kayak rental. As beautiful as it looks, I'm told this glacial lake's temperature is 9 degrees on the surface, so it's not really for swimming.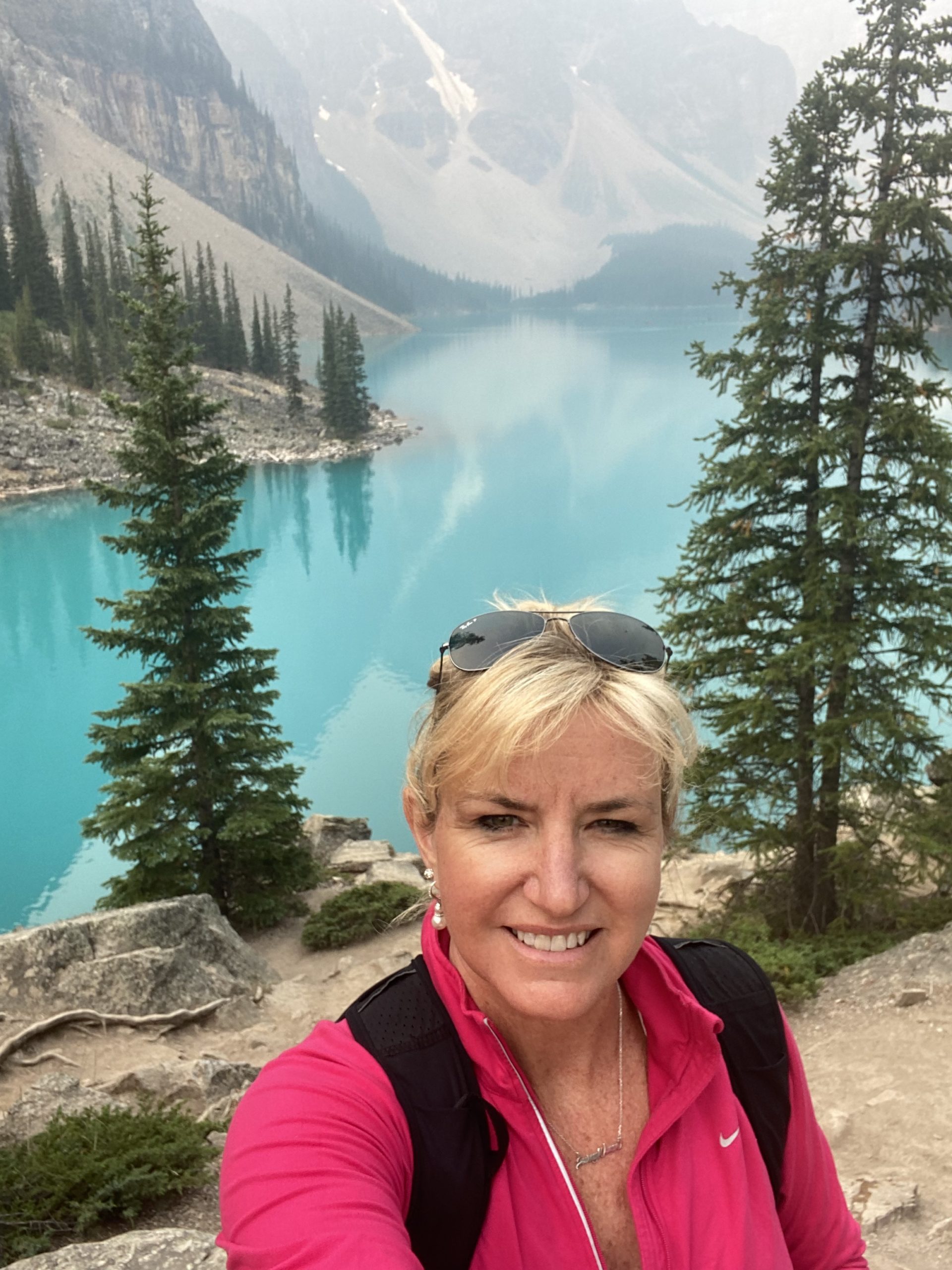 To get to Moraine Lake, I took the Moraine Lake shuttle with Tom Fry from Fairview Limousine for a flat rate of C$25 return. This turns out to be a better decision than taking the park bus because it's faster and I can stay on time. I learn that cars are restricted – only 100 vehicles can park at any one time to offset over tourism. You can walk, but it's a long way in!
I can't help but imagine ice skating on this lake in the winter. My guide, Tom, shares a story (and shows me the video) of him ice skating on it, gliding across the surface, skates scratching on the ice, which is still turquoise. In mid-October, the road to Moraine Lake closes due to avalanches, but Parks Canada creates a cross-country ski trail and the Nordic Ski team, which trains in nearby Canmore, come here for early season training. (To contact Tom, email him at fairviewlimo@gmail.com).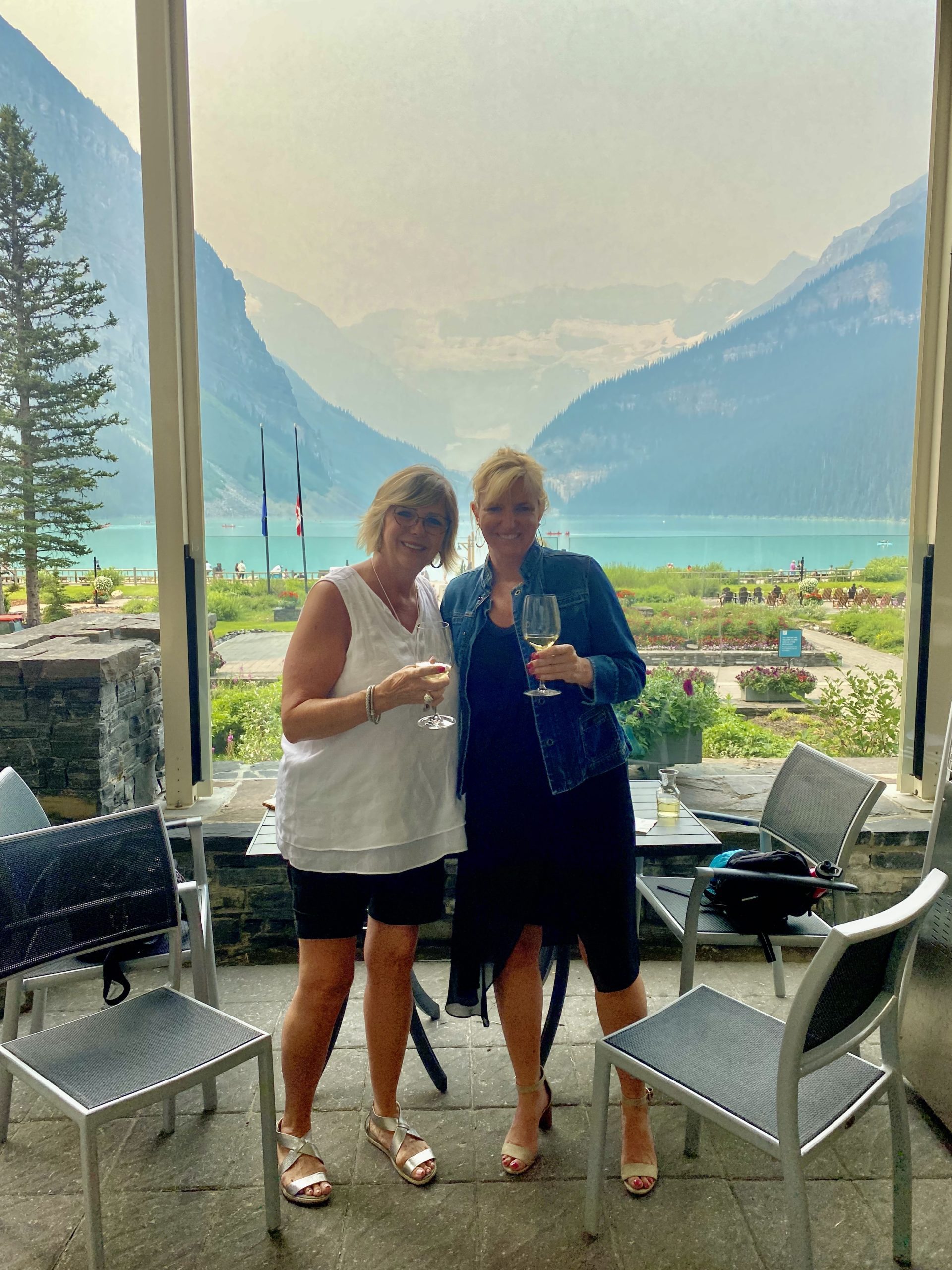 3. Step into luxury with a decadent lunch at the Chateau Fairmont Lake Louise
I zip back to the hotel to change out of my hiking clothes and into something more presentable for lunch at the Fairmont Lake Louise with Cathy Gotfried, founder of Babes in Bali, who lives in Calgary. With the majestic Victoria Glacier and the blue-green Emerald Lake as our backdrop, we enjoy lunch outside on the patio this historic hotel.
Called Chalet Lake Louise, Canadian Pacific Railway general manager Cornelius Van Horne hosted visitors from various stations along the railway line. While just 50 guests stayed in 1890, by 1912, that number had risen to 50,000. Despite two fires, his tiny cabin became today's Fairmont Chateau Lake Louise and attracted film and movie stars from around the world, including John Barrymore, Betty Grable, Mary Pickford, Douglas Fairbanks, Alfred Hitchcock, Marilyn Monroe, and Superman himself, Christopher Reeve. (Source and postcard below: Historic Hotels)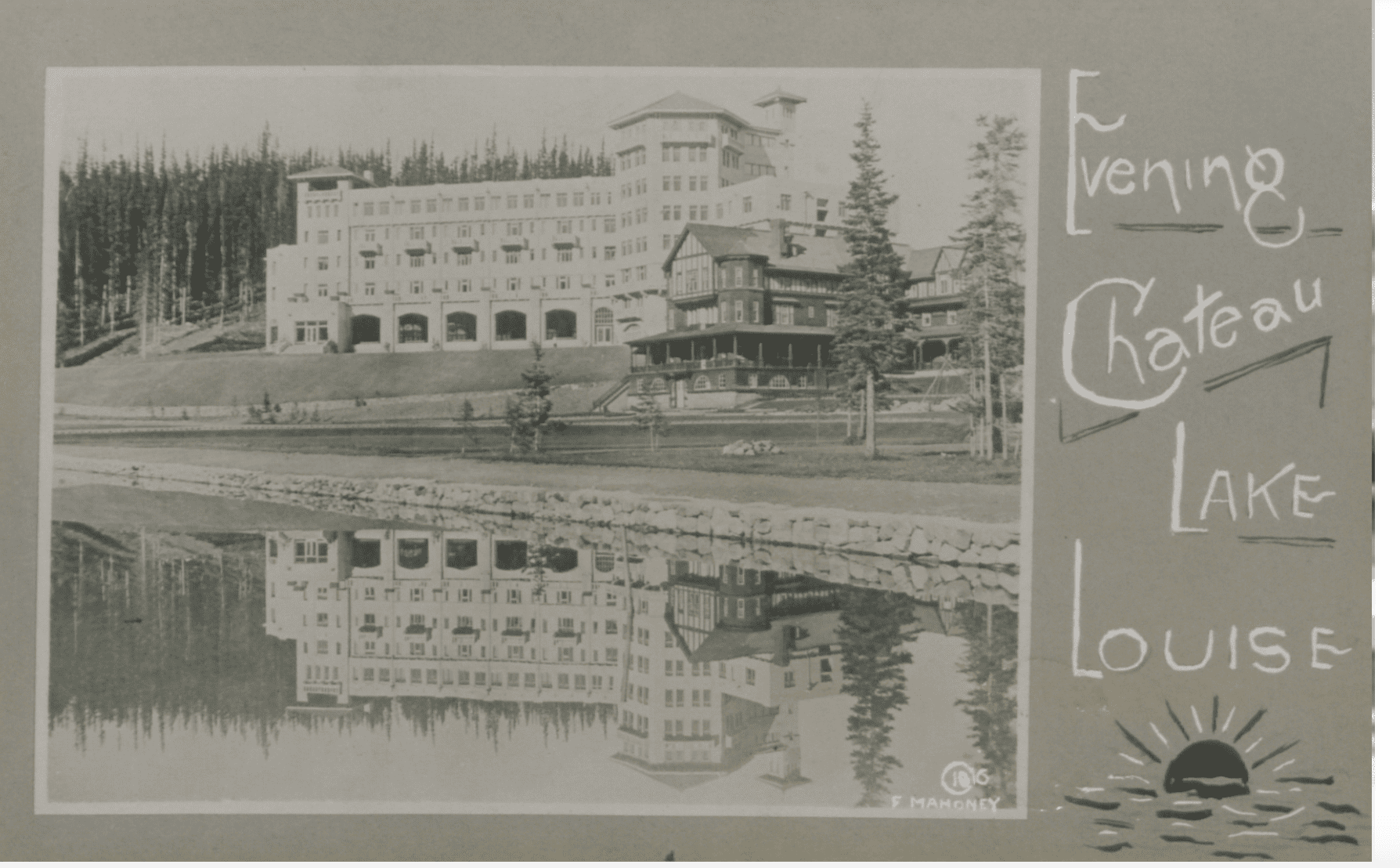 4. Learn about Canada's train heritage at a historic train station
From my hotel, it's a short walk to the Station Restaurant, a restored Canadian Pacific train station that has been renovated into a restaurant and museum. For those interested in train history, you'll find it charming and full of old photographs, artifacts and of course, trains.
I only wish I had been able to experience eating dinner at the 1925 Delamere heritage train, which now serves as a dining parlour, reflecting the truly iconic place railway travel and the Canadian Pacific Railway has in Canada's history.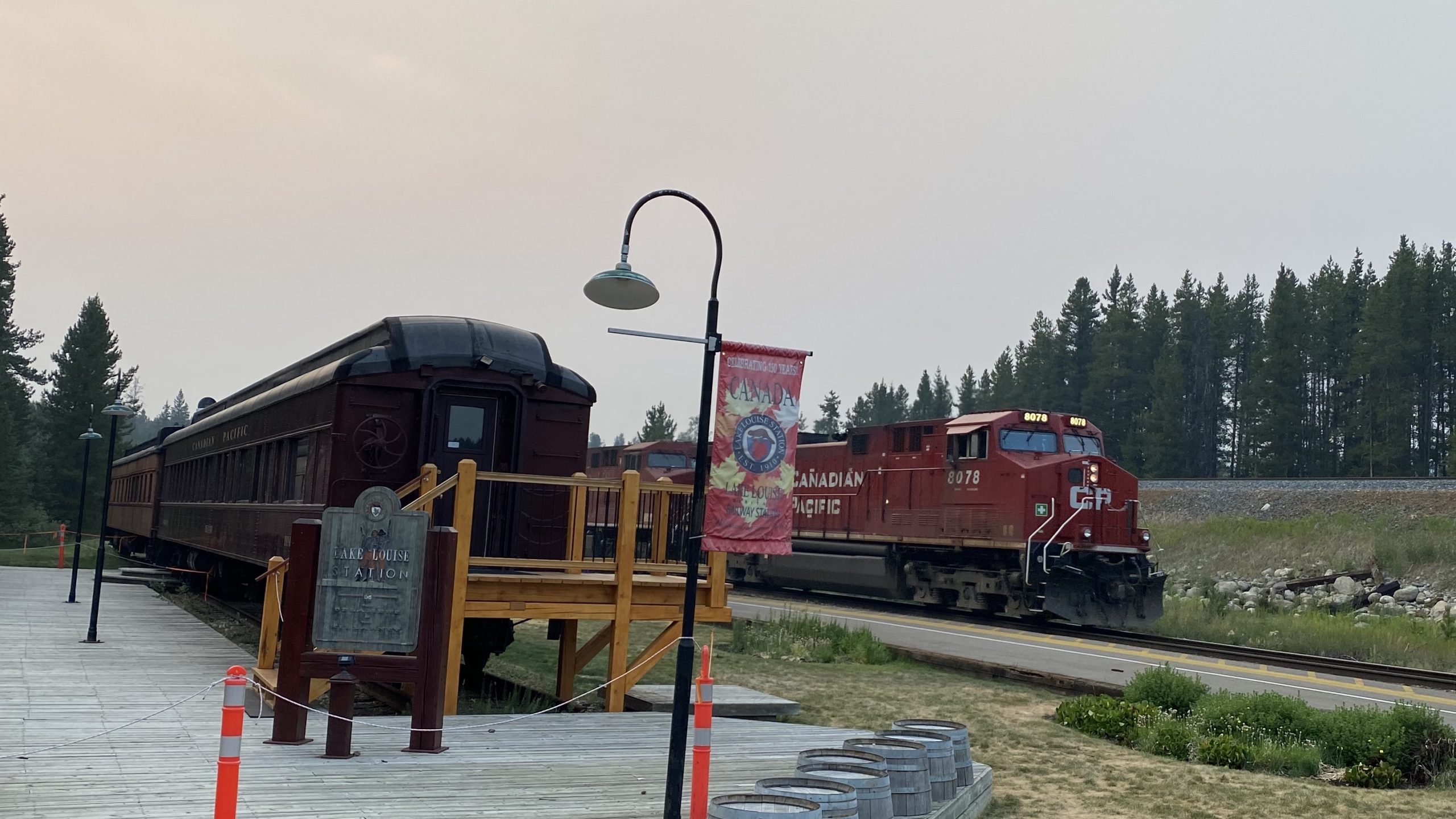 5. Meet JourneyWomen and make new friends
Cathy and I leave Lake Louise and drive to Calgary, about two hours away, where we welcome JourneyWomen from Alberta. At this time, Alberta had relaxed its public health rules, so social distancing and masks were not required. However, as our social event was at Cathy's house, we asked that everyone be fully vaccinated. It was wonderful to meet other women that I've only seen on Zoom calls, or spoken to on the phone. If you'd like to get together with other JourneyWoman, visit our new Community Forum.
It was during our dinner that JourneyWoman Marilyn Kater and I talked about doing the PEI Camino in September. If you're on our Facebook group, you can enjoy her daily posts of this 700-km walk around the perimeter of Prince Edward Island. I'll be writing about this experience when I join her on September 7.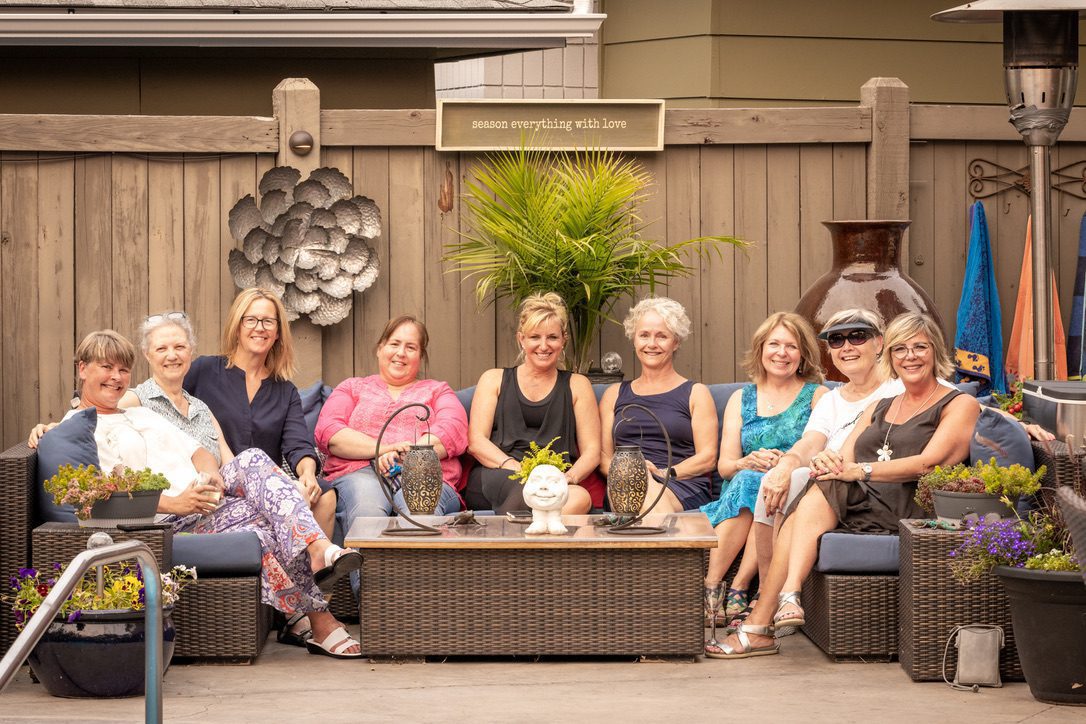 JourneyWomen in Calgary: Lee, Marilyn, Nathalie, Thia, Chris, Mona, Mary Lynn, and Cathy/
Photo by Lee Horbachewski, Website: http://leehorbachewski.com/
Special thanks to Banff Lake Louise Tourism for assisting with the hotel and the complimentary dinner at the Station.
Discover More of the Canadian Rockies
Tips to embrace adventure in the real Canadian Rockies on a six-day horseback riding tour in the backcountry of Alberta.
Women share their once-in-a-lifetime stories of the majestic Canadian Rockies, the jaw-droppingly beautiful mountain range spanning Western Canada. that connect us to nature at is most authentic and primal.
The Plain of Six Glaciers Trail in the Canadian Rockies is worth the trek to the top for stunning views and a well-earned cup of tea.