Last updated on May 4th, 2022
Featured image: Haddow feeling on top of the world on her hiking adventure / Photo by Jennifer Haddow
How adventure travel saved Jennifer Haddow's life
By Amanda Burgess, Editor, JourneyWoman
Adventure travel saved the life of Canadian Jennifer Haddow, owner of Wild Women Expeditions. She lives by a Mary Oliver quote she interprets as a personal challenge: "What is it you plan to do with your one wild and precious life?"
Fifteen years ago, at the tender age of 28, Haddow was diagnosed with Multiple Sclerosis. She was consumed with fear over how this debilitating disease would drag her down into disability.
"Concerned family and friends cautioned me to be careful, not to take risks, to take drugs, consider experimental surgeries, to abandon my dream of having children," says Haddow. "Who would take care of me? The regular MS attacks were terrifying. I felt my limbs go numb and weak, and simple tasks such as writing my name or washing my hair became a struggle."
The diagnosis became a lightning rod for much-needed change in Haddow's life. She was a heavy smoker, in a toxic relationship, and her feeble attempts at exercise were limited to the occasional yoga class or gym visit.
Jennifer Haddow traded in the concrete jungle for a career in adventure travel. She is now owner of Wild Women Expeditions.
Here she poses with a tree in Corcovado National Park in Costa Rica.
The moment she decided to heal and stop being a victim
"Leaving the doctor's office that day, I made a decision to change my life, to embrace a path of healing and empowerment. I quit smoking on the spot (and have never smoked since). It was surprisingly easy to do cold turkey once I got really honest with myself that it was truly what I wanted, not something I 'should' do." she says. "I radically changed my diet and started to actually learn about my body. I visited acupuncturists and massage therapists, chiropractors and colonists. I got a personal trainer, went to the gym regularly, and started running. I took a year-long yoga teacher training program and became a certified Kundalini yoga teacher."
Despite these wholly positive changes, Haddow was still stuck squarely in a victim mentality, resisting the steady downhill climb she saw as inevitable. Struggling against what she saw as her "disease" created dis-ease in her mind and spirit.
"I didn't believe that there was a future for me that didn't include a wheelchair. I thought of myself as a sick person slowing down the train that would smack me into submission someday," she recalls. "I clung to the crutch of the interferon drugs that were supposed to save me from steady decline, despite feeling horribly sick and sad after every self-injection and waking up in a cold sweat almost every night as I cried out from nightmares."
A woman who feels stuck in her day-to-day slog discovers that sometimes, you need to walk several miles in your own shoes to clear your muddled mind and rediscover yourself.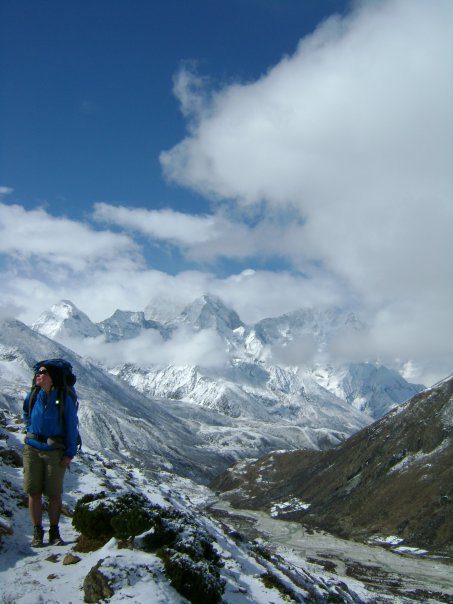 Haddow on her transformational hike through the Himalayas en route to Everest Base Camp
Taking on the 'impossible' challenge of trekking to Mount Everest
A few months after her diagnosis, a close friend was planning a trip to Nepal to trek to the base camp of Mount Everest and suggested that Haddow join in the adventure. Her first panic-stricken thoughts about what she saw as a crazy idea: No frickin' way. I'm a sick person walking with a limp. How can I trek to Mount Everest?
The thing about crazy ideas is that they often take root in your mind, tickling at the edge of your consciousness. Proof positive that when you shift your perspective, you change your life, "impossible" slowly began evolving to "I'm possible." During a long meditation, a message bubbled up in Haddow that felt like a calling. 
"The message was: Do what a healthy person – not a sick person – would do. The idea completely dominated my mind that if I did this month-long trip to the Himalayas, I would be okay," she says. "I latched onto this belief, this hope. It wasn't rational, and there was no good reason why I would be able to do this. I trusted the very experienced friend who invited me, and I allowed myself to be held and supported."
Lessons from the mountains: Change your story, change your life
A few months later, Haddow was winding her way through the Himalayas, telling herself the whole way that she didn't have to finish it, she didn't have to make it to the final destination of base camp. All she had to do was get on the trail, show up, and let life move her.
"I was giving myself injections of MS drugs the whole was up the mountain. I was having quite a time getting myself there. I wasn't fast, but I did it. I did it," says Haddow. "I found myself climbing steadily uphill, rising everyday step by step towards Chomolungma, the sacred mountain the Nepalese call 'Mother Goddess of the World.' At 15,500 feet above sea level, life takes on a different perspective. I knew I was connected to a light that would rise for me every day if I woke to greet it."
As she hiked to the top of Kala Patthar – the highest place on the planet you can walk without strapping on crampons and climbing Everest – and saw the sun rise over the peak of Mount Everest with her own eyes, an epiphany dawned in Haddow's heart.
Haddow credits regular infusions of outdoor activity in nature with helping to keep her MS in check.
Here she streams through a mirror of water near Haida Gawaii, an archipelago off British Columbia's West Coast.
"My story changed in that moment. I wasn't a sick person. I was a bad ass. I was strong. I was standing looking at the top of Mount Everest and I got myself there," she says. "When my narrative changed, when I let go of the ego and the victim consciousness that I'm just waiting to go downhill and end up in a wheelchair, I owned my own story. I was going up and getting stronger. I was impressive. I felt this confidence. When I came down from that mountain, I did a lot of concrete things to change my life."
Whether you're a Canadian looking to explore more of your own backyard in 2021 or an international traveller plotting your next adventure in Canada, we offer you a smattering of trail recommendations for women of all experience levels and interests as selected by a panel of experts.
The healing power of nature
On her trek through Nepal, Haddow learned that the healing power she was seeking could be found by immersing herself in nature. Back in Canada, she threw herself into the wilds of her own backyard, learning how to kayak, hiking regularly, practicing yoga outdoors – in the mountains, on beaches, in fields of wildflowers. 
Regular infusions of nature contributed to Haddow feeling more alive than she ever had before the day she was diagnosed. She decided to dedicate her energy and talents to helping other women discovering their wild side and natural vitality. She ditched her office job to take on a new challenge as Director of Wild Women Expeditions and moved from the urban jungle to the edge of a natural park surrounded by forest, mountains and ocean. She is now owner of the business.
Countless scientific studies validate what we intuitively understand to be true: That getting outdoors and being active in nature heals us in mind and body and buoys our spirit.
"The medicine I needed more than anything was to fall (rise!) in love with life again. To love my body and trust its infinite resilience. To love and cherish the land and the water, let it hold me and wash over me, like a nurturing mother. To love the purpose that I was called to, in my work and creativity," she says. "There have been so many lessons in the adventure of moving through the healing path, and in every way, I am more alive because of the disease I chose to make a tool, not an obstacle."
Haddow on a kayak adventure in Western Newfoundland, Canada
Fortuitously, the man who is now Haddow's husband is a holistic life coach, personal trainer, and wilderness guide. He has fully supported her in her quest to be healthy and strong. They now share a son. 
Proof positive of her powerful growth on all levels, Haddow reveals: "I consider myself to be in remission. I have been 100% drug-free for almost a decade and have not experienced a single MS attack in eight years. I trust my body again. I'm healthy and have climbed many mountains since my trek in Nepal and have done lots of things that I never really thought I would or could."
More Adventure Travel to Inspire You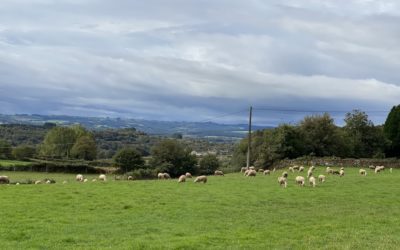 Even the world's most famous pilgrimage, Spain's Camino de Santiago, has some surprises for experienced walker JourneyWoman Publisher Carolyn Ray.
Biking for all ages: experienced women cyclists share bike safety tips, life lessons and benefits of being a member of the Ontario By Bike community. (Sponsored)
Tips to embrace adventure in the real Canadian Rockies on a six-day horseback riding tour in the backcountry of Alberta.