Last updated on November 2nd, 2023
Perceptions on gay travel may vary, but women share a love of travel
by Jules Torti
Three years ago, my wife Kim and I were in Ambergris Caye, Belize.  We had an amusing conversation with a 10-year old girl selling Johnny cakes and banana loaf with her younger entourage. She stared at us for a moment as we innocently drank coffee poolside and she bluntly asked, "Are you two husband and wife?
After much laughter, Kim said, "We are wife and wife."
The girl digested the information for a moment and wagged her finger back and forth at us. "Hmm. You look it."
Is gay travel different?
It's funny, wherever we are in the world there is still a small thrill in crossing paths with other lesbians. It does feel like we are as rare as astronauts sometimes.
I don't see any difference though, really. There's been a big shift—being gay isn't a big deal. Everyone knows somebody–a family member, Ellen, a friend, co-worker–or they've had their own experience. We're all seeking the same thing when we travel–newness, renewal and a recharge. And the best red curry in Bangkok, right?
When Kim and I first talked about eloping, we were leaning towards Bonaire but the ceremony would be just that. The marriage wouldn't be recognized in Canada, so we decided on an unexpected but truly perfect place: Heart's Content, Newfoundland. Our marriage commissioner was tickled to conduct her first gay wedding (in the eye of Hurricane Dorian no less!) and has called us her "First Wives" ever since.
Jules and Kim in Prince Edward Island, Canada
Perceptions on gay women vary by country
In places like Amsterdam or New York, it's not an overriding worry for us to walk hand-in-hand but in countries like Uganda or Egypt, it's easier to say that we are sisters or sisters-in-law. Kim had several marriage proposals in Alexandria and Luxor (Egypt) and we had to creatively fib that our husbands were back in the hotel room waiting for us–and despite this, Kim was still offered camels and chickens for an "I do". I don't love that we have to do this and fake our relationship, but ultimately, it's for our own safety. I would like a camel though…
We've been lucky in our travels. In China, we were called "sir" almost every day which we thought was funny…we kept a running tally. Back in 2009, I volunteered for a month at a chimp sanctuary in the Congo. The director of the sanctuary immediately said to me, "You can't be gay here." And, I understood that and her concern immediately. Being Canadian comes with precious freedoms and inclusivity – but in many African countries, it's illegal to be gay.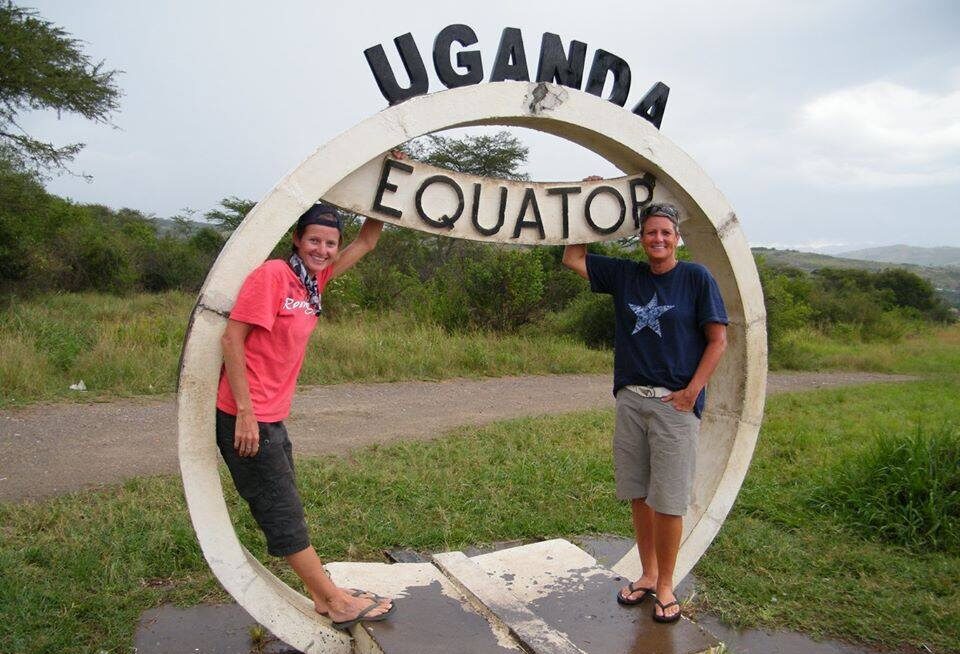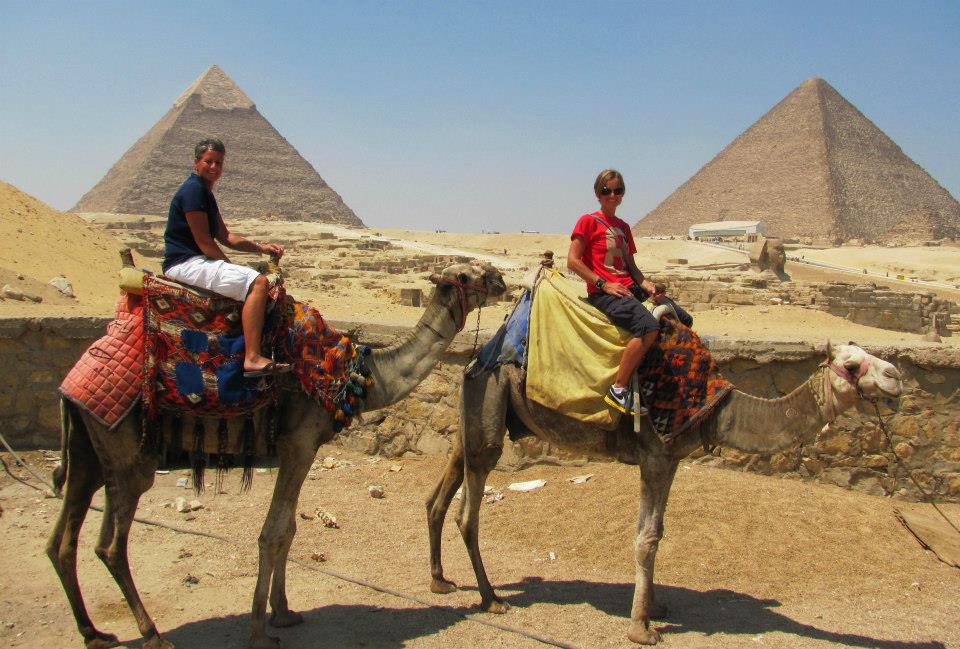 Generationally, Kim, who's 58, has a heightened awareness of not being so obviously gay when we are in certain countries (ie. hand-holding in public).
Kim remembers being locked inside a gay bar in Hamilton, Ontario in the early 80s when gaybashing was prevalent–the lockdown was for safety as bashers were outside with bats and clubs. She is part of a generation that is still on guard and cautious–being gay was not accepted. In her era, gay bars had back-alley entrances and secret knocks. My experience (I'm 48) was entirely different thanks to Kim's generation for knocking down the barriers, demanding equal rights, changing laws, education and acceptance.
When we walked the Camino, we were asked a few times whether we were okay with "just one matrimonial bed." The innkeepers believed it was an error on their end and were only asking for our benefit–when we reassured them that this was exactly what we wanted, it was a shrug and a smile.
I just think it's peculiar that 'matrimonial bed' is still a thing!
Planning our travel
When we start digging into our pre-trip prep, Kim and I will crawl around online looking for gay bars in the city we're travelling to or investigate if there's a gay film fest or Pride celebration going on.
Both of us have been out for more than 30 years so being gay is a dimension of us–it's not something that designs or limits our travels. It's rare to find a genuine lesbian bar these days–the scene is definitely dominated by gay men (who are great company too!). We have talked about returning to Amsterdam for Pride though…
Once upon a time in a faraway land (Michigan), the Michigan Womyn's Music Festival ("Michfest") held its final gathering (40 years in 2015)–it was an enormous week-long boho affair of movies under the stars, workshops, stand-up comedy, an incredible vegetarian buffet (all prepped over open fire pits) and huge star power entertainment like the Indigo Girls, Carole Pope, Jane Siberry and Lea DeLaria. The festival was 100% women-organized and seamless operation of stage set-ups, sound, lighting and camping–more than 10,000 women set up impromptu sites in the woods. The only time men were permitted on the land was to empty the Port-a-Janes. That was a unique and missed slice of time.
Jules and Kim walking the Camino de Santiago
Resources to learn more
For gay women, I'd suggest subscribing to the East Lansing, Michigan-based publication called Lesbian Connection which spotlights lesbian-owned properties, rentals and music fests in North America. They have a Contacts list if you wish to connect with women in a certain state/province about travel or real estate.
Olivia has been operating women-only cruise experiences for over 5 decades. We're not into the cruising scene but Olivia attracts big talent– Patti LaBelle, Sarah McLachlan, Billie Jean King, Heart, Bonnie Raitt…their trips are designed as safe spaces for the lesbian and LGBTQ+ community.
Provincetown, Massachusetts has an annual Women's Week in October that's a big deal too…
Gaycation is a series available on AppleTV and Vice TV. Ellen Page (now Elliot Page) hosts the journey with her bestie, Daniel. They visit LGBTQ communities + individuals around the world and chat frankly about the dangers, movements and acceptance from Japan to Jamaica to India.
And of course, I must give props to my employer, Wild Women Expeditions. Kim and I have travelled to Croatia, the Galapagos Islands and Greece with them. Our company is all about inclusivity and diversity. Gay gals, come, travel with us!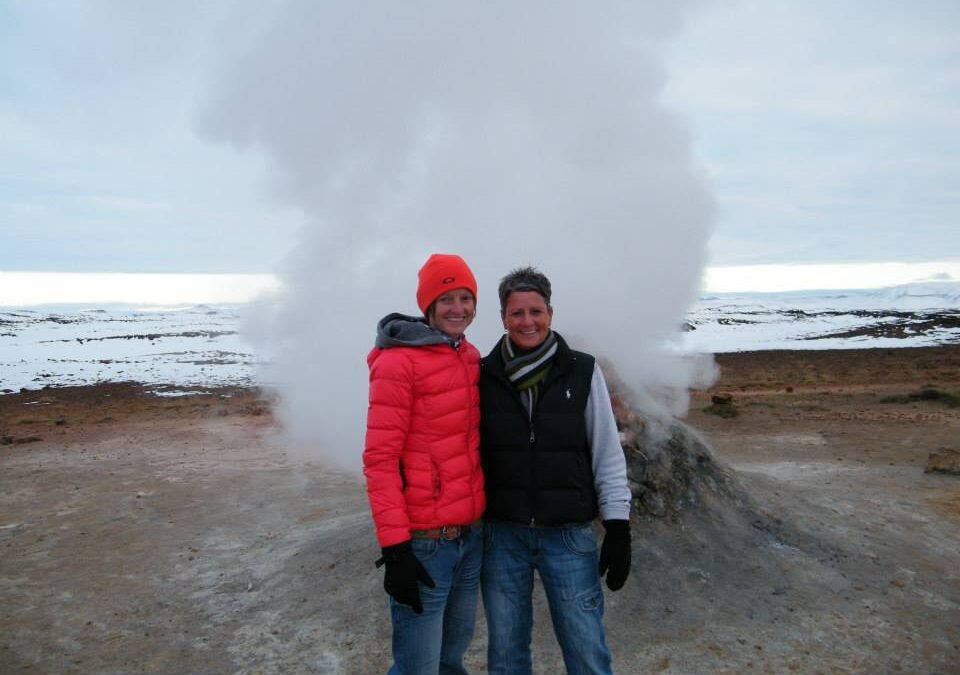 We are all travellers
I travel because I love the shift in landscapes and routine. Travelling gives you full permission to ramble and absorb the day on foot without the static of routine. The only timeline is sunset–we always find front row seats. I have such respect for the countries that actually stop in their tracks to watch the sun go down–like in Santorini, Greece or Stonetown, Zanzibar. Locals actually applaud the sunset–isn't that marvelous
I always have a camera in hand (a real camera, not an iPhone!) and often end up on my hands and knees taking pics of cats, cacti, door knockers, street art, dung beetles, beer coasters…
As a writer, travel is that coveted fresh page. It stirs all the senses. It's the endless street art, punky fish markets, finding crazy-flavoured potato chips (fried egg chips in Spain!), getting lost, riding fat tire bikes, Thai fish spas, drag shows, poking around the Museum of Broken Relationships in Zagreb, trying to find the beer made out of peppercorns in Montreal, figuring out the spaghetti-lined transit system in Shanghai…it's all of that in one jet-lagged swoop. Curiosity, confusion, insomnia, mini missions to discover something extraordinary and then not finding exactly that but something else instead. Like a hummingbird moth or a peanut butter and jam burger in Reykjavik.
As a birder, I'm always on a mission to see the endemics like the flightless cormorant on Fernandina, Galapagos. My tag line has long been: "I write about the best things in life: burgers, beer, books, birds and beaches."
Walking the Camino was a really treasured time because our days were simplified to one timeless goal: walking to the next albergue–and enjoying some cheap plonk, baguettes and salami along the way. Repeat! What's not to love?
More on Travelling with a Partner
No Results Found
The page you requested could not be found. Try refining your search, or use the navigation above to locate the post.