Last updated on August 30th, 2022
Featured image: Where will our travels take us? / Photo from Envato by altanaka
How mothers and daughters bond through travel
By Carolyn Ray, Editor, JourneyWoman
When my daughter Alyx turned 18, I gave her a Dr. Seuss book that we had read many times together when she was a child. I was so excited for her, and for all that travel could add to her life — compassion, gratitude, generosity, courage. I loved how this book inspires confidence and courage – something we, as women, need perhaps now than ever before to create positive change in the world. Perhaps you're familiar with it?
"You have brains in your head. You have feet in your shoes. You can steer yourself any direction you choose. You're on your own. And you know what you know. And YOU are the one who'll decide where to go…"
― Dr. Seuss, Oh, the Places You'll Go!
The sharing of wisdom is an ethos that connects women around the world. Often, as experienced travellers, we focus on what we are teaching our daughters. However, as this article shows, our daughters are fast learners: they are confident, empowered and curious. As. a mother, it gives me great joy to see the seeds of independence that have been sown in these young women. We have as much to learn from them as they do from us. Thank you to the women who shared their wonderful experiences, photographs and travel tips. You are an inspiration! 
Seven Mother-Daughter Duo Travel Tips
Tip #1: Freda and Nadine: Embrace spontaneity and flexibility, all after planning carefully and packing light!
Tip #2: Ellen: Remind yourself, and your daughter, that disrupted routines and the onslaught of new stimuli often result in exhaustion that makes even the most even-tempered of us cranky. Agree to call each other out, honestly and with kindness, when tempers flare; agree to take some private time to rest or calm down whenever necessary; and agree to seek and grant forgiveness for affronts. A good policy at home *and* abroad!
Tip #3: Libby and Bailey: Talk about the trip before you go. Expectations, any "must do's: anything you "don't want to do", and that its okay to want alone time.
Tip #4: Kathy and Kelly: Be flexible and give each other space. Spend some time apart, so you can pursue different interests. In Sydney, Kelly went to a movie one evening by herself. In Christchurch, she went horseback riding one afternoon on her own. And we always split up in museums and sometimes for shopping time too. When possible, try to organize accommodations where you can also give each other some physical space.
Tip #5: Carolyn and Alyx:  Have faith, everything usually works out you just need to be patient, and if it doesn't work out you learn for next time.
Tip #6: Stephanie and Lisa Have patience with each other. We are both very sassy people and can get heated very quickly. Now I try to take a step back, understand where she is coming from, and do what I can to make her trip more enjoyable (since I get to travel a lot more than she does these days).
Tip #7: Tina: There is a distinct shift in the relationship now that she has her own personal and far-flung trips under her belt. Gone are the days when I would be the family planner, the instigator of 'what to see' and 'where to go', drawing up a list of the mandatory highlights balanced with a bit of fun and entertainment for all age groups. That was such a responsibility to try and get it right for everyone!
Mother-daughter duos share their travel experiences
Mother-daughter duo: Freda Holmes & Nadine
Winnipeg, Manitoba, Canada
When did you and your mother/daughter start travelling together? 
My daughter and I went to England to visit relatives many years ago. Several week-long Decorative Painting Conventions in the U.S. were wonderful. Since the death of my husband, we've travelled extensively together and we now live together in Winnipeg, Manitoba. Two weeks on PEI, two weeks in Panama, resort holidays on Cozumel and Cancun, four Gospel Concert trips to Gatlinburg, TN, similar concerts in Red Deer, AB. We've travelled to visit when one or the other of us has been housesitting, in Canada, the U.S. and Mexico. For the last three years, we've focused on house sitting in Mexico and we often apply together or at least overlap and spend time together during the weeks/months duration of our house sits. Bonaire was our dream vacation. Five years ago, we rented an Airbnb from a couple who were also dive masters. A month on Bonaire, my 10th trip there and her 3rd, was amazing. I was 74 and Nadine was 54 at the time. I did my 440th dive on that trip with her as my underwater navigator.
What place would you recommend to other mother-daughter duos?
We loved Panama for its uniqueness; easy, comfortable inter-city bus transportation, lots to see. We stayed in B&Bs, fine hotels and hostels and loved the variety. Prince Edward Island was probably our favourite: lots of seafood, road trip to Lunenburg, visited friends, stayed in a Charlottetown hostel. Our travel focus is food!
What's your dream travel experience together? 
I guess we're still loosely planning an extended road trip through Italy. I spent 3 weeks in Italy with my husband and Nadine has always been interested in Italy as a destination.
What's one thing you've learned from travelling together? 
I've learned to appreciate the incredible variety of travel opportunities with Nadine. My husband and I travelled through Europe, spent weeks at a time in Bali, Singapore, Thailand, Australia, N.Z., Fiji and always stayed in high-end hotels or B&Bs. Nadine has introduced me to small hotels and hostels. There's a great sense of accomplishment in saving money on accommodation and splurging on wonderful dining out experiences, not to mention the personal dynamics of this type of lodging. We're both outgoing and routinely interact with serving staff, other diners, passengers on city buses, other shoppers in stores. And did I mention our main travel focus is food?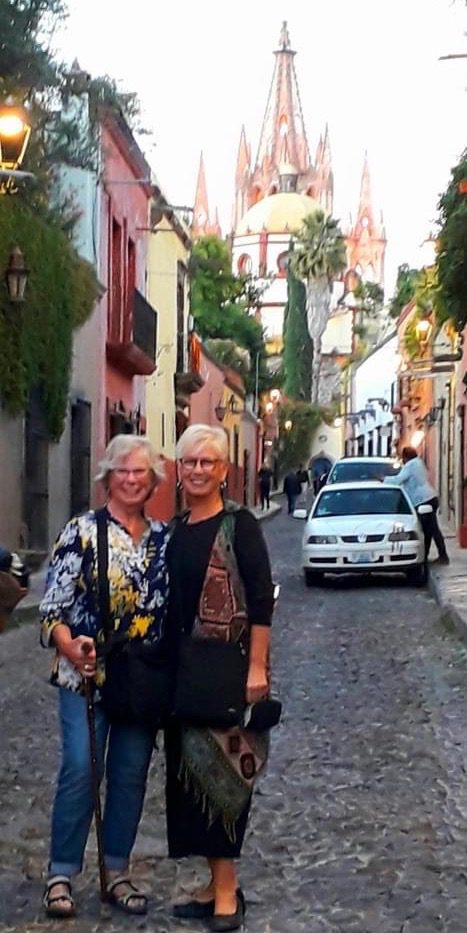 Freda Holmes & Nadine Speirs in San Miguel de Allende, Mexico, November 2021 / Photo provided by Freda Holmes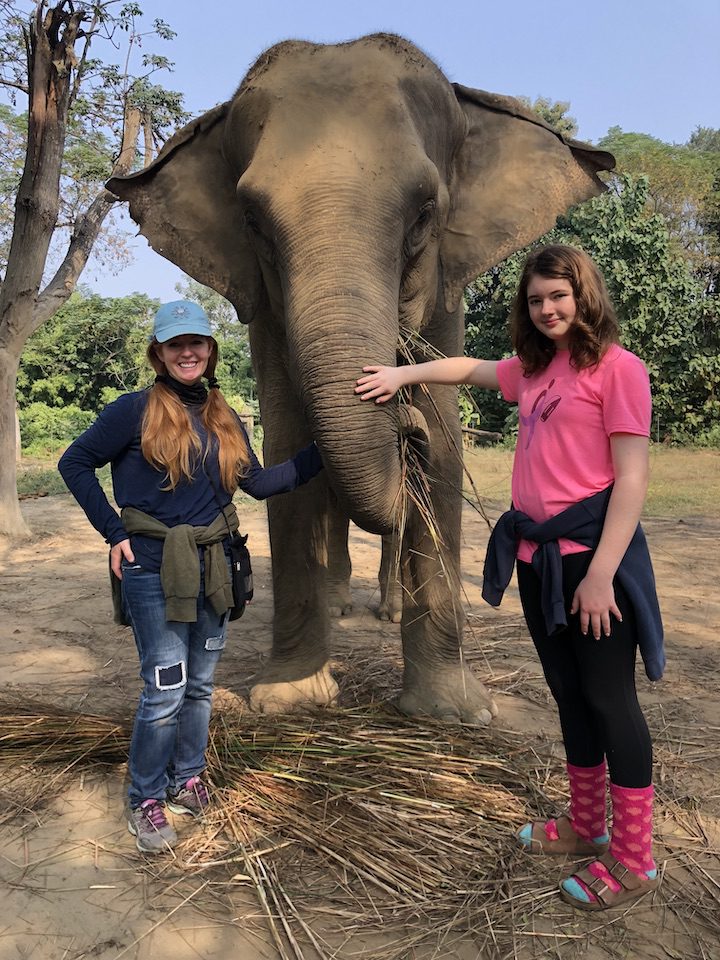 Ellen and her daughter pose with an elephant / Photo provided by Ellen Urbani
Mother-Daughter duo: Ellen Urbani and her daughter
Portland, Oregon
When did you and your mother/daughter start travelling together?
I took my daughter on her first trip when she was about three months old — camping in an old-growth forest in Oregon.
What place would you recommend to other mother-daughter duos?  
My daughter and I took a mom-and-me multi-week trip to Nepal when she was 13. I was going to work at an educational nonprofit, and at the last minute I decided to bring her along. She worked in the school alongside me, and we extended our trip to spend time in Kathmandu for the Diwali festival, at a little hole-in-the-wall hotel in Thamel. We trekked through the foothills of the Himalayas together, and also flew to Tiger Tops Elephant Camp in the Chitwan National Forest on the Nepalese/Indian border to help care for elephants given sanctuary there. It was her first time traveling in a less-developed country, and the first night, on the mobbed streets of Kathmandu, she asked to return to our room saying she was scared. We sat up much of the night talking about privilege, and customs, and human commonalities despite apparent differences, and when she awoke in the morning she said, "Thank you for listening to my fears. They're behind me now. Let's go meet this country." And we never looked back.
What's your dream travel experience together?
When my children were little, I committed to myself (and to them) that no matter my circumstances I would follow through on these gifts: for their 10th birthdays I took each child (alone on a trip with just myself) anywhere of their choosing within driving distance for a long weekend; for their 13th birthday anywhere in U.S. of their choosing with me for a week; and for their 16th birthday anywhere in the world with me for two weeks. My daughter spent her 16th birthday trapped at home by the pandemic, and subsequently has been a foreign exchange student in Italy this year, so we are just now planning her belated 16th birthday trip. She has always had an affinity for Asian culture so is leaning toward Japan, South Korea, and Thailand, although Egypt and Turkey are still on the table. As for what I hope we learn thru travel: most humans are good, a good attitude turns mishaps into adventures, and audacity is a trait worth cultivating.
What's one thing you've learned from travelling together?
I've learned there is nothing to be gained by forcing a teenager out of bed early in the morning, so matching our activities to her sleep routine is the best policy. Jet lag is my friend in this endeavor: instead of being early-to-rise and early-to-bed like I am at home, when we travel I adjust my clock to stay up and out with her til the wee hours of the morning and call that my regular away-from-home routine.
My Mother's Day wishlist for gifts to help me travel and work remotely, including packing and technology tools to make nomadic life easier.
Mother-Daughter duo: Kathy and Kelly Wood
Knoxville, Tennessee
When did you and your mother/daughter start travelling together?
I've been traveling in Europe with my daughter Kelly since she was 14 months old. That was our first family trip to Europe, including my husband/Kelly's dad. We rented an apartment in Paris for a week. She's probably spent 25% of her life in Europe since then. Kelly and I have been together in Paris, just the two of us, several times over the years. She's now 28, a PhD candidate in Modern French History at NYU, and she's living in Paris!  I was with her there in March. She's fluent in French, and now she's the one planning our days and meals and introducing me to Paris! I'm proud how our family's travel experiences have influenced our daughter's life, her interests, and her connections with other cultures.
What place would you recommend to other mother-daughter duos?  
Although most of our travels have been in Europe, two other mother-daughter trips stand out to me. We spent almost two weeks in Turkey with my friend and her daughter… an incredible experience. I'll always remember our early morning balloon ride in Cappadoccia.
In December 2019/January 2020, Kelly and I spent a month in Australia and New Zealand, on a trip that also included my sister. My sister and I lived in Melbourne, Australia as girls, so that trip was especially meaningful as both a mother-daughter and a sisters trip. We did an independent trip but participated in several extraordinary day tours. It was truly a bucket-list trip. (And we were so lucky to plan this just before the pandemic.)
What's your dream travel experience together?  
I hope one day we can go on an African safari together. Maybe that's how we'll celebrate when she receives her PhD.
What's one thing you've learned from travelling together?
It's been interesting to shift roles, from me—the mom—being the "travel leader" for a young daughter to my confident, older daughter now leading me. She's very strong in her language skills and so adept at using her smartphone to aid in travel. Now I learn from her!
Where to next?
We're working together now as co-leaders for several of our European Experiences trips—in the Périgord, Alsace, and Normandy. We make a good team, and I think we complement each other.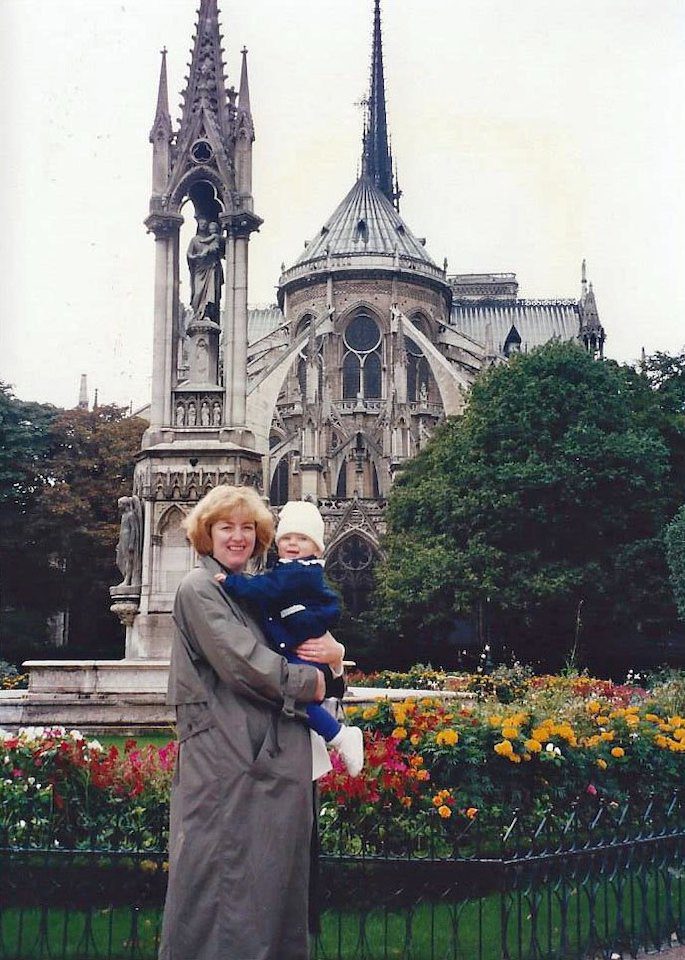 Kathy and Kelly on their first trip to Paris / Photo provided by Kathy Wood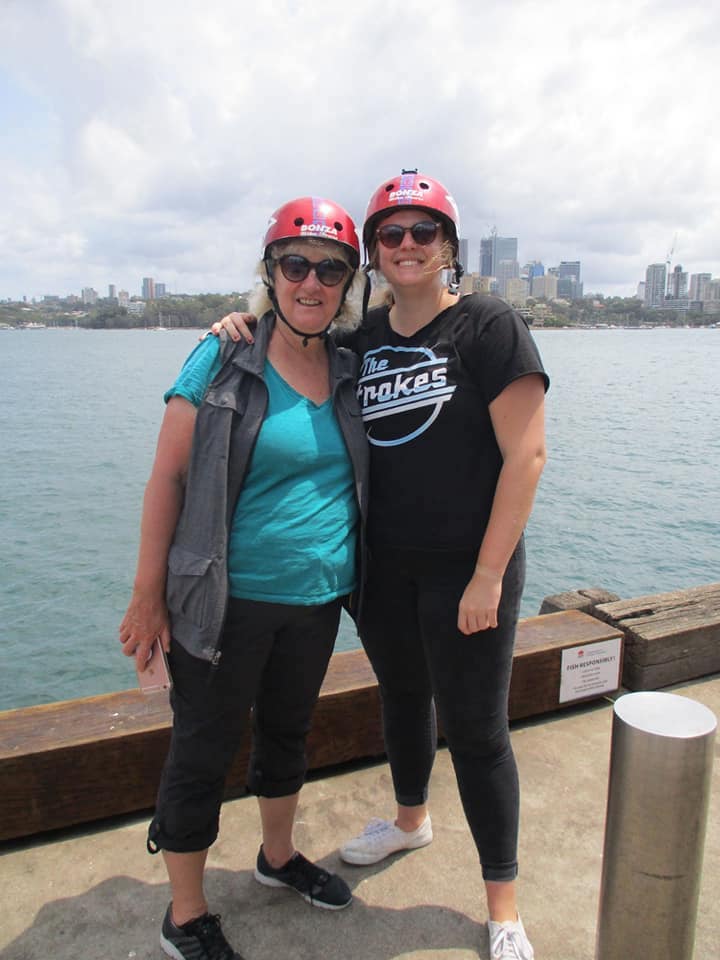 Kathy and Kelly in Sydney / Photo provided by Kathy Wood
Mother-daughter duo: Libby Wildman and her daughter Bailey
Toronto, Ontario, Canada
When did you and your mother/daughter start travelling together?
Bailey and I have always been so easy with each other. I think it's because I just want her to be her, not a version of me. Early on we both accepted each other as mom and daughter but also friends.
Our first trip was to Disney when she was 6 to meet and say goodbye to friends who were moving back to Australia. It was memorable, because it was exciting for it to be only us. I love travelling with my boys as well, one on one. There is something special about not having to split your attention with anyone you can simply focus on you and your one fabulous child you are with, being present with each other.
What place would you recommend to other mother-daughter duos?
Our favourite trip was to Thailand as Bailey was a little older, 16 at the time. We love Thai food and the Ocean. Our conversations would encompass life, culture, and the challenges that we all face. And when you travel, you have time to talk, and generally a few challenges to solve along the way. It s a wonderful opportunity to witness each other problem-solve, and integrate with new and foreign cultures.
What's one thing you've learned from travelling together?
What I have come to expect and be ok with it, is that somewhere along the line, we will get on each other's nerves. It's to be expected for heaven's sake…we are usually together for about 16 days, sharing beds, bathrooms, meals and constantly being thrown into new situations and meeting new people.
I usually laugh now and call it out and name it when we get snarky with each other and let us both know that it's okay to be a bit cranky from time to time. The best part is the forever memories, and the deeper learning of each other on a human soul level.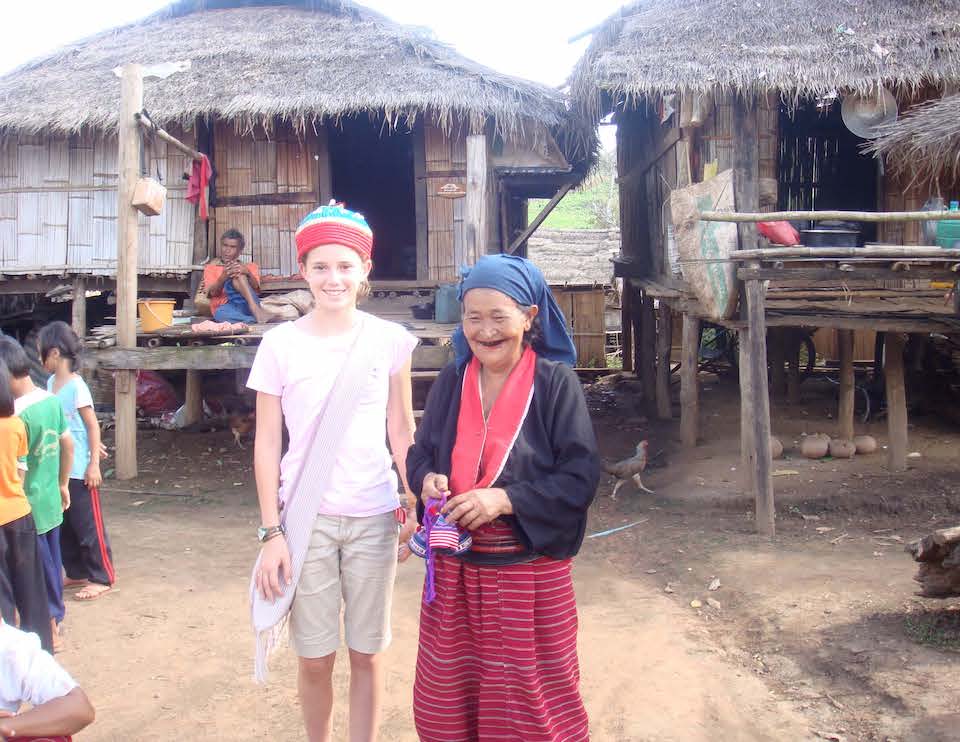 Bailey, age 12, in a Thai village / Photo provided by Libby Wildman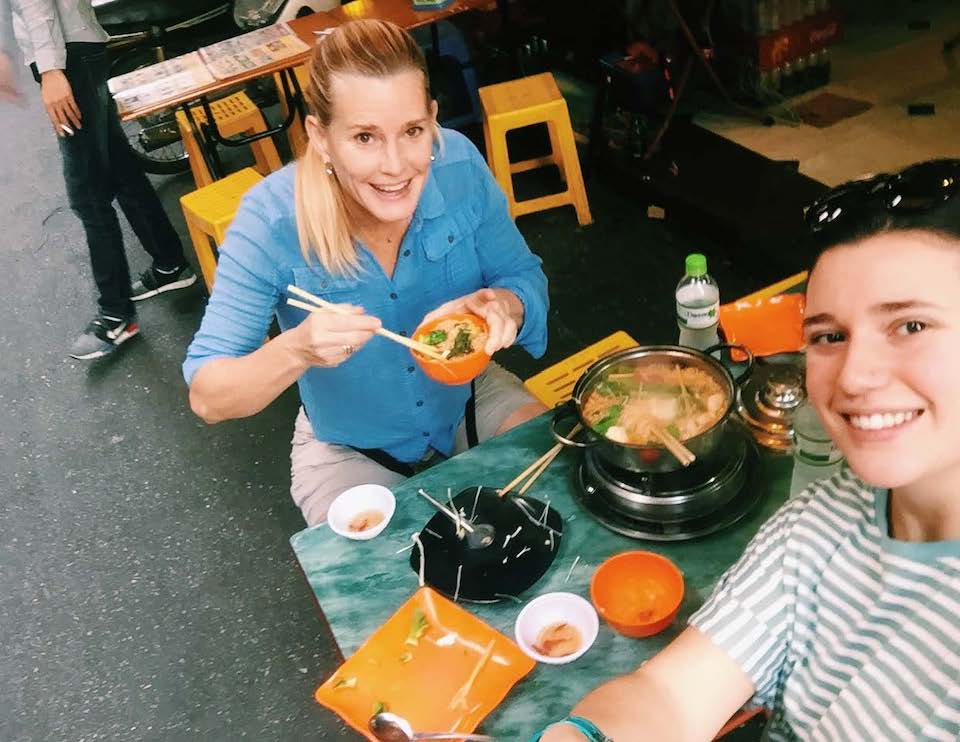 Bailey, age 20, and Libby in Vietnam / Photo provided by Libby Wildman
Why not travel together to our Women's Travel Wisdom Retreat
This week, in honour of Mother's Day, we're offering a special $500 discount if two women sign up together by May 10, 2022. In order to receive the discount, you must email Cheri here using the code #MothersdayJW and tell us who the two participants are.
Mother-Daughter duo: Stephaine and Lisa Cerratti
Toronto, Ontario, Canada
When did you and your mother/daughter start travelling together?
The first trip I ever took with my mom was my first trip overseas – to Miami before boarding a Caribbean cruise when I was 16. I definitely caught the travel bug from my mom and have been traveling the world ever since. 
What place would you recommend to other mother-daughter duos?
The best trip with her was in September 2019, when we spent three weeks together with my partner, my brother and his partner, and my mom in Europe. We started in Barcelona before making our way to Italy, where my mom's family is from. We had the most amazing time exploring and eating our way from Rome to the Amalfi Coast, Florence, Cinque Terre, and Venice. I will always cherish these three weeks spent together, laughing and learning and living the dolce vita. It's an amazing feeling to get to spend this sort of time with your mom, when she's living her best life laid back on vacation and not dealing with the stress of everyday life back home.
Stephanie with her mom and brother in Venice, September 2019 / Photo provided by Stephanie
What's one thing you've learned from travelling together?
From traveling together, we've learned that differences we have in regular life are even more noticeable on the road. My mom is early for everything whereas I am notoriously late. This is probably the biggest cause of strife between us – when my mom is packed and ready to go and I'm still looking for my laptop charger and my suitcase still needs to be zipped up. Despite the challenges, I think it's a good way to learn from each other. For me to be more punctual, and for my mom to learn three hours before a flight at the airport is plenty of time (love you, mom!)
What's your dream travel experience together?
We have another big family Europe trip coming up and I couldn't be more excited! This time, we will be celebrating her 60th birthday in Santorini in June and my other sister will be joining us from Australia. This will be the first time all of us siblings are traveling together with my mom in a long time, and we are all looking forward to it very much. After Greece, we will be going back to Italy. This time, we will be taking my mom to visit her father's hometown in Calabria. She has been wanting to visit for some time now and we were able to work it into the itinerary. I know this will be a very emotional visit for her, and I can't wait for her to be in her ancestral hometown.
Mother-Daughter duo: Alyx Ray about her mom, Carolyn Ray
Toronto, Ontario, Canada
When did you and your mother/daughter start travelling together?  
We started traveling together when I was very young. Our first trip overseas together I was about three and we went to Europe. What made it memorable is that I got left in the Paris train station elevator by accident. I also had escargots in the shell for the first time.
What place would you recommend to other mother-daughter duos?  
Spain, it has both the historic side of travel that my mom loves and the picturesque scenery, fashion, and activities that I enjoy, very easy to balance both interests. The historic sites are also very interesting especially in Barcelona, but there is also the beach giving a nice break from the city. Spain, I loved in general too for the accessibility of restaurants and food, because having two hungry Ray women is never a good idea. You can pop by any restaurant on the side of the street and have an amazing meal for a reasonable price).
What's one thing you've learned from travelling together?
That I like to have some say over the planning of a trip. Often times when your parents book something you leave the details up to them and deal with the consequences later, which I have done way too many times. I think planning a trip should include both voices even if you are lazy or don't know what you want, looking forward to something you picked to do on your trip makes the trip more exciting, and you learn about what you truly enjoy in traveling when what you picked either lives up to your expectations or not. Look at some places you want to go and I'm almost positive there can be a compromise where you both get to do something you want instead of following your mom around museum after museum (yes, I have also done this and it was agony) because you said you didn't care what you did.
I would say my mom likes to get up and go in the mornings and I like to enjoy my mornings slowly when on a trip, but if you get up early you get more things done which is obviously a better decision.
Do you have plans to travel together in the future?  
I am going to London for grad school so I'm hoping after we can explore some places nearby. I really want to go to Asia because I was supposed to go there on exchange, and it got cancelled because of Covid.
(Editor's note: for the record, I didn't 'lose' her in an elevator but I was lugging two large suitcases which got stuck. The elevators doors closed and down she went into the bowels of the Paris train station. Fortunately, some kind Parisiens brought her back to me and we've travelled with backpacks ever since)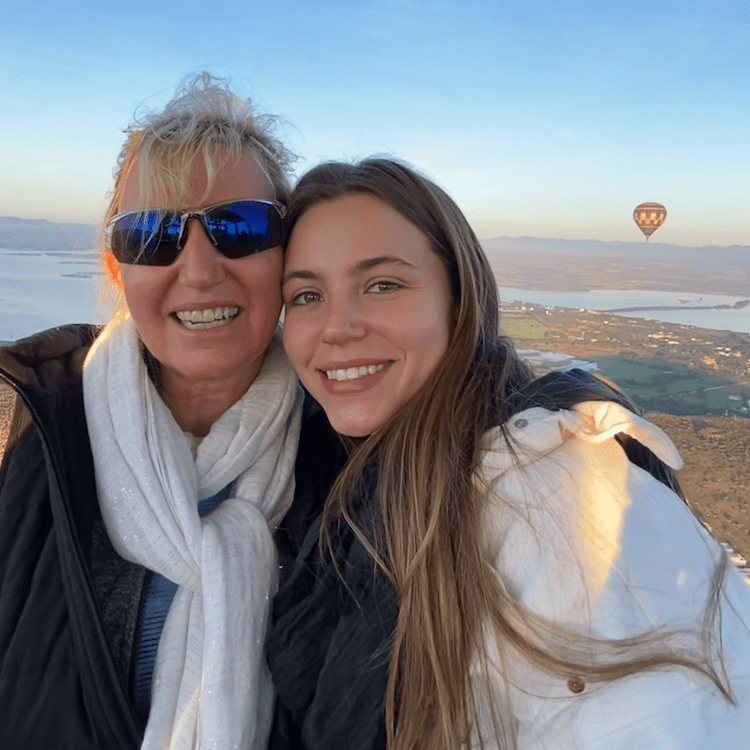 Carolyn and Alyx in a hot air balloon in San Miguel de Allende, Mexico in November 2021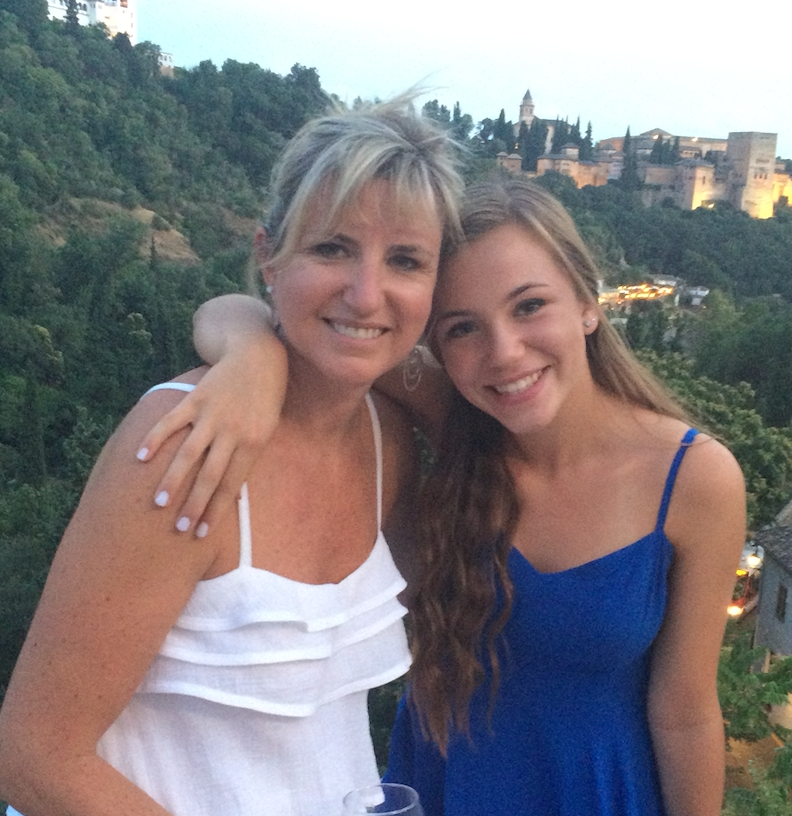 Carolyn and Alyx age 15 in Granada, Spain in 2015
Mother-Daughter duo: Tina Hartas and her daughter
London, England 
When did you and your mother/daughter start travelling together?
We started short, joint expeditions when she was about 15 and now, whenever we can, we continue to find the time to spend a few days together every now and then. It is wonderful see the changes as she has matured into a young woman, enjoying her perception of place, as she  formulates her own ideas and discovers her sense of self.
What place would you recommend to other mother-daughter duos?  
We travelled together to Venice several years ago and I remember the awe that both of us felt as we drew into Santa Lucia station, having crossed the vast expanse of water.  Just how were those railway tracks laid into the water, what would happen if there was inclement weather now? We dragged our suitcases to our hotel (in those days you were still ok to use wheeled suitcases – not now, there is a large find if you do), a former convent, now decommissioned. Our shared hotel room was swagged with velvet drapes and embossed wallpaper (and felt like something straight out of the novel "In The Company of the Courtesan" by Sarah Dunant, set in the 16th Century in the city). The bell tower was still in situ and in use, and marked the hours of the day and night, disturbing yes, but somehow terrifically atmospheric.
There were two fond memories, that have remained with us. We took a boat across to the island of the San Michele, where the dead are buried and feted. It is not in the least a morbid experience, it feels like a monumental memorial to lives past and family members, who continue to be celebrated and remembered. There is such a sense of history, tradition and tranquility on the island, such a  soothing contrast to the buzz and clamour elsewhere.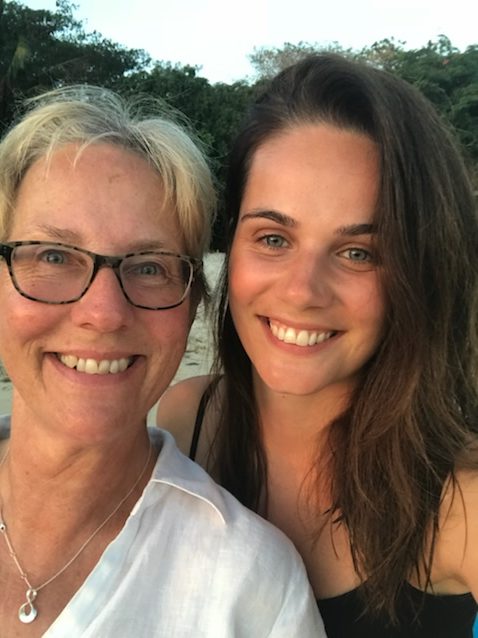 Tina Hartas and her daughter
What's one thing you've learned about yourself from travelling together?
For me it has been fascinating to see the change in our mother/daughter dynamic, her gentle suggestion that we might like to stay, which restaurant we should choose to eat at. My own formative years of travel were all about referencing a guidebook (after all, I did go to University and was part of a friendship group that included the future founders of the Rough Guides); now my daughter goes straight to the computer to track down relevant blogs that steer the visitor away from the standard sights, and towards the more quirky and local nature of the chosen locale.
She is the calm traveller, who is well organised and competent. I fret more now, especially after the Covid Lockdowns and feel very much that I am out of practice in the art of travel. She is the one who spots the street scammers and gives them short shrift; she will identify the bus we want to get before I have even worked out whether we should hail a bus or travel by subway; and at the drop of a hat, she will hop into our hire car driver's side and negotiate the roundabout at Madrid's Atocha Station, leaving me in awe of her driving skills. And that subtle and gradual shift of the parent/child dynamic is as it should be, changing gears into competency as her experience grows. Such blossoming and honed capability is lovely for any parent to behold.
Do you have plans to travel together in the future? 
On a road trip around Southern Spain, it's time to visit Córdoba, among other places, a visit inspired by reading the Journeywoman Book Club read: All My Mothers by Joanna Glen and you can see Journeywoman's Carolyn Ray interview the author here.
Do you have a special mother-daughter travel story to share? We'd love to hear it! 
More on Travels with Mom here
In this lighthearted mother-daughter misadventure, guest wrier Jessica Heriot shares her story of getting stranded in Safed, Israel with her daughter Anita.
After her divorce, a young Marion Broverman takes her children for a trip to Oahu at Christmas, where the family learns to express their pain and begin to heal.
Karen was 12 when her father came homunced that the family would be moving to South Korea for his job. A year later, Karen's family was packed up and on their way.