Last updated on November 17th, 2022
Featured image: A group of women enjoy a coffee on their travels / Photo by DisobeyArtPh on Envato
Words to live by from women who defy society's image of aging
By Amanda Burgess, Editor, JourneyWoman
There are two ways the world views a woman over 60 living life on her terms, doing what she wants when she wants, and giving few f@cks about the opinions or agendas of others. The first is coloured by judgement: Look at what she's doing! At HER age?! The second is coloured by admiration: Look at what she's doing! At HER age?!
What neither view considers: That woman doesn't think about her age. She's colouring outside the lines—and age is a linear construct designed to box us in to neat categories that don't reflect the multidimensional truth of who we are, individually or collectively.
To honour the age-defying women in this community in the lead up to International Women's Day, we asked JourneyWomen 60+ to part with their secrets for aging disgracefully as they travel the world. Pull up a seat and lean in—this is wisdom you'll want to apply to your own life, no matter your linear age.
Secret 1: Women who age disgracefully had a role model (or several)
Every woman who blazes her own trail was inspired by another rule-breaker. While the adventuress finds herself among her people in the JourneyWoman community, she didn't always feel understood. Instead, she walked the path to understanding herself by finding inspiration from others who understood that age ain't nothing but a number.
"My father was a true maverick—a unique man who gobbled up experiences like a starving person. From scuba to skiing the Alps to climbing Chichen Itza, the world was his banquet," says Valerie Stern. "He became ill quite young, and the adventure stopped for his body, but he had a world of memories and experiences to occupy his mind. He taught me to grab with both hands and hold on for the ride."
As she turns 65 this year, Stern is gobbling up richly textured travel experiences and shows no sign of stopping. In the last five and a half years alone, she's trekked to Antarctica, Machu Picchu, the Galapagos, and Easter Island. She has sailed the major rivers around the world—the Irrawaddy, the Amazon, Blue Nile, White Nile, Zambezi, and the Mekong. She has hot air ballooned over the Agafay Desert, visited the Valley of the Kings, the Serengeti, the plains of Bagan, the Everglades, and most recently, Ethiopia's Omo Valley.
For Niina Mayhew, it's been all about women who colour outside the lines.
"Women who stepped outside of society's expectations were my heroines. Women who made a difference. The Mother Teresas for their all-encompassing love, the Jane Goodalls for seeing the humanity in animals, the women who were the first to do the extraordinary," she says. "The list of women I admire changes and grows as I hear their stories. Some of them are posting on Journeywoman Facebook page."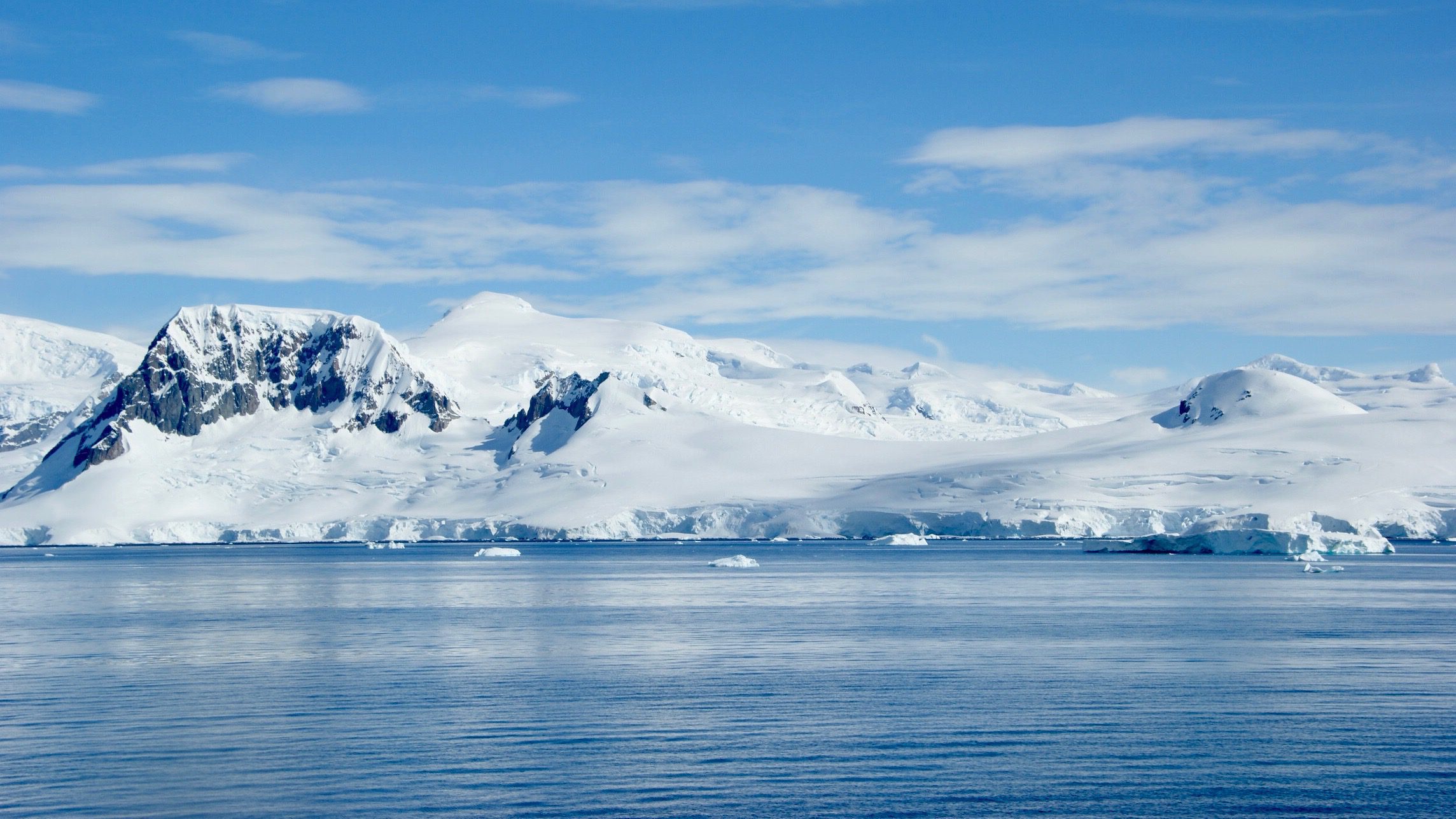 Snowy landscapes in Antarctica, one of the incredible places Stern has visited
Secret 2: They don't listen to the naysayers—they listen to their gut
A single mother of two sons, Mayhew didn't have the funds for anything beyond family necessities for years. Now 66, she was over 50 when she took her first big solo trip to Nepal—with the full support of those two sons. 
"There was something about the name Kathmandu that had enthralled me for most of my life. Despite everyone telling me I shouldn't do it, with the support of my sons, I booked that flight with no idea of what to expect," she says. "Other than my sons, everyone else thought I was foolish, irresponsible, crazy, or having a midlife crisis—and maybe they were right! But it was time for me to chase my dreams. Go big or stay home became my motto. Don't let anyone tell you that you shouldn't…but listen to yourself when your gut tells you the same thing.
Niina Mayhew seeing Mount Everest from the Tibetan side
JourneyWomen 65+ share their wisdom and show us how they embrace life – and travel – to the fullest.
Secret 3: They've learned the difference between travel and a vacation
Many people see going somewhere else in the world as an opportunity to take a break from their day-to-day lives. Vacations are built around escapism. Travel is a different beast—one that demands a higher toll from the brave souls willing to cross its bridges.
These women have built lives they don't need to take a vacation from. They're travellers. And that keeps them young.
"I was terrified when I stepped onto that plane to Nepal, but the outcome was the birth of my love for travel," says Mayhew. "Many of my friends think I lack the understanding of the purpose of a vacation, but to me, travel is much more than a vacation. It forces me out of my comfort zone, opens my eyes to the good and bad in the world and has made me realize what truly needs to be valued."
Mayhew arrived in Kathmandu after midnight and her first stop was a Guest House in Bhaktapur. When she finally connected with her driver, she discovered he spoke no English and got into an old car that seemed to put together with spare parts. Kathmandu was in rolling blackouts, casting the city into darkness. She could see derelict buildings by the vehicle headlights and was wondering what she'd gotten herself into. 
"The driver pounded on the door and a man with a candle and a huge smile welcomed me and led me up narrow stairs to a room. By that point, I was exhausted and fell asleep fully clothed. Within a couple hours, I could hear a gong being beaten," she says. "I got up to the window, opened the shutters, and saw the Buddhist temple of Taumadhi Tole. It was that moment when I became a traveller. I decided to not let fear stop me and to embrace whatever came my way during my travels. I felt reborn."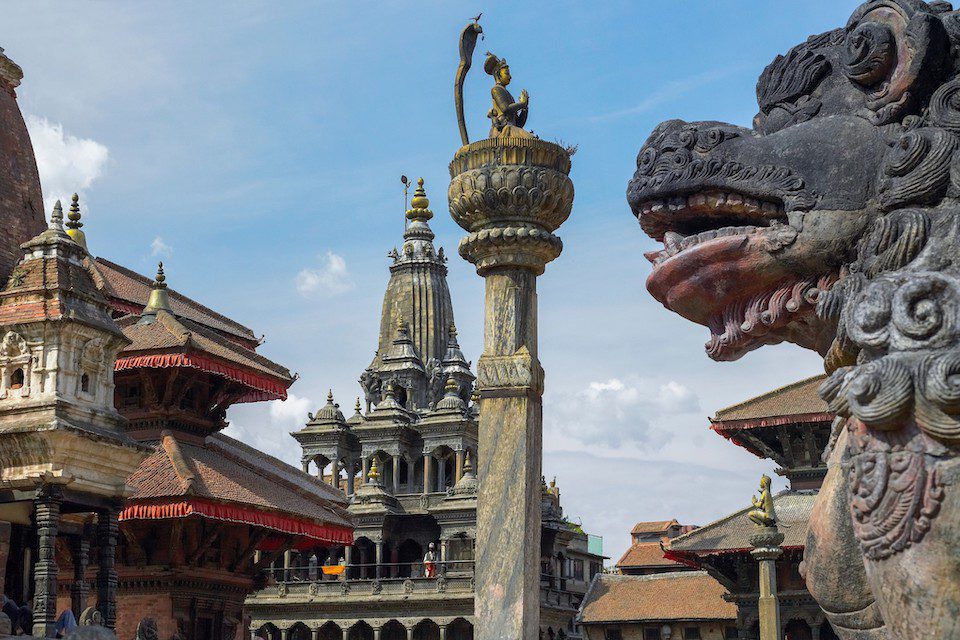 Temples and statues in Durbar Square in Patan in Kathmandu, Nepal.
Secret 4: They know that the best travel experiences make you feel and act like a kid
Last October, at 64, Stern travelled for seven weeks from the southernmost point of the African continent to the Mediterranean coast, with stops in seven countries, including three weeks with the tribes of Ethiopia's Omo Valley. She travelled with only a guide—mandatory in this region. She visited natural and manmade wonders (Victoria Falls, the pyramids, Petra) and swam in the Zambezi River to get to Devil's Pool on the very edge of Africa's highest waterfall, but her time with the Omo tribespeople had the deepest impact.
Valerie Stern at the edge of Victoria Falls, Africa's highest waterfall
"When I saw the life these women live, how young they marry and have children, and how quickly they age with nothing but hard work in between, I realized what a treasure my age, privilege, and experience is," Stern says.
Still, the experience brought her inner child roaring to the surface: "I was like a wide-eyed three-year-old. Everything was new to me—from the clothing to the language, food, domiciles, and family structure. I was mesmerized by the beadwork, the hairstyles, the ornamentation, body paint and modification, jewelry, and desire to present their version of beauty. This adorable little girl wanted to ornament me, so she asked through my interpreter if she could paint my face. It was quite an exciting thing."
Secret 5: They don't let age or physical limitations hold them back—they work around both
Stern rarely thinks about her age, but she does consider her physical limits and how her future self will feel when deciding on adventures. "I've had mobility issues for a while so I always think: 'Can I really do this?' The answer is always: 'You'll regret it if you don't try.'"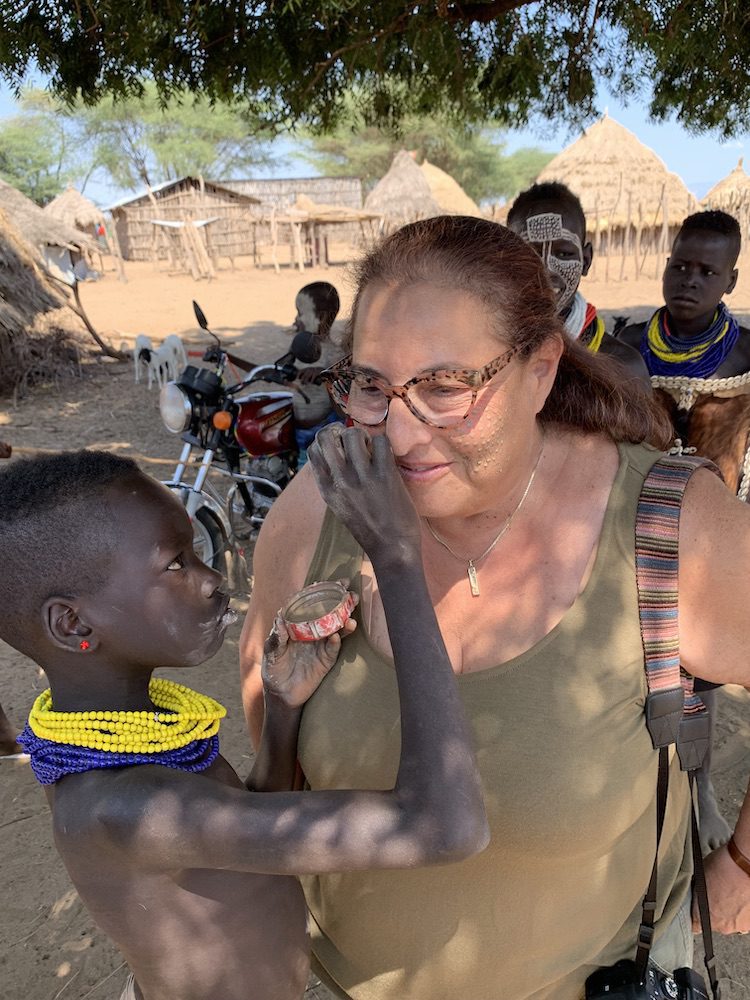 Stern has her face painted in Ethiopia's Omo Valley
On Stern's I Can Do This list for the first half of this year: Bolivia, Cuba, Nepal, Sri Lanka, a gorilla trek and safari, and crossing the Arctic Circle in August to celebrate her 65th birthday.
When she was in her early 60s, Mayhew journeyed to Lhasa and Everest base camp, slept in the coldest conditions she ever has and photographed the mountain by moonlight.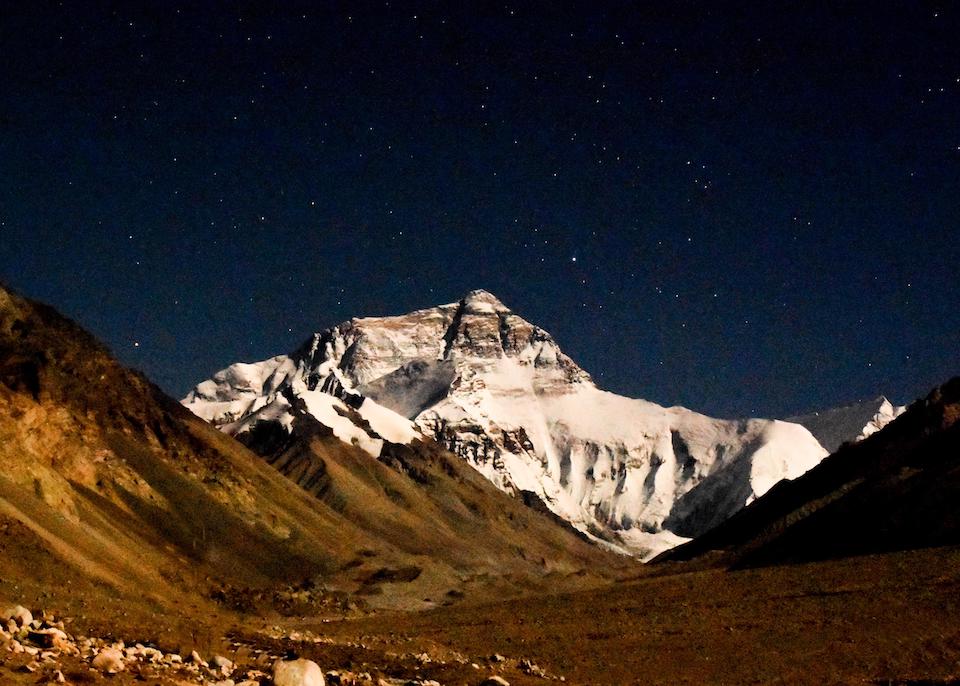 Niina Mayhew's photograph of Mount Everest by moonlight
"I am not as physically able as I used to be, but the spirit is still there. When something is beyond me, I accept it and find a way to meet the goal on my terms. The Nepalese trek to base camp would be a dream, but I am too old (and too lazy!) to train for such an epic trek. However, I made the dream of seeing Everest come true—from the Tibetan side."
Last November, on another solo adventure at age 65, she went quading with a group of young people in the back hills of Turkey. She was thrilled to discover that they didn't have to slow down for her. "Yes, I will slow down as I get older, but it does not mean I will stop looking for those moments of sheer exhilaration!"
The sun doesn't have to set on your fun as you age: After quading with a group of younger travellers in Turkey, Niina Mayhew watched a spectacular sunset
Secret 6: They've cracked the code for staying young in spirit
As the body ages, the mind and spirit can be pulled along for the ride. We might be able to slow the aging process with diet, exercise and keeping our minds active, but growing old is an inevitable reality for those fortunate enough to do so. The secret to keeping the spirit young and spry? Perspective.
"Too many people look at aging as the end, but it is actually a beginning. New adventures, new dreams, new people to meet.  You just have to take that first step. If you don't feel old, then don't be old," says Mayhew. "Granted, the knees may creak, the eyesight not so bright, and Depends become a fact of life on those long local bus rides, but the spirit can always feel young."
What are your secrets for aging disgracefully? Share them with us below!
More Travel Inspiration from Older Adventuress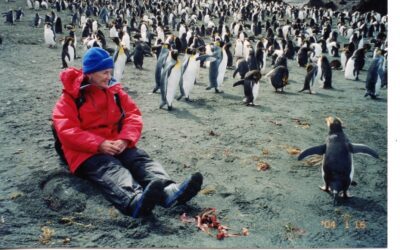 You're never too old to travel solo, says 86-year old author Joyce Perrin in her memoir, "Ants in My Pants". Join Joyce and other 80+ authors on our September 28 webinar.
We've expanded our editorial team to better the reflect the needs of solo women over 50, as women lead a more intentional approach to travel.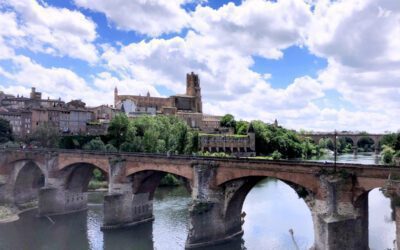 Why not consider a shoulder-season visit to Les Plus Beaux Villages de France (the Most Beautiful Villages of France), away from the crowds?