Last updated on November 4th, 2023
Featured image: Mature women over 50 are a growth market for Intrepid| Photo provided by Intrepid
Women-only expeditions are designed to shift stereotypes and break barriers
By Carolyn Ray, Editor, JourneyWoman
Ask Intrepid Travel's North American General Manager Tom Smith who his favourite travel partner is and he'll tell you — it's his 68-year-old mom, Marianne.
"She has been on two Intrepid trips," he says. "She is absolutely buzzing. She's kind of wacky and off the wall, my mom, in the nicest possible way. She's really passionate about the kind of travel that's meaningful to her. She wants to connect with people that care about the things that she cares about. At Intrepid, we're quite direct and quite forceful about the things that are important to us as a business, the values that we hold dear."
Creating positive change through travel
The values that Smith is referring to are part of Intrepid's DNA, which is about creating positive change through travel and balancing purpose and profit. Since its founding in Australia in 1989 by Geoff Manchester and Darrell Wade, Intrepid Travel has become the world's largest adventure travel brand. In 2018, the year after current CEO James Thorton took over from the founders, Intrepid achieved B Corp™ certification, joining a small group of 400 purpose-driven companies like Patagonia and Ben and Jerry's that focus on transparency and accountability. With over 1,000 itineraries a year in over 100 countries, there is also a strong focus on sustainability, right down to the community level — many of the tours use public transport and there are even vegan tours. 
Tom from Intrepid with his favourite travel partner, his mom Marianne / Photo provided by Tom Smith
Following this week's devastating earthquake in Türkiye and Syria, Intrepid launched an emergency appeal and committed $100,000 AUD through the Intrepid Foundation to support immediate relief, aid, and rescue efforts. Intrepid Travel has further committed to donating all profits from bookings made on trips in Türkiye until April 30, 2023, to support the appeal. Donations can be made here. 
Women over 50 account for almost 40% of all bookings
Women are incredibly important to Intrepid's business. According to Smith, approximately 67% of Intrepid travellers are female, and 39% of those are women over 50. About half of Intrepid's guests are women travelling solo, and approximately 60% of its staff around the world are women, including more than 300 female tour leaders.
In 2018, Intrepid introduced its first women-only trips to Jordan, Morocco and Iran, which were relaunched and expanded in 2022 to include India and Peru. Led by local female guides, these women-only expeditions are about breaking down barriers, fostering discussion and creating immersive local experiences for women that are ordinarily off limits and in destinations that have been deeply affected by the pandemic. 
"We attract a certain type of person," Smith says. "Intrepid isn't for everybody. We don't want to be for everybody. We attract curious people, we attract open people, we attract people that want to learn and who care about the world. When you put that many like-minded people together in an environment where they feel comfortable to connect and, you know, open themselves up and be vulnerable, then, that's where the best relationships are formed. For us, it's definitely not about age, it's about attitude."
Share in the culture of Jordanian women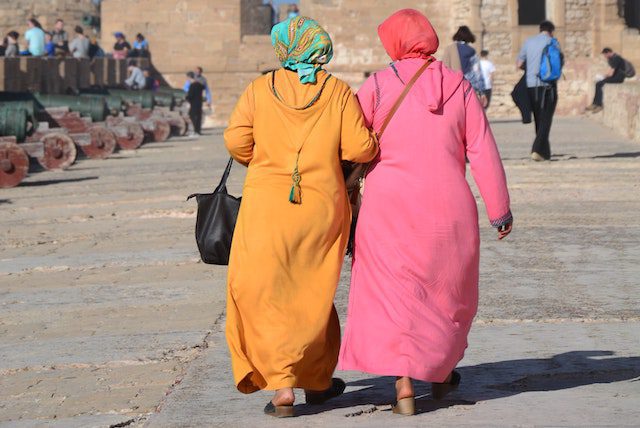 Leave the beaten path behind in Morocco
Get a glimpse into the lives of Indian women
"With our women-only trips, we see opportunities where women on both sides benefit from the cultural exchange that our tours lead to, where local women in these countries have the opportunity to connect with women from all parts of the world. One of the main reasons that women book our tours is because they are passionate advocates of gender equality, women's empowerment, so I believe, that little by little, those meetings between women from around the world will start to move the needle." — Tom Smith, General Manager, North America, Intrepid 
Our Q&A With Tom Smith, General Manager, North America, Intrepid on Women-Only Trips
Carolyn: It's evident that the 'women over 50' market is a huge opportunity for growth, yet to date, you've only got a handful of women-only trips (out of 1000). Why is that?    
Tom: At Intrepid, approximately 70% of our customers in North America are women. By far, our biggest demographic is 55 plus. And the biggest customer demographic is the solo traveller.
"We don't want to just put a whole range of women-only trips in all sorts of places. It's not about creating women's only versions of existing tours or itineraries, it's about where can we offer experiences that are run by women that offer an insight into local women's lives that are going to add some value."
With our women-only trips, it's not just about segregating women from men. It's about where can we actually create and add some value on both sides for women to have that opportunity for cultural exchange in destinations, in restaurants, in accommodations that have been set up by women, run by women created to tell the women's story. 
Carolyn: Intrepid's women-only trips feel strategic, in the sense that you've chosen countries where gender equality is a pressing need, like Iran, Jordan, or Morocco.
Tom: 100 percent. I feel it was a conscious decision. What it came down designing these women-only trips, it was where do we see the biggest opportunities where women on both sides would benefit from the cultural exchange that those tours lead to. The biggest area of opportunity is for local women in these countries to have the opportunity to mix with women from all parts of the world. And to say, "OK, it doesn't have to be how it is or how it has been for the last 100 years in this country. We don't have to live like this anymore if we don't want to".
Now, of course, that's easy to say and there's a whole heap of cultural, societal, political barriers to that.
But I've got to believe, and I do believe that little by little, those meetings between women from around the world will start to move the needle. And the more that we can operate in these countries and take groups of women who are passionate advocates for gender equality and women's empowerment, because that's probably one of the main reasons that they're booking one of these women-only trips.
Jaipur, India cityscape / Photo credit Intrepid Travel
Carolyn: On a women-only trip, how do you cater to the needs of solo travelers who might be introverted or want their own time?
Tom: Everybody has their own reasons for travelling. For some people, they may actually not want to be on a group tour. Some women who are travelling solo may book a group tour because it's more cost-effective to do so. But it doesn't mean that they want to hang out with other people for seven, eight, 10 days. They may just be there for the sights, the photos.
I really am a small group traveller advocate, but I also like my own time. I like to go off and do my own thing. For me, that's the joy of adventure travel – that journey of discovery. I think if you've got people who don't want to be with other people the whole time – or don't want to be with the group the whole time, that's really valuable a time for them to go off and have their own experiences.
The group leader can really add value to solo travellers by giving recommendations. We only use leaders local to the country, and most of our leaders have been with us for quite a few years, so if you do stop in at a particular town they'll know the vast majority of the restaurants. They can tell you what's good, they can tell you where it's cheap, they can tell you what's expensive, they can, you know, give you the kind of insight that you might not get even if you're looking through TripAdvisor for hours at a time.
Carolyn: How is Intrepid doing on sustainability, and what's your take on sustainability in the travel industry?
Tom: As Intrepid, we're in a good space in that. We were the first major tour operator to become carbon neutral in 2010. We are certified as a B Corp in 2018. And so, that helps us to have some kind of legacy, you know, of, certainly, walking the walk not just talking the talk.  
Only 29 tourism companies actually have any kind of carbon reduction goals approved by the science-based targets initiative. There are a huge number of companies that are playing lip service to it.  
We have whole teams of people on the ground telling us what we should be doing and how we should be doing it and what improvements we could be making. And that is super valuable. In Morocco, Peru, we've got probably 40 or 50 people in each of those destinations telling us, and they're not shy. Here, where everyone genuinely feels that they do have a voice. 
Our teams on the ground, they call us out on things. You know, they say, "We've seen in the media Intrepid saying this, do you actually realize that in this particular place we're still doing this", and you know, "Why are we? And we should be doing that". 
It's our responsibility as a business to listen to that. I think it puts us in a space where we're held accountable by our own staff, by our leaders on the ground, by the communities that we visit. I think that's important. 
It is complicated. There are huge numbers of issues that there's not really a right answer. 
Carolyn: What's an example of how you've adapted itineraries to reduce the impact of overtourism and climate change?
Tom: When you visit some of these communities – especially some of the rural communities that we visit, you know, the positive impacts that we have by visiting some of those communities also create negative impacts. There's a good example, Rainbow Mountain in Peru.  
With the climate warming up in general, Rainbow Mountain started to become famous on Instagram. It's a mountain, covered in all these colourful stripes, basically.
The snow only started to melt a few years ago. It became this Instagram sensation. Everybody wanted to go.  Vultures had never been seen in this area, and now it's packed full of vultures because of the trash on the side of the mountain. As a business, we don't want to support that. Now we go to another mountain that is similar but in a different part of the county range, supporting communities on the way. 
This situation is caused by climate change, but actually, it's more to do with over-tourism and trying to do what we can as a business to spread out those tourism dollars. Otherwise, you end up with historical sites, cultural sites, geological wonders, that starts to put huge pressure on the services in that particular area, whereas other parts of the country start to deteriorate even further. They just get none of that tourism income. And so, I think that's where it is really complicated. I don't think there's necessarily one answer. The term that we use in the company is "vertical integration", but what we really mean is having teams on the ground in all of these places. We always, wherever possible, try to stay in locally run smaller boutique hotels, for example.
We really want our customers to be meeting these women who are running these businesses. Because they're the most inspiring people that we could introduce our customers to.  We try to remove that disconnect that might separate women from the kind of women that they want to be meeting on these tours.
Carolyn: How does the Intrepid Foundation support education in other countries?
Tom: Through the Intrepid Foundation, we support education and skills training for disadvantaged groups. In Peru, we work with an organization founded by a US woman called Manos Unidas in the Peruvian Islands to support kids with intellectual disabilities. 
A lot of these communities are still very rural communities, and these kids are not as able to work the fields and be useful to their families, and the education system is just not well-resourced enough to support them. This woman set up a school to teach kids with intellectual disabilities. With a grant from the Intrepid Foundation, she set up the Manos Unidas Café. The whole café – like table staff, waitresses and waiters, they were all these kids who graduated from the school. 
We include trips to that café on our tours to Cusco. And depending on the time of the tour and the availability and how much time they have, sometimes it's literally just stopping for a can of coffee and a cake. Other groups have kind of a meal there. But, again, it just creates an opportunity for the staff who are there to talk about the project, talk about what they've done and to – you know, for our customers to see what kind of impact the Intrepid Foundation is having in some of these communities. 
There are other projects across the world that we're developing in some of the fields. We're trying to ensure that girls get equal rights as to education or trying to support communities or indigenous populations. Or like, in this example, you know, kids with disabilities to get as close to equal opportunities as possible. 
Carolyn: I really believe that women want intimacy and to feel safe when they go on a tour. How does Intrepid facilitate this on your women-only trips? 
Tom: I think it's all down to how the guide sets up from minute one. The tour company too. You need to make sure that the booking process, the arrival process, that you are facilitating a smooth start to the tour. Most of our tours or group sizes are maximum of 12 people. So right off the bat, you've actually got intimacy. 
That's where the tour company that you choose to go with can have a massive impact, making it as smooth as possible and contributing to putting you at ease for when you first meet the group, or the leader at the welcome meeting, and creating a group dynamic that is open, welcoming, empathetic and supportive. 
You've got a group of people who don't know each other, who've just traveled from all parts of the world to get there. I think that's super important for the group leader to be taking that into account and creating a safe space. Where it's about these women feeling comfortable to ask questions, comfortable to say, "I'm not totally sure I am comfortable yet."
Read More on Women Over 50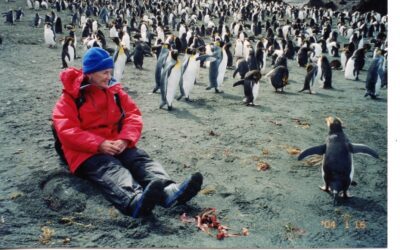 You're never too old to travel solo, says 86-year old author Joyce Perrin in her memoir, "Ants in My Pants". Join Joyce and other 80+ authors on our September 28 webinar.
We've expanded our editorial team to better the reflect the needs of solo women over 50, as women lead a more intentional approach to travel.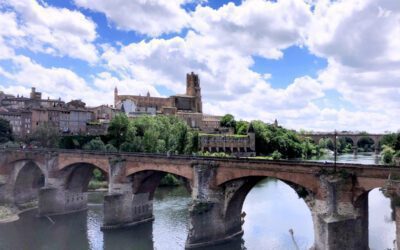 Why not consider a shoulder-season visit to Les Plus Beaux Villages de France (the Most Beautiful Villages of France), away from the crowds?