Last updated on December 6th, 2023
Feature Image: Carolyn Ray (R) and Evelyn's daughter, Erica Ehm (L) with Evelyn's iconic red boots and the original magazine.
A Symbol of Women's Empowerment
by Carolyn Ray
The Bata Shoe Museum in Toronto has accepted the iconic red boots of Evelyn Hannon, the Original JourneyWoman, into its permanent collection. As one of the world's most renowned museums, the Bata Shoe Museum holds over 14,000 shoes and shoe-related artefacts in its collection.
Evelyn started JourneyWoman in 1994 and is regarded by women in the travel industry as one of the first solo female travel writers in the world. Recognized for her dedication and her role in empowering women to travel safely, she was particularly beloved by older women who saw her as a source of inspiration at a time when women didn't travel alone and lacked female travel mentors.
After she passed away in April 2019 after a heroic three-year battle with cancer, her family turned JourneyWoman over to Carolyn Ray, who sees it as a platform to empower women, build community and support other female entrepreneurs.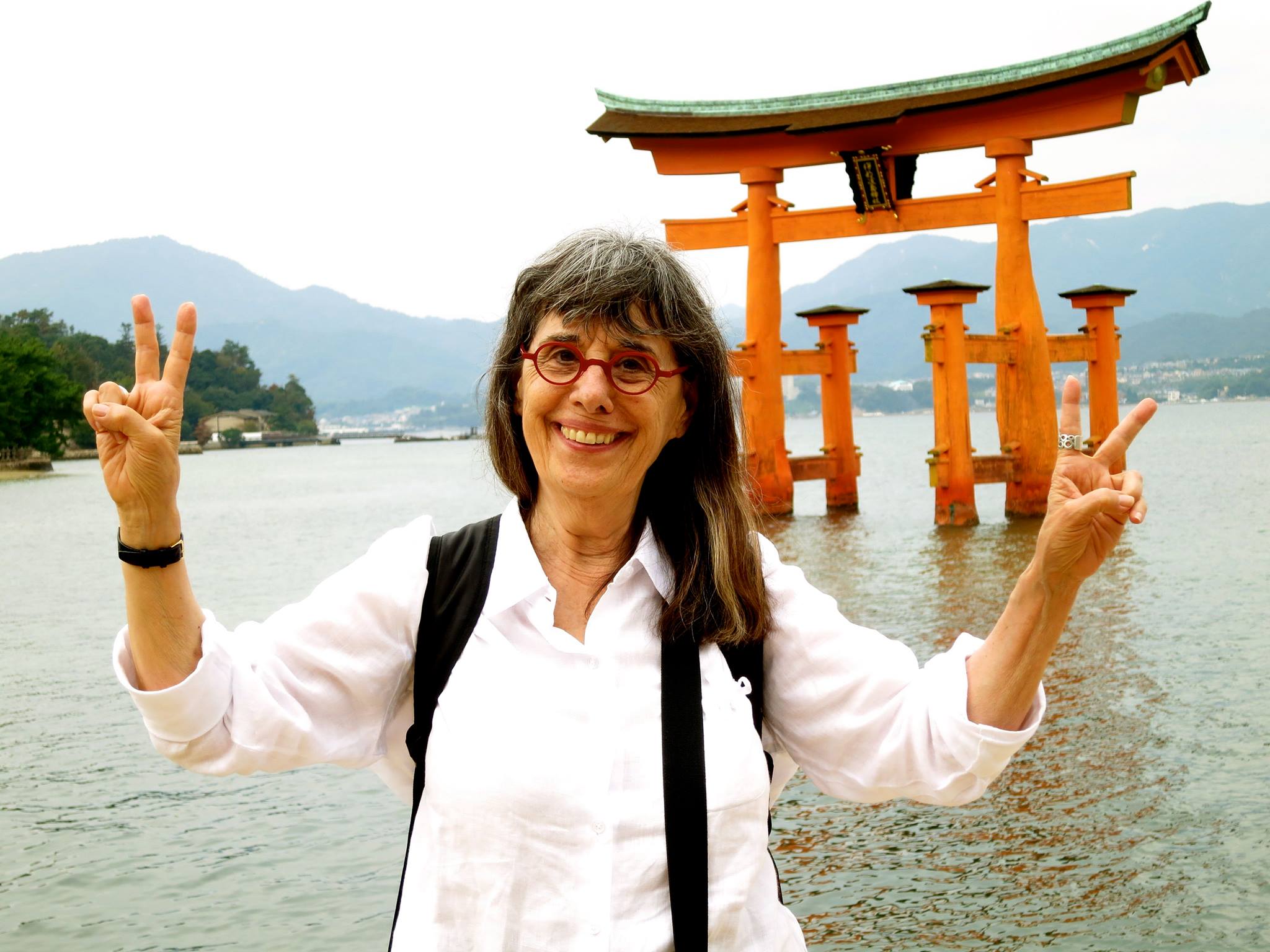 Evelyn Hannon in Japan wearing her signature red glasses
Evelyn loved the colour red
Evelyn's boots are a powerful symbol of female empowerment, First, they are red – which was Evelyn's trademark colour. She wanted to stand out as a woman. They are well-worn (from travelling to (almost) every country in the world).
Perhaps, most importantly, the boots are about following your passion, reminding us that when we find the courage to take a first step forward, amazing things can happen. Today, women are the primary influencers in travel, and the JourneyWoman community represents some of the most well-travelled, experienced women in the world.
"We appreciate the story of Evelyn's boots and how they manifest one woman's dream to inspire and empower women," said Nishi Bassi, Manager of Exhibitions and Assistant Curator, the Bata Shoe Museum. "We strive to showcase footwear that is unique, memorable and leaves its mark on the world, and we are excited about this donation."
Evelyn's Family: Life is an Adventure
When Ray took over JourneyWoman in August 2019, Hannon's daughter, Erica Ehm, offered her the KAYA red lace-up boots, which were originally purchased in Israel.
"I'm thrilled that Carolyn is continuing our mother's legacy with this honour." Ehm said. "Generations from now, I hope that women will see my mother's well-worn red boots and remember that life is an adventure of your own making."
JourneyWoman's Legacy Lives on
In 2000, TIME Magazine named Hannon one of the '100 innovative thinkers of this new century' for the writing she has done on behalf of women and travel. The Guardian newspaper in the UK said: "Journeywoman.com is feminist travel in the manner of Naomi Wolf." Foreign Affairs Canada chose Evelyn to write their 24-page guide called, 'Her Own Way, A Woman's Guide to Safe and Successful Travel.'
In 2009, she received the Griffin Award, which noted: "through her writing, Evelyn Hannon has changed the way women in Canada and around the world travel."
"She told us we could do and be anything.  She gave us who we are," Evelyn's daughter Leslie said through tears at the podium. Not just you, Erica and Leslie, but thousands of women around the world.  Thank you for sharing your mum with all of us." 
"On Monday, April 29th, we lost an important member of the travel writing community and one of the most inspiring voices in travel for women.  Evelyn Hannon, known everywhere as Journeywoman, was an energetic, uplifting, critical thinking, and compassionate woman of travel. She was an inspiration to so many – people I know and hundreds of thousands of people I don't know."
To read more about Evelyn's legacy visit: "A Tribute from the JourneyWoman community" published in Fall 2019.
We've also established the JourneyWoman Legacy Fund to honour Evelyn and her work advocating for women. Click here if you want to make a donation.
About the Bata Shoe Museum
With an International collection of over 14,000 shoes and related artefacts, the Bata Shoe Museum celebrates 4,500 years of footwear history in four distinctive rotating galleries. Through the creation of its innovative exhibitions, the BSM strives to enlighten and entertain visitors of all ages. For every shoe there's a story. Discover thousands at the Bata Shoe Museum. Further information is available at batashoemuseum.ca or across our social media platforms Twitter, Instagram, Facebook and on our YouTube and IGTV channels.