Nigerian author shows the value of perseverance
by Carolyn Ray, Editor, JourneyWoman
Abi Daré's debut novel, The Girl With the Louding Voice, is one that I couldn't put down. It's the unforgettable story of Adunni, a 14-year-old Nigerian girl who wants one thing: an education. It also reminds us to look below the surface of what we see.
The story follows Adunni's journey from a small village and being sold as a third wife to an old man, to her escape into a wealthy part of Lagos, where she is secretly sold as a domestic servant to a household. Despite her circumstances, 14-year-old Adunni won't be silenced. She is repeatedly told that she is nothing. She is determined to find her voice – in a whisper, in song, in broken English – until she can speak for herself, for the girls like Rebecca who came before, and for all the girls who will follow.
Nigeria's population is estimated at more than 200 million and the U.N. expects that figure to double by 2050. That would make Nigeria the world's third most populous country, behind China and India, overtaking the United States. Part of that can be traced to the high rate of child marriage, with 4 out of 10 girls married before they reach the age of 18, according to UN figures. The rate of teen pregnancy on the continent is the highest in the world, about half of the children born last year to mothers under 20 worldwide were in sub-Saharan Africa.
Click Here to Buy or Download "The Girl With the Louding Voice"
"Brave, fresh . . . unforgettable."—The New York Times Book Review
"I'm excited about this debut novel from Nigerian author Abi Daré. . . . In Nigeria, and around the world, girls are fighting for their right to learn. I'm grateful to Abi for showing the challenges Nigerian girls face and showcasing the power of their voices."—Malala Yousafzai
 "A celebration of girls who dare to dream."—Imbolo Mbue, author of Behold the Dreamers (Oprah's Book Club pick)
 
 About Author Abê Dare
Abimbola "Abi" Daré grew up in Lagos, Nigeria, attending the Vivian Fowler Memorial College for Girls, and moved to the UK for her higher education. She has a law degree from the University of Wolverhampton, a master's in international project management, graduating as best performing student from Glasgow Caledonian University and a master's with distinction in creative writing from Birkbeck. Today she lives in Essex, England. In 2018 she won the Bath Novel Award,  and was a finalist in the Literary Consultancy Pen Factor 2018. (Source: Wikipedia). 
Is Nigeria safe to visit? 
At least 60 percent of Nigerians live below the poverty line, existing on less than a dollar a day. Unfair distribution of the country's oil wealth, as well as political, ethnic, and religious conflicts have put a strain on Nigerian society.
Since Nigeria won independence from Britain in 1960, it has suffered through corrupt leaders and occasional military rule. In 1999 the country adopted a new constitution and the first democratic elections in 20 years were held. With oil as its most important export, it holds significant influence politically and economically in West Africa. Rubber and cacao (for chocolate and cocoa) are also important export products.
According to the US State Department, tourists should reconsider Nigeria as a travel destination Violent crime – such as armed robbery, assault, carjacking, kidnapping, hostage taking, banditry, and rape – is common throughout the country. Canadians are advised to avoid non-essential travel due to the unpredictable security situation throughout the country and the significant risk of terrorism, crime, inter-communal clashes, armed attacks and kidnapping
Book Club Discussion Questions
We may not get through all of these, but here are some thoughts to start our discussion!
What was your favourite passage in the book, and why?
Have you travelled to Nigeria? Did you learn anything about Nigeria that surprised you?
Adunni frequently uses unusual or idiosyncratic combinations of English words to tell her story. Were these expressions effective, or did you struggle to understand them?  Which was your favourite?
How were Adunni's feelings about marriage different from those of her friend, Enitan, and her co-wife, Khadija?
Why do you think Morufu's first wife, Labake, treats Khadija and Adunni the way she does?
Adunni experiences harmony with one co-wife, and conflict with another. Can there be both benefits and drawbacks in a polygamous household? Have you ever encountered polygamy, either in your own country or in your travels, or read other books with polygamy at their core?
Human trafficking has been at the edges of a number of books we've read recently, but sometimes the exact parameters of human trafficking might seem difficult to define. Is forced child marriage, like that experienced by Adunni, an example of human trafficking? How about unpaid servitude, as Adunni experiences in Big Madam's house? 
Who are Adunni's allies throughout the book? How do they help her, and do they ever fail her?
Adunni feels some sympathy for Big Madam.  Do you?
Ritual baths play pivotal roles in the lives of Adunni's friends. What water-focused rituals have you encountered on your travels? Why do you think so many cultural practices centre on water?
Despite the events that led to Adunni fleeing from her home, she never stopped aspiring to improve the lives of her family and her village. What did you think about these aspirations?
Did you notice any changes in Adunni's voice as the story progresses?  How does it change, and why?
What did you think about the selection of "Nigerian Facts" that pepper the pages? If you had to contribute just one fact about your hometown to a "book of facts", what would it be
Did the book make you want to travel to Nigeria?
Click Here to Buy or Download "The Girl With the Louding Voice"
Featured articles on Africa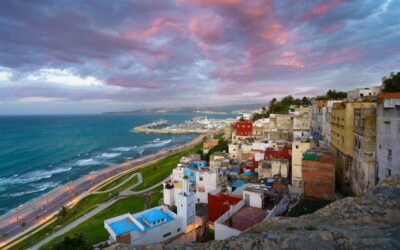 In Maria Duenas' "The Time In Between", we learn about the Spanish Civil War from the perspective of a seamstress turned skillful spy.
With 54 sovereign countries, the African continent offers solo women vibrant communities, a range of wildlife and diverse cultures.
As director of The Peregrine Fund-Africa, Darcy Ogada is working to save Kenya's raptors – from falcons to eagles – from extinction.
Your Imagination Can Take You Places
Now more than ever, we're finding camaraderie and inspiration through novels. Join us each month as we discuss a different book, suggested by our community, about a faraway land.