Last updated on April 16th, 2023
Featured image:  A fig tree in Cyprus / Photo from Envato
The Island of Missing Trees gives voice to a fig tree
By Carolyn Ray, Editor, JourneyWoman
In this magical new book on belonging and identity, love and trauma, nature and renewal, Elif Shafak gives voice to a fig tree. Now in North London, the fig tree came from a cutting brought over by Kostas from Nicosia, Cyprus.  

1960s Cyprus may seem far away but the themes in this book are incredibly relevant in today's unsettled world. Recently, Shafak wrote an op-ed in the Times, where she advocated for humanity, writing; "This is a major crossroads for all of us – shaped by the pandemic but also the urgency of climate destruction, growing inequalities and conflict on the European continent and beyond. The decisions that we make now will determine the quality of life for generations to come. None of us has the luxury of being disconnected, disengaged or numb."
If there is one thing we have learned during the pandemic, it's that we are all connected. We are a global community, and what happens in other parts of the world, like Ukraine, affects us on levels we are only just beginning to appreciate. 
"The pandemic made it urgent to appreciate the immaterial things in life: family, friendship, sisterhood. Now, we must broaden our horizons: family is humanity, friendship extends beyond national borders and sisterhood means nothing unless it is translated globally."  – Elif Shafak, The Guardian, March 17, 2022 
"Cyprus is a beautiful island with beautiful people. It is also an island where there are many untold stories, accumulated grief and hurt and pain. The wounds are not healed. Not at all. The past is not bygone and left behind, the past breathes within the present moment," Shafak told PTI in an email interview." (Source: The Tribune)
About "The Island of Missing Trees"
With our partners at TripFiction, we chose this book last fall, never imagining its relevance today. Tina Hartas at TripFiction writes:"It is 1974 on the island of Cyprus. Two teenagers, from opposite sides of a divided land, meet at a tavern in the city they both call home. The tavern is the only place that Kostas, who is Greek and Christian, and Defne, who is Turkish and Muslim, can meet, in secret, hidden beneath the blackened beams from which hang garlands of garlic, chilli peppers and wild herbs. This is where one can find the best food in town, the best music, the best wine. But there is something else to the place: it makes one forget, even if for just a few hours, the world outside and its immoderate sorrows.
In the centre of the tavern, growing through a cavity in the roof, is a fig tree. This tree will witness their hushed, happy meetings, their silent, surreptitious departures; and the tree will be there when the war breaks out, when the capital is reduced to rubble, when the teenagers vanish and break apart.
Decades later in north London, 16-year-old Ada Kazantzakis has never visited the island where her parents were born. Desperate for answers, she seeks to untangle years of secrets, separation and silence. The only connection she has to the land of her ancestors is a Ficus Carica growing in the back garden of their home.
About the Author

The most widely read woman female writer in Turkey and acclaimed worldwide for her work's "vision, bravery and compassion" (The New York Times Book Review), Elif Shafak is the author of 12 bestselling novels, including The Bastard of Istanbul, The Architect's Apprentice, Three Daughters of Eve, and 10 Minutes 28 Seconds in This Strange World, which was shortlisted for the Booker Prize. She is also the author of the memoir Black Milk and has written articles for periodicals around the world.

A fellow and a vice president of the Royal Society of Literature, Shafak has taught at numerous universities in Turkey, the U.K., and the U.S. The Island of Missing Trees explores love, trauma, and ecological renewal through the bittersweet love story of two Cypriot teens on opposing sides of war.
Your book club co-hosts, Wendy and Carolyn, invite you to  our monthly book club on April 20 at 8 pm EDT for a facilitated discussion on this book.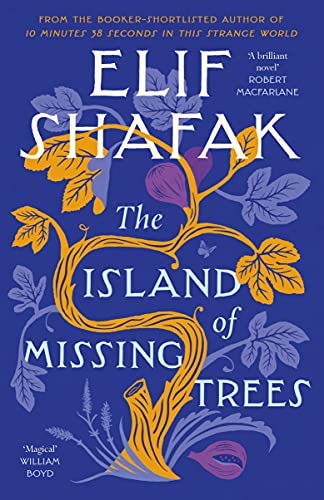 The Pandemic's Impact on Women
Cambodian author Loung Ung: "When women are in tune, we can change the world." 
Book Club Discussion Questions for The Island of Missing Trees (Wednesday, April 20, 2022, 8 pm EDT)
We may not get through all of these, but here are some thoughts to start our discussion!
1. What was your favourite passage of the book and why?
2. What has your experience been with Cyprus prior to this book?
3. Why do you think Elif Shafak chose to tell this story?
4. The wind and the birds travel freely across the Green Line, the border that divides Cyprus. So, it seems, do human traditions. Did you notice any commonalities between the island's two communities? Have you ever been surprised by shared traditions on your own travels through life?
5. Despite so much shared culture and history, Cyprus ends up divided into separate territories: Turkish/Muslim and Greek/Christian. Have you ever lived or travelled in a place that has forced people into separate areas, and how did that feel? How do Defne and Kostas deal with this division?
6. Yiorgos and Yusuf make it possible for Kostas and Defne to meet in secret, without divulging their own relationship. Why do you think they were willing to help them?
7. When he flees Cyprus, Kostas writes to Defne, "I've been thinking that you are my country" (page 183).  The separation experienced by many migrants is intensified by the traumatic events on Cyprus, though, creating a chasm between those who leave and those who stay. How do Kostas and Defne struggle to understand each other when they reunite?
8. The fig tree declares that "First-generation immigrants are a species all their own" (page 23). How do the characters try to connect with the country of their birth, while making a life in a new land? If you've ever moved away from the place where you grew up, how have you found yourself seeking connections with home?
9. Ada "felt like I was screaming at everyone – everything" (page 175). When the video goes viral on social media, strangers around the world respond by posting footage of their own screams. What do you think they were trying to express with their hashtag #CanYouHearMeNow? What are your thoughts on social media trends that give a voice to people who might not otherwise be heard?
10. Meryem thinks a djinn might have caused Ada's outburst at school, but Ada is sceptical.  Meryem responds, "Maybe we give other names to grief because we are too scared to call it by its name" (page 247). Do you think it can sometimes feel intimidating to admit to grief, and has this changed during the pandemic? Have you ever dealt with your own loss in unconventional ways?
11. Ada blames her mother for not loving her family enough to survive, but Kostas argues that – like a girdled tree that is "strangled by its own roots" – Defne was plagued with an invisible illness that wouldn't allow her to heal from the past (page 334). What do you think? And how does society treat those dealing with emotional pain, compared to those who suffer from physical disease and injury?
12. Does the book inspire you to go to Cyprus?
Featured articles on Europe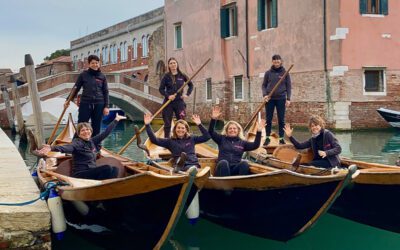 Meet Jane Caporal of Row Venice, who is dedicated to preserving the ancient tradition of rowing with her all-woman company.
Five spectacular gardens in France, including Versailles, the Monet Gardens at Giverny, and Villa Ephrussi de Rothschild in southern France.
Accessible solo travel writer Tanzila Khan explores the medieval city of Tallinn, Estonia, and lets the city guide her.
Your Imagination Can Take You Places
Now more than ever, we're finding camaraderie and inspiration through novels. Join us each month as we discuss a different book, suggested by our community, about a faraway land.