Last updated on May 10th, 2023
Featured image: Sandy enjoys an ethical encounter with elephants in Laos | Photo provided by Sandy  Biback
The joy of walking with elephants in Laos
By Sandy Biback, Guest Writer
As I get off the plane in Laos, I wonder why people stop in their tracks. Then I see it – the mountains surrounding Luang Prabang emerge in all their majesty, with clouds slowly drifting by, truly breathtaking. I am so awestruck that I forget to take out my camera, so I have 'the photo not taken', forever emblazoned in my memory. 
Visiting an ethical Elephant Sanctuary
On this month-long trip, I am travelling with my friend Bonnie Wallsh to Cambodia and Vietnam. We really want to go to an elephant sanctuary, so we decide to extend our stay and add three days to visit Luang Prabang, Laos.
One of my concerns is to make sure that I choose a company that didn't harm any elephants With the advice of Nora Livingstone, the ethical animal expert on JourneyWoman's Advisory Council, I choose a full-day tour from MandaLao Tours. From the very first contact until our guide and driver drops us off at the Night Market in Luang Prabang, we know we made the right decision.
Our guide, Mr. Kuem and driver picks us up promptly at our hotel at some ungodly early hour for a 45-minute drive up into the hills to the sanctuary.  So much beauty surrounds us.  Mr. Kuem explains about the land and people and the elephants in the care of Mandalao Tours.
We arrive in a picturesque outdoor pavilion where we are given a presentation about how the nine elephants are cared for. The love literally pours out of the souls of the people who care for these elephants. We are a total of six people, but only Bonnie and I are doing the full-day tour.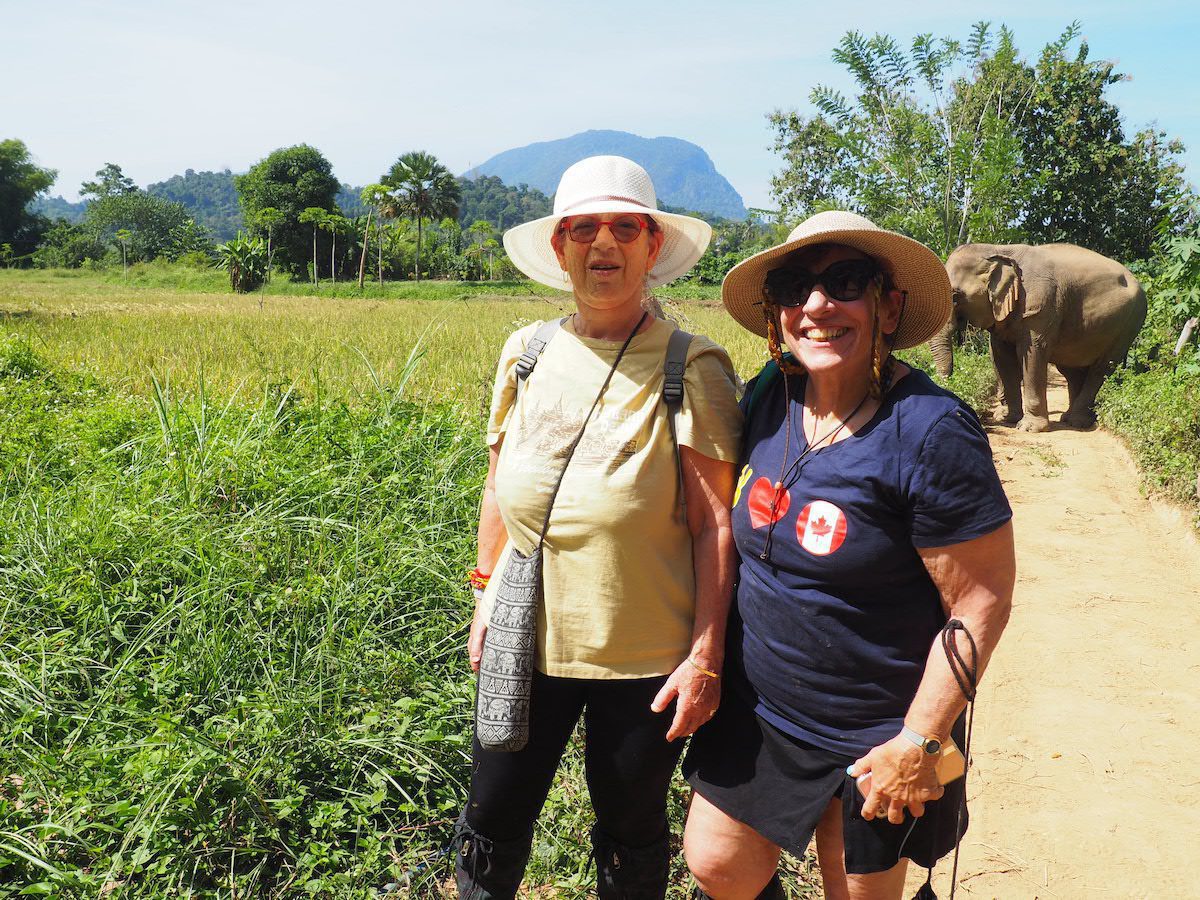 Sandy and Bonnie arrive at the sanctuary in Laos / Photo by Sandy Biback
Grahmsch, CEO of the Elephant Sanctuary tells me: "MandaLao Elephant Conservation is the first non-riding elephant sanctuary in Luang Prabang. MandaLao Elephant Conservation opened in 2016 as the first non-riding elephant sanctuary in Luang Prabang, Laos. Ranging from six to over 60 years of age, MandaLao's elephants spent their lives working together in logging camps and low welfare tourist attractions. We have created a home for these amazing creatures, where we offer them a dignified and comfortable life in harmony with nature." 
In addition to caring for captive elephants, MandaLao is also working toward reintroducing elephants to the wild.
Practicing and promoting ethical elephant care.

Providing an ethical and educational experience for visitors to MandaLao;

Employing local workers and sourcing food and other items from local growers and businesses;

Achieving financial sustainability via a socially conscious business model;

Removing the use of chains from our elephant's lives by building two nighttime enclosures, creating an example for other elephant projects in Laos and around the world;

Seeking a concession to reintroduce captive elephants, increasing population and genetic diversity of the wild herds.
Source: Mandalao website 
Walking with our elephants Mae Sun and Mae Kham
Our elephants are the beautiful and magnificent Mae Sun and Mae Kham. I discover that they love food, and when you pet them behind their ears, they are your friends for life. We walk with them for hours, and when we stop for lunch in a cove area, they are behind a string so they don't come after our food.
Our lunch is prepared by Mr. Kuem's wife and wrapped with love in banana leaves. A Buddhist tradition is to prepare a small ball of rice and leave it on the table for the souls of the departed. 
After lunch, Mae Sun and Mae Kham, led by their Mahouts or full-time keepers, Mr. Yod and Mr. Sin trek with us to a small river where Mea Sun and Mae Kham drink all the water they wanted.  With Mr. Kuem, we leave our wonderful walking companions and ventured into the hills to a small village.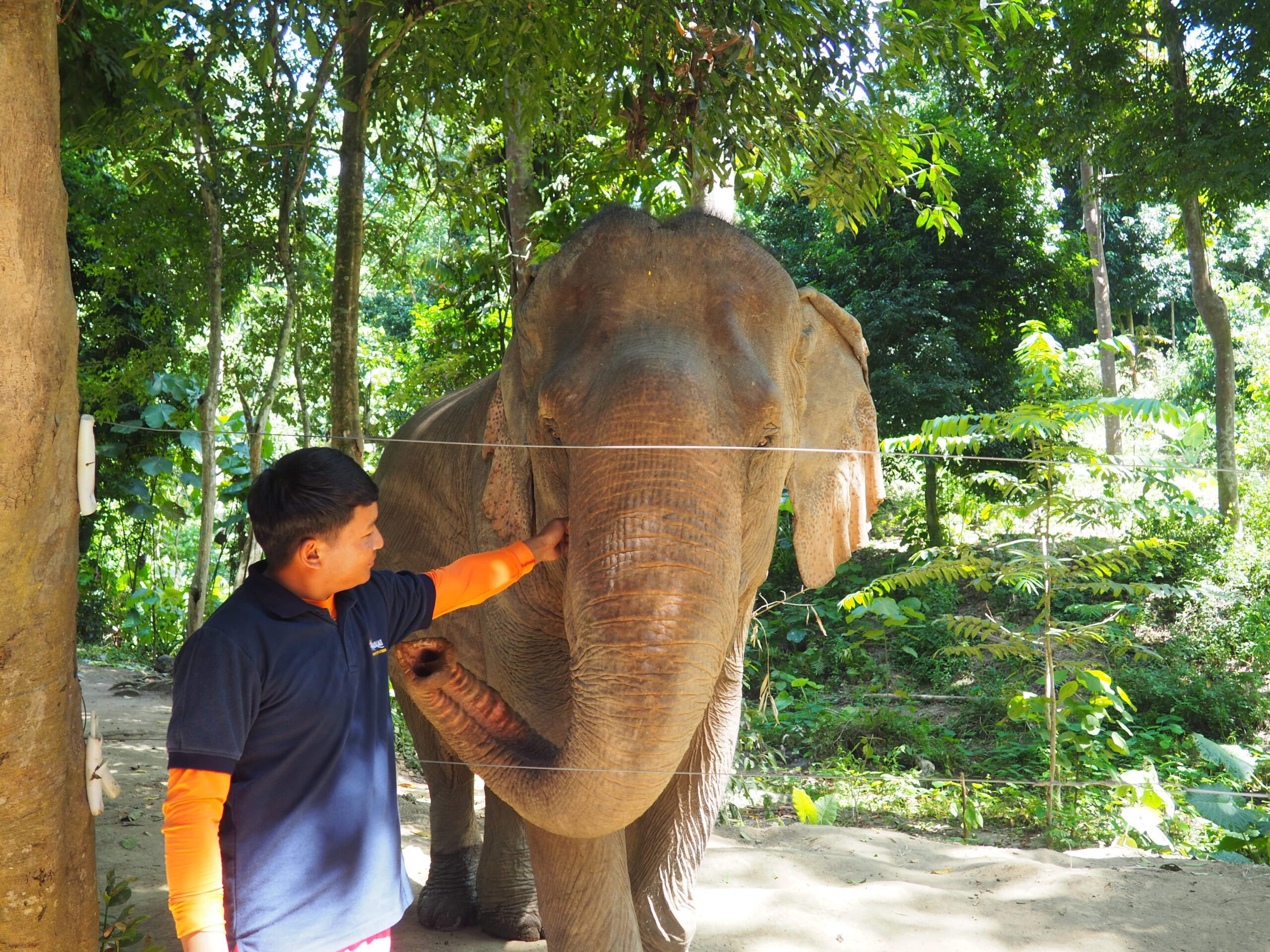 Elephant and Mr. Kuem / Photo by Sandy Biback
Bonnie and I are the oldest people (over 75) to venture up to the village of Ban Xieng Lom, and when we arrive, all the women and children come out. Many make small handicraft change purses — so I had to buy at least one. Mr. Kuem encouraged me to spend my last kip on more.  I buy five and Bonnie buys some as well. While this represents about CDN$5, it means the world to this tiny town. Our walk back takes us by farms and through beautiful wildflowers. 
For those who do a walk like this, wear long pants, bug spray to keep the bugs away, and wear a hat. Be prepared to get dirty. For footwear, they provide non-slip shoes that can go in the water and mud.  There is no need for socks.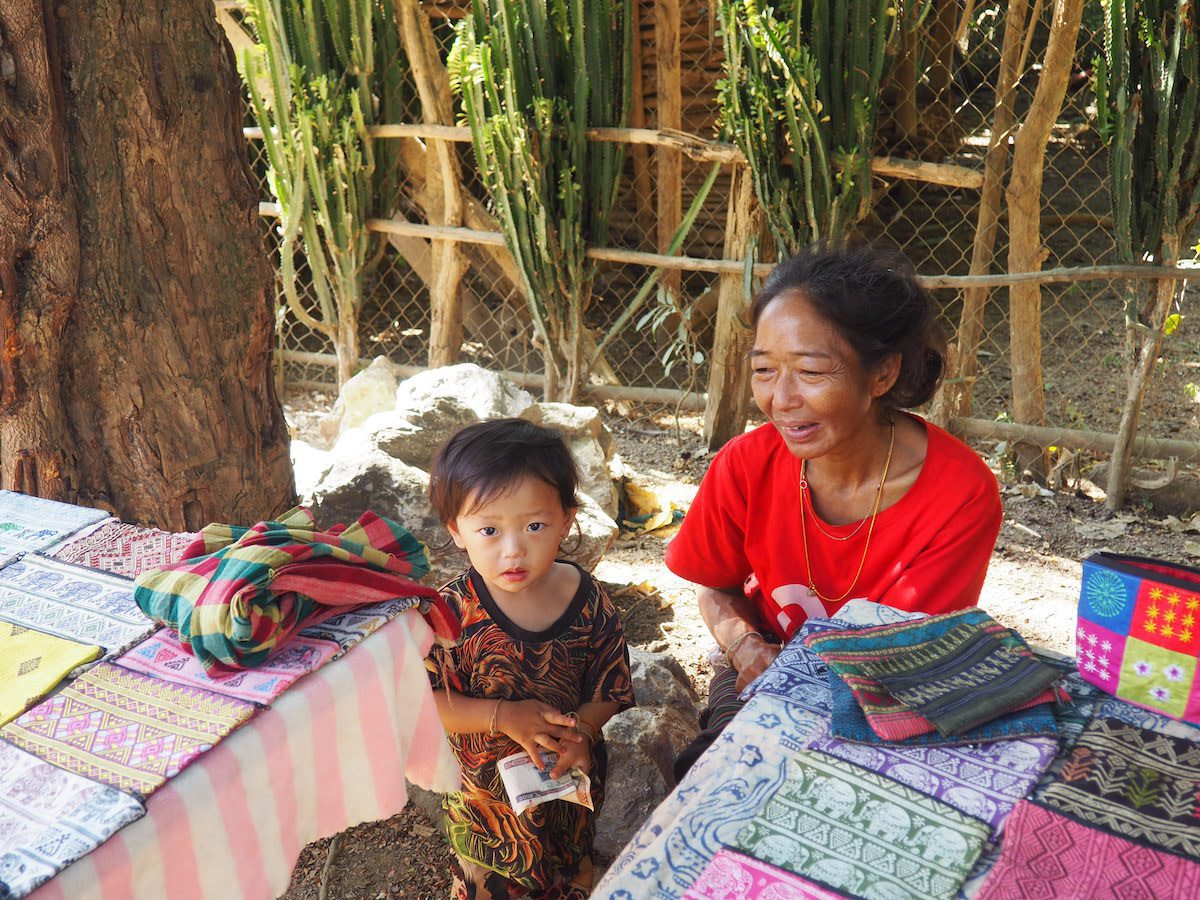 A woman and child with locally made handicrafts  / Photo by Sandy Biback
How MandaLao Tours works with the local community
Besides looking after elephants, here's how MandaLao Tours works with the local community:
elephant dung (and you can well imagine!) is used by the farmers for their soil

leftover food from our picnic is taken to the family of the gentleman who ensures the area we had lunch in is looked after
being in the village & spending all my kip, helps the village
We are dropped off, at our request, at the night market in Luang Prabang for one last look around and a quick bite to eat.  This market on the main street of the town is set up and torn down every single day. And the food 'court' there is amazing. The next morning, we say goodbye to Luang Prabang and our fabulous adventure to this part of the world.
Other places to see in Cambodia
The Killing Fields in Cambodia 
For me, it's about the Killing Tree. You will likely find a gentleman there who wrote his own story of how he survived. I read his book my first trip there and this time, our interpreter explained I'd been there before.  Note, he's wearing a Canadian pin.  I'd given him one when I was there—kinda doubt it is the same one! Learn more here.
Orphanage in Hoi An, Vietnam 
We visited an orphanage in Hoi An where we had a fabulous vegetarian lunch. My heart goes out to these children AND several of the older women are now in university – two in medical school. 
Daughters of Cambodia (Phnom Penh)
Daughters of Cambodia empowers those trapped in the sex industry to walk free and start a new life, with healing, dignity, and the means to prosper. My first trip there was the beginning of Meeting Professionals Against Human Trafficking-though I didn't know it at the time. Bonnie and I went back and met with their staff and of course bought 'stuff'. Gina (wearing glasses) is their retail & marketing director.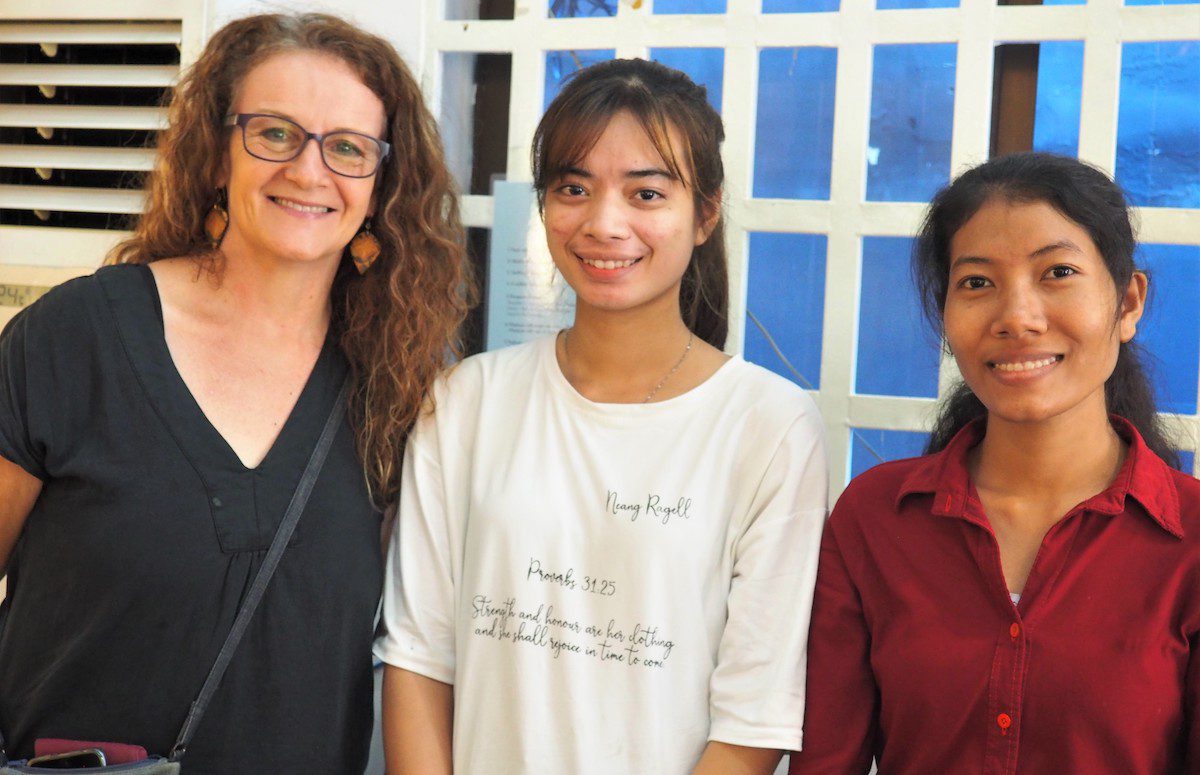 Gina and two other women from Daughters of Cambodia  / Photo by Sandy Biback
​Spoons Cambodia
SPOONS Cambodia Organization enables underprivileged Cambodian young adults to become self-supporting through education, training, and employment opportunities in the hospitality industry. To date, we have helped more than 424 young adults launch their hospitality careers.
SPOONS Café and Restaurant is a full-service restaurant, student training facility, and multi-purpose space serving authentic and creative Cambodian cuisine. The restaurant enables students to practice their learnings in a hands-on practical setting. 100% of the restaurant profits are used to support SPOONS Cambodia Organization and its students.
At Spoons, they train young people for jobs in the hospitality world. Meeting Dym, their fundraising manager was wonderful. And the food, service & atmosphere. They are in Siem Reap & if you plan on going to Angkor Wat (you should) then set up a meal at Spoons.
Senteurs D'Angkor (Siem Reap)
We also went to Senteurs Dangkor, where we made candles and palm boxes to bring them home in. Well, mostly I helped them! It is these NGO's that are the future of these 3 countries.
War Remnants Museum in Ho Chi Minh City (Saigon)
I'd also suggest a visit to the War Remnants Museum in Ho Chi Minh City (Saigon). The "Vietnam War" from their perspective-they call it The American War.
Read More on Sustainable and Ethical Travel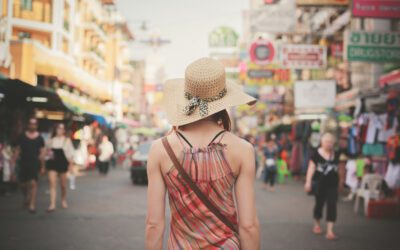 For World Tourism Day 2023, we invited five influential women travel leaders to share actions women can take to create meaningful change.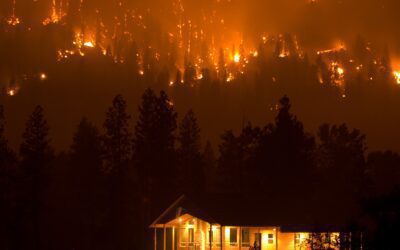 In this new series, we explore sustainable travel and our role as women, featuring Shannon Guihan from The Travel Corporation (TTC).
As director of The Peregrine Fund-Africa, Darcy Ogada is working to save Kenya's raptors – from falcons to eagles – from extinction.