Last updated on November 30th, 2023
Featured image: Quebec City is the perfect setting for a transformational travel experience / Photo Shutterstock
A life-altering experience at Le Monastère des Augustines in Quebec City
By Carolyn Ray, Editor, JourneyWoman
It's a windy spring morning, and I'm standing on the edge of a cliff overlooking the rushing St. Lawrence River in Quebec City. I walk along the old city walls, imagining what it must have been like in 1639, when a group of young Augustine nuns arrived here from Dieppe, France, entrusted with a mandate to build the first hospital-monastery hospital north of Mexico.
I'm in Quebec City for a five-day wellness retreat at Le Monastère des Augustines, where for almost 400 years, generations of Augustine nuns tended to rich and poor alike, creating Quebec's first hospital system and a thriving community hub.  The spirit of these strong, resilient women lives on in Le Monastère, which has reinvented itself as a non-profit organization with a cultural, wellness tourism, and social mission — intended to support physical, mental, emotional and spiritual well-being.
Why a transformational retreat at midlife?
A few weeks ago, I noticed a listing in our Women's Travel Directory at Le Monastère hosted by Tania Carriere of Advivum Journeys.  In March, I joined one of her virtual field trip calls, and we talked about 'the rules' – the 'should do's' and 'have to's – that stop us from being our best selves. "Who made those rules?" she asked. "And who's upholding them – you? What cause are you willing to be a rebel for? And what are you willing to rebel against to achieve your purpose?" Exactly the kind of dialogue I need at this point in my life.
At this point in my journey, I feel a bit stuck. I've been on a path of midlife reinvention for four years now, following my intuition, taking risks and embracing an entirely new career. While I don't feel like I'm in my 50s, there are moments when I feel untethered and worry about my future. Did I really give up everything I owned – my house, my car, my possessions — to travel? Did I really leave a well-paying corporate job and a profession I loved? Did I really just take over a travel business months before a pandemic — and keep it going the whole time? How will I support myself 20 years into the future? When I think too hard about those questions, I start to waver and need to remind myself to trust the universe. But even that is hard sometimes.
I don't really know what to expect at this retreat. Massages and yoga, yes. I'm hoping to eat well and catch up on some sleep. But what I discover is something far more meaningful –  I take a journey from within, in a setting conducive to introspection and stillness. Drawing on the fortitude and courage of the nuns, I discover that surrender can lead to transformation.
You don't have to travel far to journey within
Quebec City is one of my favorite places and the heart of French culture in North America. It's the only walled city standing north of Mexico, with quaint cobblestone streets, Upper and Lower Towns, and charming restaurants and cafes.  Plus, it's close to my home in Toronto and I can take the train, creating a European sensibility.
Located in the heart of the old city, Le Monastere des Augustines occupies the historic wings of the Hotel-Dieu de Quebec, founded in 1644.  With their numbers dwindling, in 2013, the Augustinian Sisters bequeathed Le Monastère des Augustines to the people of Quebec. The gift included the building, over 50,000 artifacts and an archive that was recently listed on UNESCO's Memory of the World international Register. Many of these are on display in the museum downstairs, including the keys with which the nuns locked their trunks on the ship that carried them here.
I arrive at Le Monastère in the afternoon and check into my 'authentic' room in the historic section of the building, charmed by the tiny wood framed doorway and handmade quilt on my single bed, alongside a desk and sink. There's even a little knitted cover for my phone, to remind me to put it away and disconnect.
"I found Le Monastère when I needed a little 'downtime' and I wanted to go within," says Advivum's Carriere, who calls herself an 'epiphany designer'. "It gave me such a sense of respite. I became increasingly intrigued by the women who started this Monastery over 400 years ago with a pledge to bring wellbeing and healing to the world. They perfected plant medicine and set up the first hospital in North America. Women at that time did not have voices or professions, but they found a way to deeply influence community and healing. And now, with their numbers dwindling, they make a bold move to turn into a wellness centre to continue to fulfill their mission but in a very different way. I think it is a very powerful story of feminism and one that should be experienced."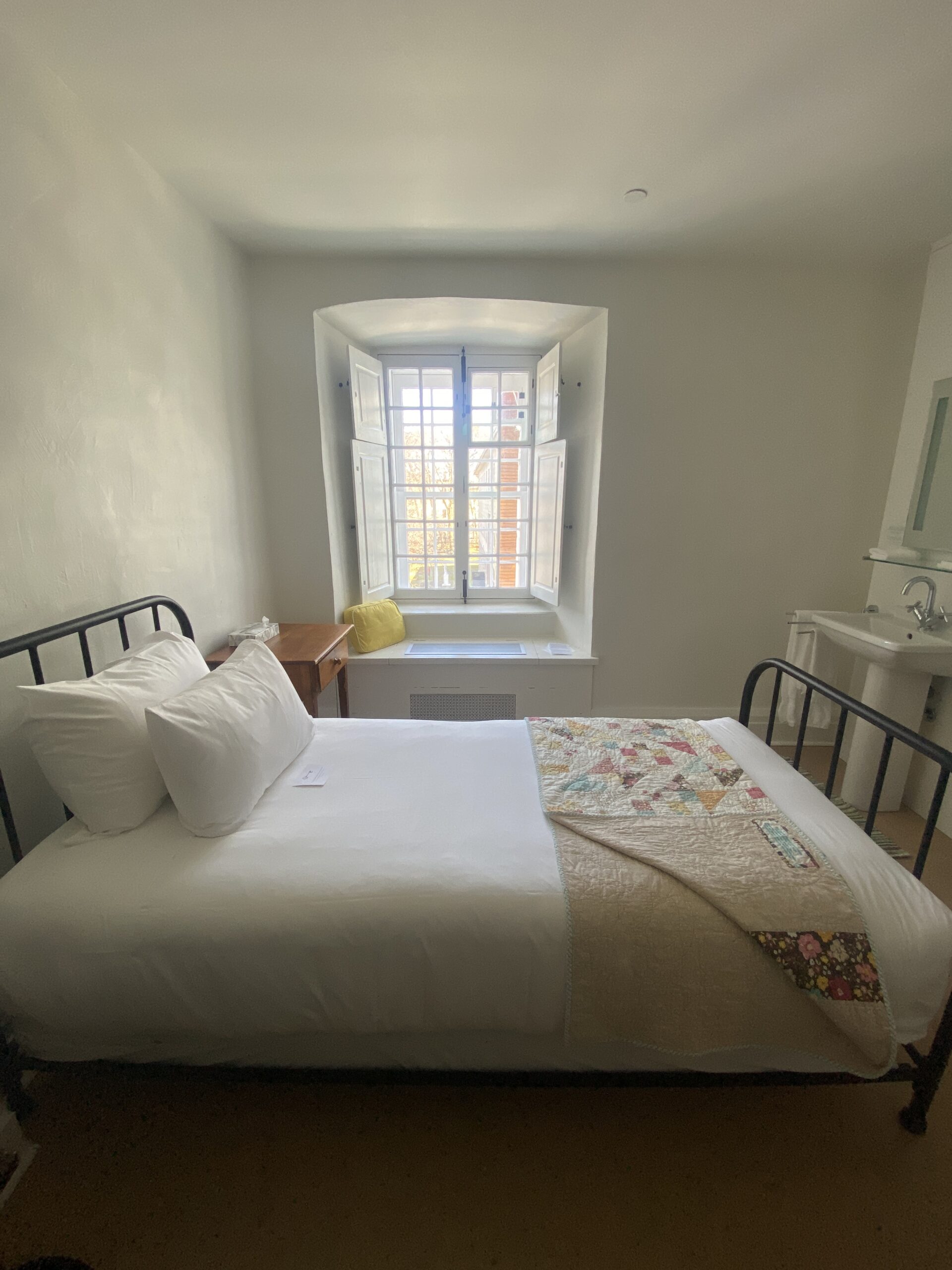 My cosy 'Authentic' bedroom at Monastere des Augustines / Photo by Carolyn Ray
Slowing down in the sanctuary
I am late to my first group session with Advivum Journeys because I get lost in the three-story building after my Augustine Signature massage.
This 90-minute massage is simply extraordinary. It begins with a foot purification ritual, followed by a full-body massage with hot infused herbal oils and soothing music. Post-massage, after wandering around for a few minutes, I finally find the meeting space and float in, still in a dreamlike daze. This is the perfect start to my retreat; I think to myself.
But from this point on, there's a shift.
I find an available rocking chair among a small circle of smiling men and women. Tania welcomes us and introduces us to the principles of trust and confidentiality: no last names, no back story and no judgement. This helps us disassociate from labels and stereotypes, and liberate us from expectations, ego and predictable outcomes, she tells us.
Even though I am here to share my experience, I can't tell anyone what I do. I can't say where I live or share stories about, well, anything.  This will be challenging, I think, but I commit to the rules.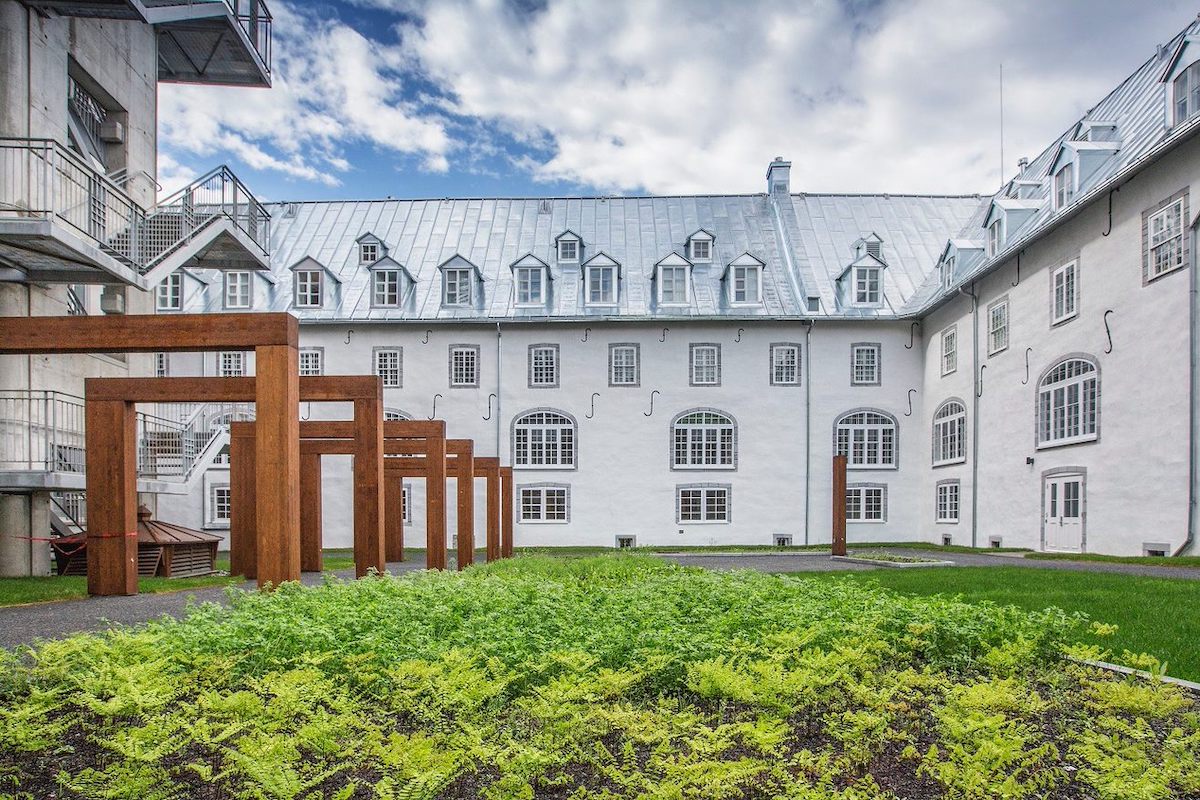 The Courtyard and Apothecary Garden, with 12 wooden arches symbolizing the 12 hospitals founded by the Augustine Nuns in Quebec / Photo by Le Monastère des Augustines
Generations of Augustine nuns walked these corridors / Photo by Le Monastère des Augustines
Embracing new habits
I quickly learn there's a new habit to embrace, and that's waking up at sunrise. There is no sleeping in here. Instead, days at 6:15 a.m.
Against my will, I awaken, bleary-eyed, as the sun peeks above the monastery walls. I peer out the window of my room, clutch my robe and stumble to the bathroom across the hall before heading to the meeting space downstairs. I don't bother with a shower, makeup or even have my regular coffee, for several hours.
For the next hour, we are invited to contemplate our thoughts and observe our surroundings. I wander through the monastery, exploring one of the 12 stations that has been set up as a walking tour. I pause at an original monastery staircase leading into the cellar, where the lay sisters (those who performed the domestic tasks necessary for the monastery's operation) would bring food to the kitchen. At this station, I consider nourishment: how do I nourish my own needs, desires and passions? It's a heavy thought for someone who is barely awake.
Discovering new rituals
The days are a blend of group discussion, guided walks in Quebec City and free time. The outside pavilion provides a place for reflection, as does the front of Le Monastère, with its ancient trees and walled garden.
We are encouraged to hug a tree and listen to the ancient wisdom. Why not? I think and find a beautiful oak outside to cuddle with. I love trees, and believe they teach us important lessons about resilience and community.
We are taught to bow. While I've never bowed (or curtsied) to anyone, in the East, bowing is about showing respect.  Standing together, we stand tall, connect to the moment, breathe deeply, hold our hands to our hearts and bow, sharing our blessings with each other. Over our time together, bowing becomes heartfelt and meaningful, a ritual I will always treasure.
Another new ritual is tea. While I love coffee, the tea looks beautiful and smells delicious. I can't resist drinking it several times a day. I even bring some home to revisit that memory.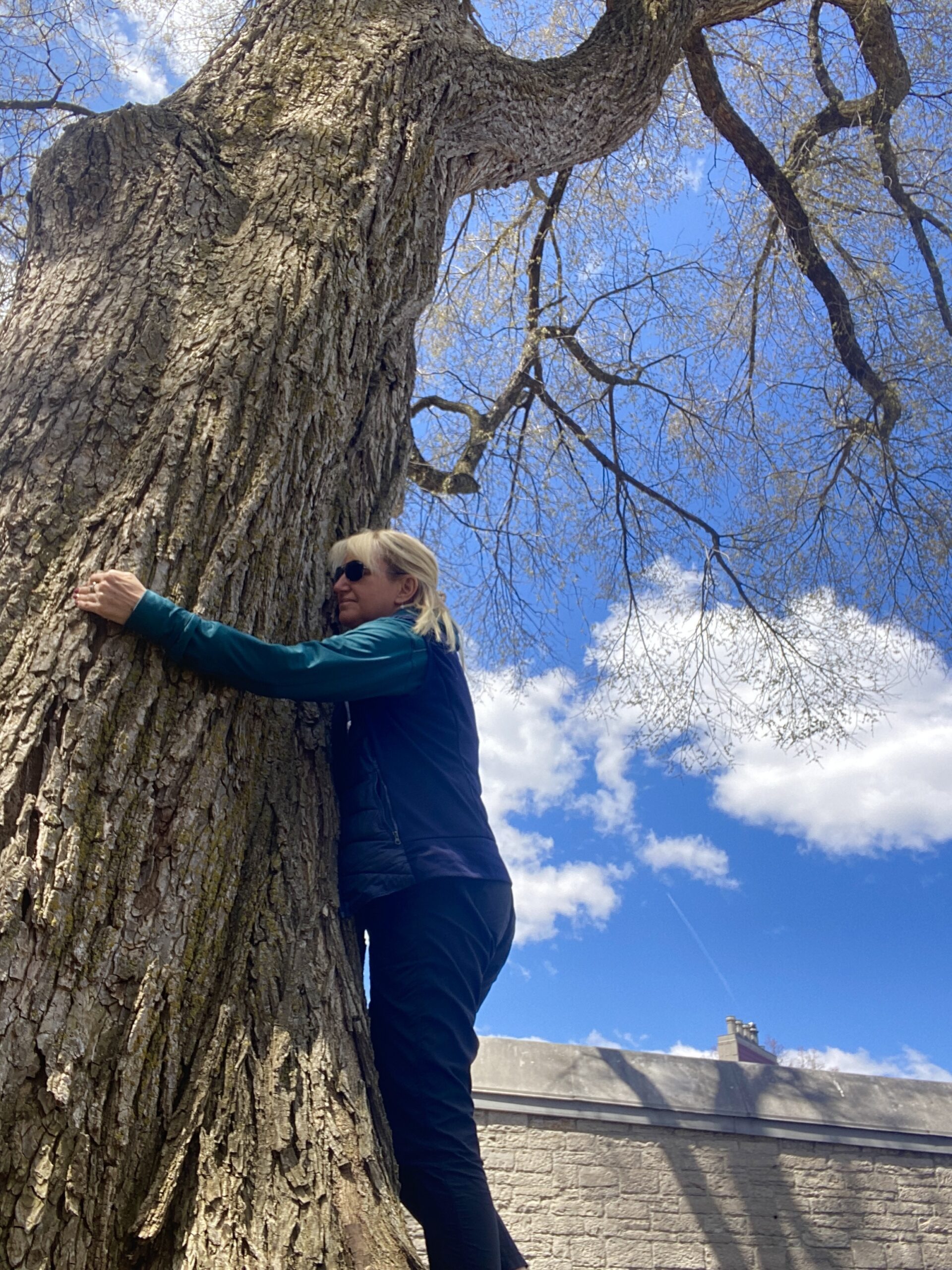 The wisdom of trees/ Photo by Carolyn Ray
My epiphany arrives
My 'epiphany' comes on the third day, after a discussion about perfectionism.
All my life, I've struggled with my body image. Going through menopause has been challenging for me.  I don't feel like a 'woman in my fifties', but I am. I'm gaining weight, feel a bit rickety some days, and don't have the energy I used to. I also have fibroids, which have dominated my life for years.
At this retreat, I consider the possibility I that I am manifesting my frustration and anger with my body IN my body. Often it feels like a hard knot in my stomach. Three years ago, my father unexpectedly died from cancer. I wonder how much of that was manifested by his grief and anger.
Faced with the possibility of making myself sick, I ask myself 'what if I could let my grief and expectations go, once and for all? How different would I feel in my body? How different would I act?'
In that moment, have a life-altering shift. I imagine a life where I forgive myself for not being perfect, and even being grateful for menopause and the changes my body is going through as I age. I give myself permission to embrace the person I already am, rather than drown in my own expectations. It is a revelation.
When I understand the implications of this decision, I am overwhelmed. Not only am I sobbing on Tania's shoulder, I feel an enormous release of air from my body. It's so powerful that it wakes me up at night, as if my belly is purging itself of negativity and making space for something new.  For the first time in my life, I write my body a love letter, thanking it for its strength and tenacity. The morning after my ah-a moment, I am exhausted but energized. I even do a little belly dance for my new friends.
Visit the JourneyWoman Women's Travel Directory for other transformational travel experiences
What I learned through a transformational retreat
The goal of transformation is actually simple: to remember who you already are. It's an opportunity to invite in beauty and possibility and let the universe do its thing. There is so much change happening in our lives at midlife, not to mention the grief we may feel after a worldwide pandemic. How do we release this so that we can achieve our true potential as human beings?
From this transformational retreat, I've learned three important lessons:
 1. Self-care is fundamental 
When we think of self-care as a massage or a vacation, we limit ourselves to what we can truly become. In my case, the grief of losing my father three years ago and of the changes in my body were holding me back from doing the things that truly bring me joy.
Self-care is showing yourself love, affection and respect. Learning to say no without guilt or shame. Learning to receive joy and freedom. Being kind to yourself. Following your intuition. These are all forms of radical self-care. And we all deserve it.
 2. Our mind and body are connected
I can never be a skinny, eat-what-you-want 20-year-old again, but I can accept my own body as it is and choose to respect it.
My new wellness rituals including yoga is a start, but another good decision is watching what I indulge in and limiting myself to healthier options. Choice liberates us from expectations and predictable outcomes. It's only when you trust yourself and the universe that magic can happen.
I need to be healthy to travel, and to live the life that I want. My health is a top priority, before it's too late.
3. Know what nourishes you
Knowing what feeds your soul is not a small thing – it's THE thing. While a massage definitely falls into the category of self-care, the biggest act of caring you can do is to care about and for yourself. That's an inside journey. No one can do that for you.
If we see ourselves as beautiful, we honour and protect ourselves. What would change in your life if you thought of yourself as beautiful? How would you walk? Act? Would you carry less shame and worry? How would it change the way embrace your dreams? Would you care less about what others think and care more about your own needs? How would it change where and how you travel?
My transformation is an ongoing journey
As I consider my own midlife reinvention, I see a woman leading with love, not ego. A woman who is showing more love, starting with myself. Living with satisfaction, not overindulgence. Laughing at myself instead of judging. Slowing down to wake up. Looking at the world with fresh eyes and a new perspective. Trusting myself, those around me and the universe.
I'm sure this won't be my last transformational retreat — in fact, I want to keep doing these as part of my own self-care. Giving yourself a transformational retreat experience is a gift. For me, it has been life-altering. I now trust the wisdom of my heart to guide me through my life.
After all, I only come this way once. I might as well go for it.
Special thanks to Tania Carriere at Advivum Journeys for allowing me to join her on this experience, and to my fellow pilgrims for sharing their wisdom. I am forever grateful to you.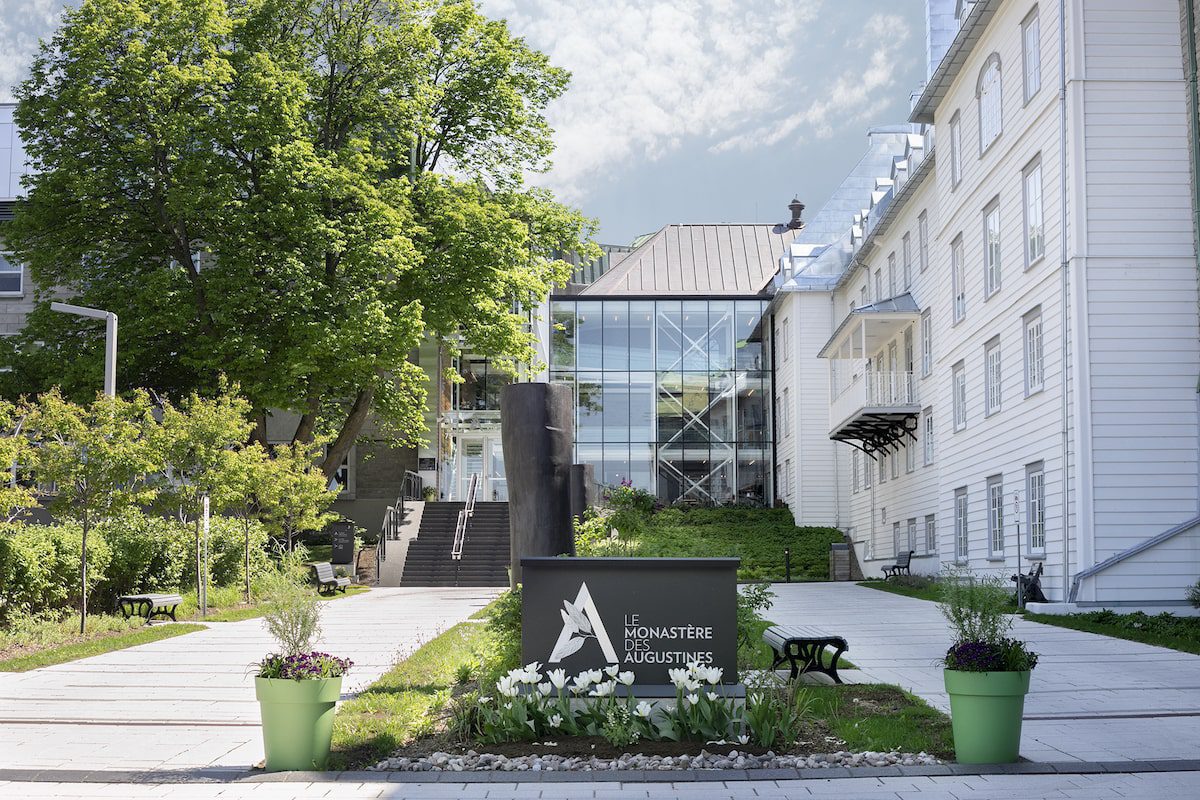 Arriving at Le Monastère des Augustines/ Photo credit Le Monastère des Augustines
Planning your transformational travel retreat
Take the train: Via Rail operates between Toronto, Montreal and Quebec City. The train station is an 8-minute walk from Le Monastère. Check times here.
If you fly: From Toronto and other cities across Canada, take Porter Airlines. Take an Uber for a 30-minute ride from the airport.  Find a flight here.
Le Monastère des Augustines:  With 65 rooms, book yours here. I recommend an Authentic room, where bathrooms are shared, although there are modern rooms that have an en suite bathroom. Set in the middle of old Quebec City, it is walking distance to national monuments such as the Plains of Abraham and the iconic Fairmont Chateau Frontenac.
Buy a day pass:  If you just want a taste of the experience, book a day pass. This includes a meal at the Vivoir between 10 am and 5 pm, a visit to the Museum's permanent exhibition, the temporary exhibition Re-Cueillir and the walking tours, a movement and rejuvenation activity and access to the Augustines' choir.
Learn more about Quebec City on the Quebec Tourism website.
Read More on Transformational and Wellness Travel
For Global Wellness Day, five tips to find a wellness retreat that's right for you and support your journey of self-care and healing.
Despite three years of isolation, Brenda McCrank is thriving, teaching us valuable lessons about curiosity, creativity and solo travel.
Six solo trips for women over 50 that blend adventure, learning and exploration, in France, Jordan, Italy, Israel, Mexico, and Morocco.