Last updated on September 12th, 2023
Featured image: Prague is a magical city to visit all year round!| Photo by sonyakamoz on Envato
Why not explore Prague in November?  
By Carolyn Ray, Editor, JourneyWoman
Of all the cities I visited in Europe in 2022, Prague captured my heart. With its winding cobblestone streets, medieval Church of Our Lady before Týn in the main square, Powder Gate Tower, Prague Castle and Vltava River, Prague is fairy-tale picturesque. Spending two weeks in Prague was the prefect segue to my Christmas Markets River Cruise with Avalon Waterways that started in Passau. 
I prefer to travel in the off season, so travelling there at this time of year gave me unfettered access to all Prague's museums, theatres, galleries, concerts, churches and the Old Town Square Christmas Market. At this market, which sits under the spires of the Church of Our Lady before Týn, you can stroll the small booths with hot mulled wine and trdelník chimney cakes in hand. The Old Town Hall stays open until 9:00 pm, and there's wonderful view of the whole market from the top, with an elevator for those who don't want to take the stairs. 
An ancient city, Prague has been the capital of the Kingdom of Bohemia and residence of several Holy Roman Emperors, most notably Charles IV (r. 1346–1378), whose presence can be felt everywhere in the city. Since 1992, the historic centre of Prague has been included in the UNESCO list of World Heritage Sites. Don't miss the Jewish Quarter, which has six synagogues, including the Spanish Synagogue, Maisel Synagogue and the Old-New Synagogue, the Jewish Ceremonial Hall and the remarkable Old Jewish Cemetery. Much of Prague has been restored, and I loved the architecture and colours.   
A highlight of the Old Town is the medieval Astronomical Clock, or Prague Orloj, at the Old Town Hall. The clock was first installed in 1410, making it the third-oldest astronomical clock in the world and the oldest clock still in operation. Every day starting at 9 am there is a whimsical procession of the 12 Apostles, especially the four figures on the sides of the clock that represent vanity, greed, death, and lust. There are many restaurants around the Old Town Square with cozy blankets to enjoy dinner and watch the crowds or listen to live music. The weather was sunny, and I didn't find it very cold (but then again, I did buy a hat and scarf at a local market). I wish I could have stayed longer! 
This was my first trip to Prague, so there was a lot to learn. Some of these facts are from my guide – you'll be able to tell which ones! 
20+ Fun Facts About Prague

 
1. Although we know it now as the Czech Republic, the correct name is Czechia (as of July 1, 2022). It is the 20th largest country in Europe (and is about the same geographic size as South Carolina), with 10 million people. 
2. Although it's part of the European Union, Prague uses its own currency, called the Czech crown or Koruna. One hundred US dollars equals about 2200 Koruna.  
3. Public transit in Prague is fantastic and children under 6 years and adults from 70 years of age travel for free.  Discounted "half-price" tickets can be used by those aged 60 to 65 years. Learn more here. 
4. Czechia boasts the world's highest beer consumption per capita, followed by Germany, Austria and Ireland. Apparently, Pilsner beer has been shown to prevent kidney stones.  
5, When meeting someone in Czechia, you can say Ahoj, but only use 'Ciao!' among friends. Good day is dobrý den. 
6. Prague, which has a population of 1.3 million, was founded by Charles IV, the first King of Bohemia, who become Holy Roman Emperor. Many monuments, including the popular Charles Bridge, are named after him. Charles V married four times, the first at age 7. He had four wives, which, are all buried together. His last wife, Elizabeth of Pomerania, was 31 years younger than him.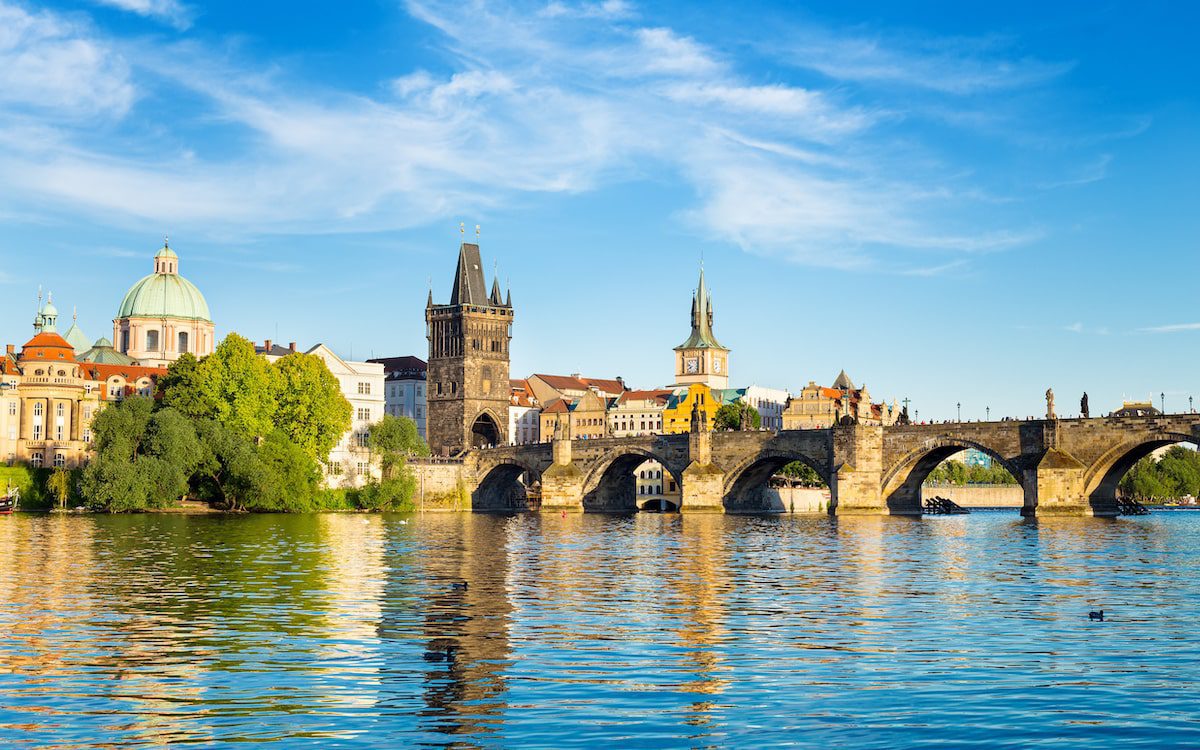 View of Charles Bridge and Lesser Bridge Tower / Photo by Yingko_8 on Envato
7. Prague has 93,000 dogs and 80,000 pigeons. Before COVID, 8 million tourists visited annually. 
8. Don't miss a visit the Jewish Museum by either purchasing a self-guided ticket or booking a Jewish Quarter Tour, which you can do there (don't buy elsewhere). The basic ticket includes several sites except the Old New Synogogue and there are no discounts for seniors, but you can consider a Prague City Pass. Established in 1535, the Pinkas Synagogue is the second oldest building in the Prague ghetto, after the Old New Synagogue, which is the oldest in Europe. Today the Pinkas Synagogue is a memorial to the 80,000 victims of the Holocaust from Bohemia and Moravia, whose names are hand-painted on the walls.
9. Established in the first half of the 15th century, Prague's Old Jewish Cemetery holds 12 layers of bodies and 12,000 gravestones, but some estimates of people buried here range up to 100,000 Jews. The most famous is Maharal from 1609, who was known as the wisest man in Prague. If you have a wish, put it on a piece of paper and leave it on his grave.  
10. Bohemian Jewish novelist Franz Kafka was born in the Jewish Quarter and commemorated with a statue on Dusni Street.

Old Town Clock by Carolyn Ray
Restored architecture by Carolyn Ray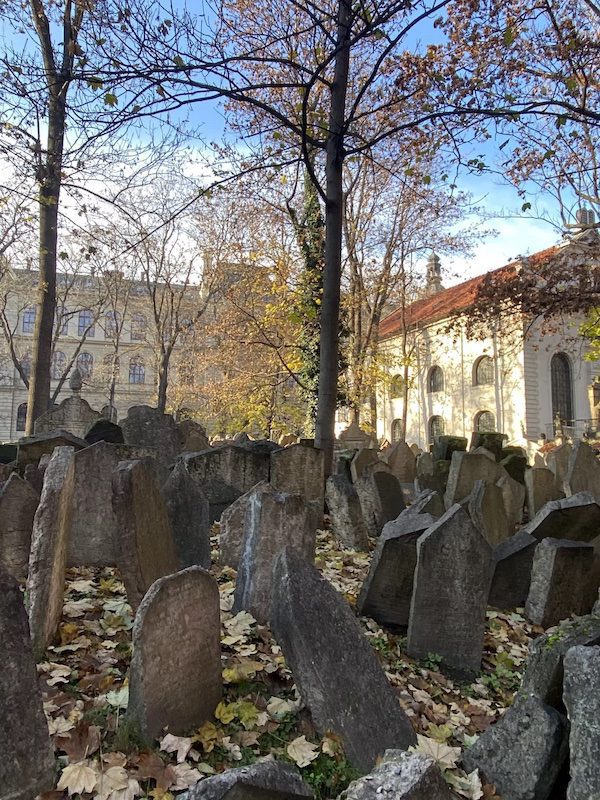 Old Jewish Cemetery / Photo by Carolyn Ray
11. News shows are presented in both Slovak and Czech, so citizens are able to understand both languages from a young age. 
12. In Prague, the sidewalks are marble in the Slavic colours of white, red and blue, which represent air, blood and water. When it snows or rains, it's a great slippery adventure walking on them! 
13. Prague is the first place in Europe where tulips were grown. They originally came from Turkey, and then went to Holland. 
14. The national tree is the linden tree (lime tree), which is in the shape of a heart. Linden trees are a softwood which is often used for carving, especially of statues. 
15. Construction of what eventually became known as Prague Castle began in the 9th century. Today it is the largest contiguous castle in the world and is in the Guinness Book of World Records. Mission Impossible 1 and 4 were filmed there. Amadeus was also filmed in Prague. 
16. At Prague Castle, the Cathedral is similar in design to Cologne, but much smaller. It's made of sandstone which is porous and turns dark. The Cathedral is owned by the Catholic Church and the Czech state.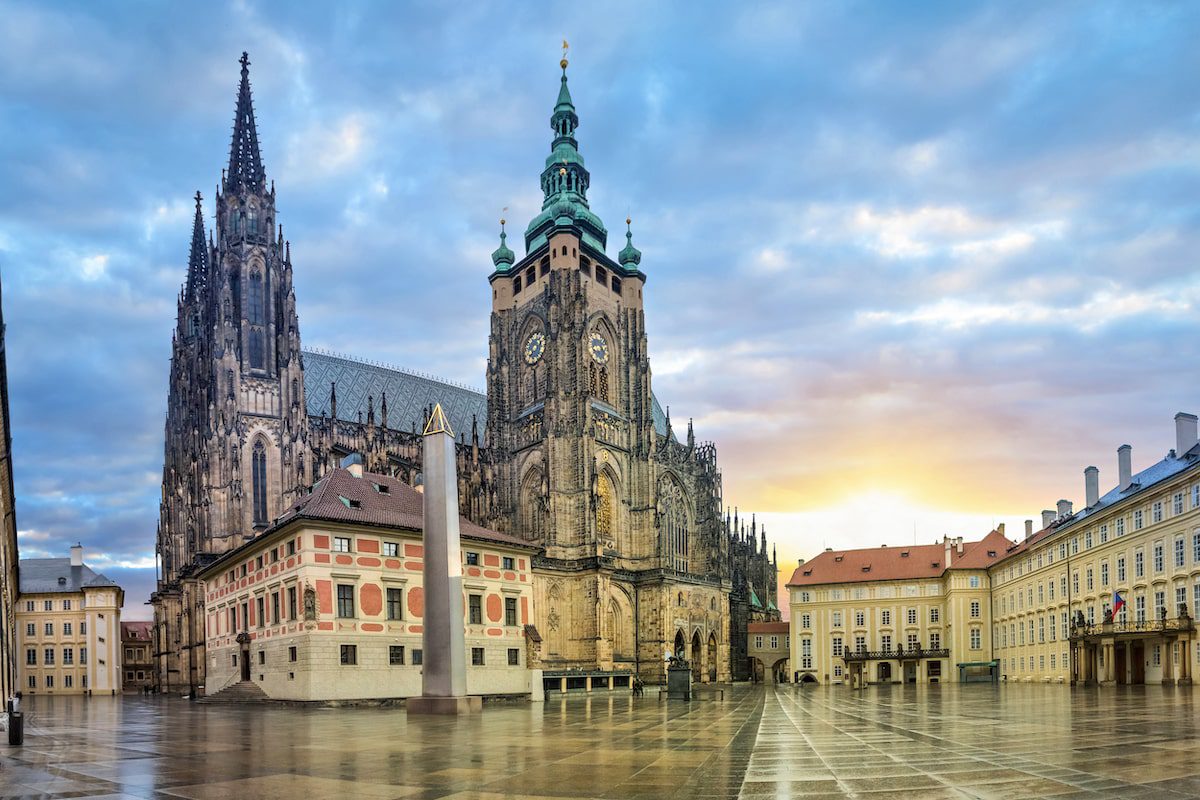 St. Vitus Cathedral in Prague Castle / Photo by bbsferrari on Envato
17. The Cathedral took 600 years to finish and there are 14 statues on the façade, along with some empty spots where the builders ran out of money.  It's the third church on the site and is a functioning church, yet less than 10 people regularly visit for church services on a daily basis. Sunday services generate about 100 people. 
18. According to the last census, only 7% of the population is Roman Catholic and over 90% are atheist or agnostic, which explains the very low attendance at the Prague Cathedral. The Catholic Church is one of the biggest landowners in the country, and this richness is why many won't join the church. 
19. While there is a famous stained-glass window in the cathedral designed by Czech artist Mucha, a more inquisitive visitor may notice that there is a window with a boy holding a pretzel on the bottom right. A local bakery financed this window.
20. The Rolling Stones financed a new lighting system at Prague Castle. Mick Jagger celebrated his 60th birthday in Prague. 
21. Famous artist Andy Warhol's family was from Czech. Visit the Central Gallery to see more in its permanent exhibition of Warhol, Dali and Mucha, which I thought was excellent. (On a related note, skip the Banksy exhibitions at other venues. These are unauthorized and factually incorrect). 

2 2. The symbol of Bohemia is a two-tailed lion, which represents power and sovereignty. Animals with two features – eyes, heads, tails —are common throughout Europe.  More is more. 
23. Car production is very important to the Czech Republic. ŠKODA was founded in 1895 and acquired by Volkswagen in 1991. Porsche was born in Czech.  The popular joke about ŠKODA says that the owner's manual includes transit information. 
24. Don't miss the live concerts held in the cathedrals in the evenings. In November, the Royal Czech Orchestra performed Vivaldi's The Four Seasons, Mozart and Beethoven at St. Salvator Cathedral. Tickets can be bought the day of or a few days before at the venue. If you want to see the musicians book early. There's no heat, so bundle up! Look for tickets here.
25. Completed in 1996, the Dancing House (or Fred and Ginger) was designed by Croatian-Czech architect Vlado Milunić with Frank Gehry. 
26. Where to stay: With Avalon, I stayed at the Marriott Hotel near the Old Town (check rates here). Prior to that, I was at an Airbnb in the Old Town that I wouldn't recommend, but there are many hotels in the old town that looked lovely including the Iron Gate Hotel & Suites, Hotel U Prince, and even the Mozart Prague, closer to the river. 
27. I took the train to Prague from Paris, and spent a night in Munich to see the Christmas market there. It couldn't have been easier.  The Prague train station is easily accessible by the metro and it's a very walkable city. Check train schedules here!
28. Prague in November was cold but not too cold for a Canadian. I wore a puffy coat with a few layers, hat and gloves. As always, travel light, pack layers and make sure you have the right shoes for the cobblestones! 
Five spectacular gardens in France, including Versailles, the Monet Gardens at Giverny, and Villa Ephrussi de Rothschild in southern France.
Accessible solo travel writer Tanzila Khan explores the medieval city of Tallinn, Estonia, and lets the city guide her.
Five Spanish towns that offer unique art, culture and UNESCO World Heritage experiences, from my recent travels in the off season.