Last updated on November 30th, 2023
Featured image: Returning to travel isn't without its challenges / Photo from Envato.
Six ways to prepare for future travel
By Carolyn Ray, Editor-in-Cheif
At the end of October 2021, I decided to start living the life of my dreams and travel full-time. I started my journey in Mexico, where I lived for three months. Before this, I had travelled fairly close to home in Canada, with one overseas trip to Spain to walk the Camino de Santiago in October.   
The decision to travel is a personal one, based on your comfort level. Many women choose to stay close to home. Others, like me, have been learning the hard way about the new challenges we face when we decide to step outside our borders. Regardless of whether you've decided to stay close to home or travel abroad, travel has changed in ways we never imagined. Not only does pandemic travel require a new mindset, it means we need to change some of our hard-worn ways of travelling and embrace new ways.    
So how do we learn from those who have travelled and prepare for the future? Recently, I invited some of our readers to share their perspective on travel and their observations of what has changed. These women, collectively, have travelled extensively, within the US, Canada and to France, Italy, Mexico, Europe, the UK, Greece, St. Lucia, Italy and the Netherlands, some since early 2021.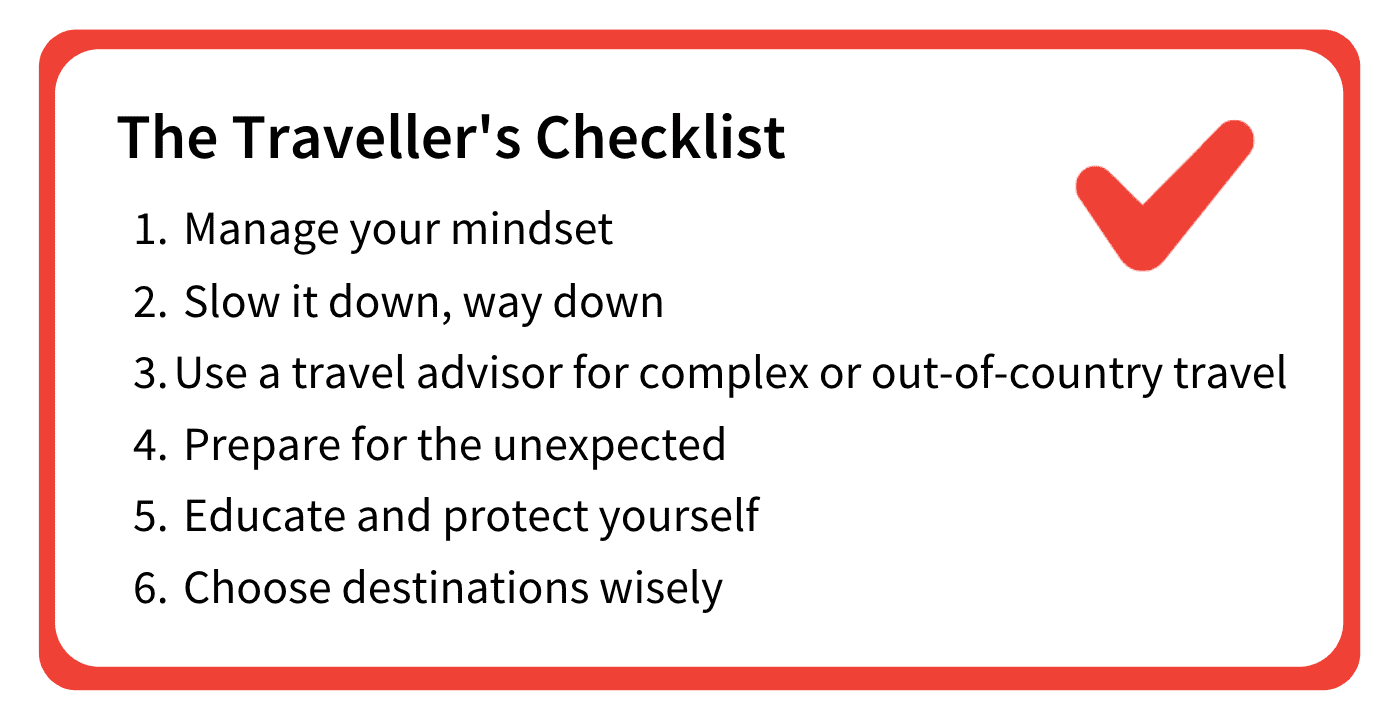 1. Manage your mindset

 
My first international trip to Spain in October opened my eyes to the world of ever-changing travel requirements. Even though I had flown within Canada, I felt some anxiety about flying overseas. Did I have the right travel documents? Would my pre-trip test results come in time (and be accepted) by Spain? Would there be barriers to entry in Spain? Would I be able to get home? What if I got sick while was there? What if I got stuck? Where would I stay? 
In the past, once I had chosen a destination, my main challenge was finding a cost-effective flight and a place to stay. Today, we have to consider vaccine certificates, testing, airplane apps, country apps, insurance, masks, and more. 
To persevere through the forms, paperwork and process, we need to embrace a new mindset. This starts with a big helping of acceptance and spoonfuls of patience, optimism, and a sense of humour. 
To travel, we need a mindset that includes:  
Acceptance: Travel just isn't the same, and we're never going to back to how it was. Best to accept that, stop comparing with the past, and move ahead.

 

Gratitude: In the past we might have taken travel for granted. Not so anymore.

 

Patience: With more processes, regulations and technology, and less front-line staff at airlines, airports, hotels and restaurants, everything takes much longer.

 

Flexibility: Everything will change so we need to be ready and adapt.

 

Self-sufficiency: We have to do our own research, plan and anticipate change. Don't expect anyone to look after you.

 

Sense of humour: Regardless of the situation, the best way through it is a sense of humour.

 

Optimism: Even when things are bumpy, we need to trust more—ourselves, others and the universe. Believe in yourself, you'll get through it.
Concerned about the bumps and uncertainty of travel? Watch our latest webinar A New Travel Mindset with master life coach Debbie Phillips.
2. Slow it down—wayyyy down

 
If you're one of those travellers who likes to pack in as much as you can, criss-cross different countries, and sleep in a different city every night, I wish you luck in our new travel era. Even a week-long holiday can be stressful now, especially if you have to have a PCR test three days before you leave (essentially in the middle of your holiday).  
Why not slow it down and stay in one place for a while? Slow travel is the best way to travel, as I found out during my three months in Mexico. I stayed in one city, Merida, for two months. This allowed me to experience the culture as a local, take Spanish classes and reduce my stress by not travelling outside the country. I was also able to negotiate rates for longer stays with accommodations.  
Look for places that are less-travelled so that you can have a more authentic experience with less tourists and crowds. If you're looking for recommendations on undiscovered places, ask the well-travelled women in our private Solo Travel Wisdom Facebook group or the JourneyWoman Forum on our website.    
See our top 10 less-travelled places here. 
3. Use a travel agent (or advisor) for complex or out-of-country travel
Our most recent TravelReady survey showed that only 24% of women are using travel agents and 47% don't plan to.  When I shared this statistic on our monthly Advisory Council call, there was much concern about this decline in intention. 
If you're travelling out of country or have a complicated flight route with more than one change, use a travel agent. With hotels opening and closing, changing cruise ship protocols, new travel apps, constantly changing travel requirements, weather, strikes, political issues, natural disasters, travel insurance, we are all on information overload. A trusted travel advisor can help us wade through all the changes and help simplify our travel.  
Travel agents charge clients directly for their services, and frankly, this is long overdue. In the past, commission was paid by the airlines, and that's just not the case anymore. Ask to see a rate card before you start work—most are charging $50 to 100 for an initial consultation, with additional fees for cancellations or changes. Some will let you book using points. Even though we're not used to paying for their services, imagine being stranded somewhere and waiting on an airline 1-800 number for hours on end.  
I used Flight Centre for my trip to Spain and was grateful that I didn't have to worry about any changes while I was walking the Camino. When my flight home from Santiago was cancelled, I wasn't even aware of it until I arrived in Santiago, at which point a new flight (and hotel) was already rebooked. This let me enjoy the experience.
Watch our Travel Advisor Roundtable to learn more about travel advisors. Click here. 
4. Prepare for the unexpected: Protect yourself

 
There's nothing I love more than the feeling of anticipation when I click 'book' on a website, but now, reading the fine print is required for just about every step of the travel process now, from booking a flight to accommodations.  
Buy Travel insurance: No one wants to get stuck, particularly if you contract COVID. Our recent survey showed that the majority of women are purchasing both travel insurance and COVID insurance. However, read the fine print. Don't assume your credit card covers you, particularly in the event of covid. Airline travel insurance may only cover trip cancellation or interruption. Brainstorm all the things that could go wrong, prepare questions, and call your insurance company before you buy. 
Know cancellation policies:  Across the industry, cancellation policies have changed. How much is being charged upon booking? When can you cancel? What happens if you cancel? Do you get a credit, a voucher, or a refund? How long will it take to get your money back, if at all? 
Have a backup plan A, B, C, and D: I've always been the type of traveler who prided myself on my ability to adapt quickly. When my daughter received Antigen test results instead of a PCR test in Mexico in November, I realized I had no backup plan if she had to stay overnight and wait for the right test results to arrive. I was flying out an hour after her flight. Where would she stay? Would I need to stay with her? I had no plan at all. Believe me, trying to track down a COVID test taken in another city in a foreign country where you don't speak the language really dials up your anxiety levels. Fortunately, the correct test results came in just as the plane was boarding. A little too tight for my liking. 
Keep paper copies of everything: When I travel, I bring two copies of everything now—plane tickets, insurance, vaccination records. Even though these are all on my phone, you just never know. What if you lose your phone? What if your email stops working? 
5. Learn about travel testing

   
Self-testing is here to stay: I believe that self-testing is going to be part of our travel routine for the foreseeable future. Whether you are meeting friends locally, travelling at home or going abroad, having a supply of rapid tests is essential. 
There are different kinds of self-tests. Unsupervised, online and at a testing location. 
When I travelled, I used Abbott's self-tests for peace of mind, which cost $17 per test for a box of 25. In the USA, each household can get four free at-home tests mailed to their home, which you can take with you when you travel.  You can order on this website by clicking here. Canada has not yet made self-tests available. 
The first time I did a self-test was on Christmas Day when I was invited to dinner at my homestay. I did a Zoom call with my daughter to find out how to do it.  She walked me through it and I sent a photo of the results to my hosts. I believe this will become part of our social etiquette in a post-pandemic world.
Approved tests for travel are different, as you must be medically supervised through a video call. To learn more, visit this article by Smarter Travel.
Switch Health, based in Canada, works with KLM, Air Canada, Emirates, Air France, Ethiopian Airlines, Etihad Airlines to offer Antigen, PCR and RT-Lamp Test kits. Learn more here.
When I returned to Canada, I was flagged for a PCR test at the airport. I walked out to see hundreds of people in the arrivals area, clustered together, envisioning hours of waiting. Fortunately, I was given a Switch Health at-home test, which I completed at home the next morning, but I had to quarantine until the results came in, which took three days. Make sure you understand your country's quarantine requirements, and your obligations as a traveller.
6. Choose destinations wisely

 
We all have places on our bucket list that we want to spend time in. Even if travel is opening up again, it may not be the right time to visit, despite the marketing from tourism boards and airlines. Before you hit purchase on that cheap flight, take the time to research the local destination. 
Check local vaccination rates and hospital capacity: It's becoming more important to understand local vaccination rates and hospital capacity. Our World in Data has a database that you can search by country and most cities have their own dashboard. 
Understand Mask Requirements: Mask regulations vary widely, and many cities have their own requirements. In places with lower vaccination rates, like Mexico, mask wearing may be compulsory in certain cities. You don't want to be that person without a mask, particularly when everyone else is wearing one.  
Clarify travel requirements: Most countries have different regulations based on whether you're vaccinated or not. I use a free service called Sherpa, which is used by many airlines and travel agencies, to find out what the travel requirements are, including stopovers.  
New Travel Apps: Most countries, airlines, venues, provinces and states are now using, or planning to use, vaccine apps to verify proof of vaccination. For example, CommonPass is being used by JetBlue, United, Lufthansa, Swiss International Airlines, and Virgin Atlantic. VeriFLY is being used by American Airlines, British Airlines and Iberia. To travel to and from Canada, you must be fully vaccinated to travel and upload proof of vaccination to the ArriveCan app. Both WestJet and Air Canada have integrated vaccine QR codes into their existing apps, along with Sherpa, which lets you check travel regulations. The EU is investing an app but for the time being, each country has its own. Check our TravelReady page for more information. 
It's a new world of travel, and with ever-changing environment, starting with the right mindset will help us adapt and continue to experience the joy of travel. One last tip: have a good supply of pens to fill out the many forms required and be grateful that we can travel at all. Despite all the changes, it is a privilege to travel, something we shouldn't forget.  
Special thanks to Christine, Joan, Pamela, Sandy, Heather, Kathy and Rachel for sharing their insights for this article, and to the JourneyWoman Advisory Council for their insights.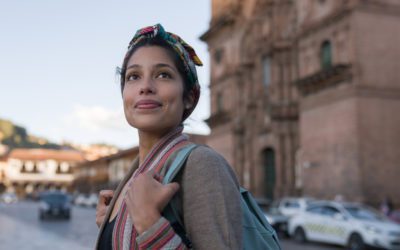 Three experienced travel advisors share how they help women navigate unrelenting change, find deals and discounts, and unravel the complexity of travel insurance.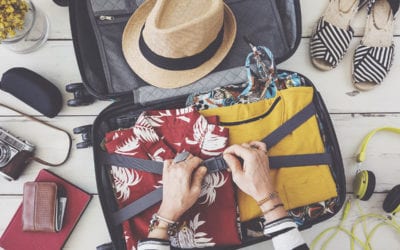 Join JourneyWoman's March 22 Travel Advisor Roundtable with three experienced travel advisors to help women prepare for future travel.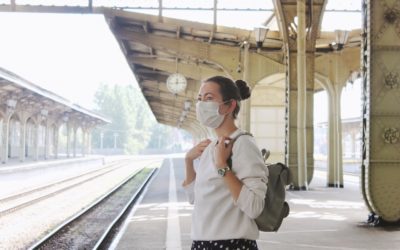 Travel requires a different mindset and a different set of coping skills. Here are six things I'm doing to alleviate risk to myself and others.